Comme tout webzine ou forum de musique pas comme les autres qui se respecte, nous avons voulu dresser le bilan de l'année écoulée.
Il y a quelques semaines, nous avions donc sollicité le choix des meilleurs albums à nos membres.
---
Voici donc, pour nous, les 10 albums incontournables de l'année 2005 :
1 Arcade Fire : Funeral

2 Andrew Bird : Andrew Bird & The Mysterious Production Of Eggs

3 The Rakes : Capture/Release

4 Jack the Ripper : Ladies First

5 The Kills : No Wow

6 Sufjan Stevens : Come On Feel The Illinoise

7 Bloc Party : Silent Alarm

8 Cocorosie : Noah's Ark

9 The White Stripes : Get Behind Me Satan

10 Stellastarr* : Harmonies For The Haunted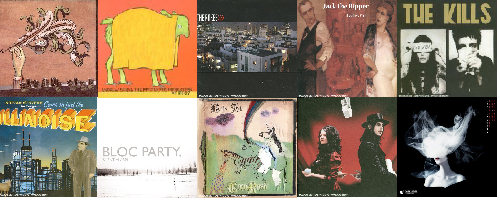 S'il vous manquait l'un de ces albums, n'hésitez pas à foncer chez notre partenaire amazon.fr, d'autant plus que ce lien permet au forum et au mag de continuer en toute quiétude leur aventure sur le web.
Funeral d'Arcade Fire a donc obtenu la majorité des suffrages des membres. Pourtant, l'affaire semblait mal engager : cet album, sorti outre Atlantique en 2004, devait-il trouver sa place dans ce classement ? Le doute s'est vite estompé et la sortie française a repris le dessus. Et quel dessus ! Les Canadiens laissent loin derrière ses "concurrents".
Tout d'abord Andrew Bird. L'américain confirme tout le talent de songwriter que l'on avait découvert avec son précédent album, Weather Systems. Mais avec son nouvel opus, Andrew Bird & The Mysterious Production Of Eggs, Andrew Bird s'est sublimé et nous distille des morceaux de très grande classe.
Arrivent ensuite (enfin ?) les Anglais. Dans le duel à distance entre la musique des "nouveaux sauveurs du rock" que sont The Rakes et Bloc Party, c'est Capture/Release qui sort vainqueur. Est-ce que Silent Alarm, sorti en début d'année, n'a pas pu tenir la distance face à celui d'un groupe, il faut le dire, dont on n'attendait pas grand chose. Même si l'effet de surprise a joué en défaveur de Bloc Party, ils se classent, cependant, à la 7ème position.
Entre eux, nous pouvons découvrir nos Français de Jack The Ripper, dont l'album Ladies First, a su charmer les quelques membres de notre forum.
En position d'ex-aequo, le duo anglo-américain, The Kills et leur album aux sonorités sexy-rocks, et Sufjan Stevens qui continue à nous séduire avec la suite de son oeuvre de musique populaire vouée au Tour des Etats-Unis.
Les trois dernières places se sont déterminées dans un mouchoir de poche. Cocorosie, The White Stripes et Stellastarr* (et son album disponible qu'en import chez nous) montrent toute la diversité et la richesse apporté par l'année 2005.
---
La suite de notre classement :
Meilleurs singles :

1 Gorillaz : Feel Good Inc

2 The Strokes : Juicebox

3 The Subways : Rock'n Roll Queen

ex aequo Motormark : Eat, Drink, Sleep, Think

ex aequo The White Stripes : The Blue Orchid
Meilleur Best Of ou Réédition :

Yo La Tengo : Prisoners Of Love
Meilleur concert :

Arcade Fire
Meilleur DVD musical :

ex-aequo 24h Party people

ex-aequo Dig !

ex-aequo Noir Désir en images

ex-aequo Pixies sell out

ex-aequo Bob Dylan No Direction Home
Révélation 2005 :

Clap Your Hands Say Yeah
Espoir 2006

ex-aequo Arctic Monkeys

ex-aequo Architecture In Helsinki

ex-aequo iLiKETRAiNS
---
Articles - 16.01.2006 par
---