Si vous avez apprécié l'ample Narrow Stairs emmené l'an dernier par son épique single de plus de 8 minutes I Will Possess Your Heart, vous serez sans doute ravi d'en retrouver les chutes les plus élégantes sur l'EP Open Door paru au format digital le 31 mars dernier et enfin disponible sur CD depuis lundi.
En voici la pochette et le tracklisting (vous aurez reconnu le titre Talking Bird, l'orginal figurant sur le même Narrow Stairs ) :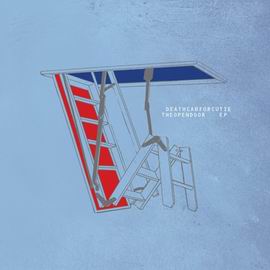 1. Little Bribes
2. A Diamond And A Tether
3. My Mirror Speaks
4. I Was Once A Loyal Lover
5. Talking Bird (Demo)
Par ailleurs, on peut également retrouver le groupe de Ben Gibbard et Chris Walla à l'impressionnant générique de la compilation Score ! 20 Years of Merge Records : The Covers avec une reprise de Superchunk, Kicked In.
Toujours pas assez de DCFC ? Allez on vous offre en prime et pour terminer la poignante vidéo du troisième single extrait de l'album, Grapevine Fires, croquée par Walter Robot d'après une histoire vécue et où l'on peut apercevoir les membres du groupe en train de chercher leur "keytar" :