Réadapter Sgt. Pepper's Lonely Hearts Club Band dans son intégralité, il faut oser le faire surtout quand on pratique le hip-hop. Eh bien, Copywrite l'a fait !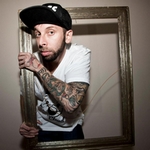 Petit retour en arrière, plus précisément au milieu des années 90, Copywrite et Camu Tao, jeunes potes de Columbus dans l'Ohio, créent MHz. Le duo va vite être complété par un RJD2 qu'on ne présente maintenant plus, Jakki Tha MotaMouth et Tage Proto, puis rapidement être vénéré par toute une scène underground mondiale. De ce crew, va naitre Table Scraps en 2001, un album, allons y, CULTE ! RJD2 et Copywrite signent ici une production littéralement incroyable, Camu Tao, Jakki Tha Motamouth et Tage Proto eux avec des flows déstructurés jamais entendus auparavant forcent le respect et foutent la banane, un immense album, 70 minutes d'un bonheur hip-hop à l'ancienne comme on en croise que rarement !
---
---
C'est ce même Copywrite qui vient de nous livrer Carbon Copy's Phony Art Pub Scam après un excellent God Save The King l'année dernière. Carbon Copy's Phony Art Pub Scam est un peu un cadeau que fait Copywrite à ses fans puisque l'objet sorti chez Man Bites Dog Records est en téléchargement libre via Soundcloud. Distribué librement peut-être aussi parce qu'en échantillonnant les Beatles sur un album payant, il aurait fallu mettre la main au porte-monnaie, Copywrite vs Copyright ! En 2004, Danger Mouse avait tenté The Grey Album, une reprise du White Album des quatre garçons dans le vent fusionné avec le Black Album de Jay-Z. Mais pour des raisons de droits d'auteur, l'album ne put sortir. Autre essai, mais celui-ci gagnant, l'excellent Enter The Magical Mystery Chambers de Tom Caruana qui réunissait le Wu-Tang Clan et les Beatles et qu'on peut toujours découvrir ici-même.
Avec Carbon Copy's Phony Art Pub Scam Copywrite s'attaque à l'Everest, le grand Sgt. Pepper's Lonely Hearts Club Band. Projet casse-gueule ? Non, car gavé de samples et d'extraits de l'original, Carbon Copy's Phony Art Pub Scam n'est pas une simple mixtape de reprises, tout est réadapté, déstructuré et reconstruit. Le rendu bien qu'un peu bringuebalant est incroyablement charmant, le flow de Copywrite coule sur les mélodies et les arrangements des Beatles. Ainsi par exemple With a Little Help from My Friends est transfiguré en un High With Friends très réussi. Lucy in the Sky with Diamonds se change en I Love Lucy et même si on est obligé de penser à l'original, Copywrite arrive à nous séduire, il mélange même le psychédélisme hippie avec un passage du The Sound of Science des Beastie Boys ! Within You Without You se transforme en un Sitar Happens assez flamboyant. Can't Come Plain, elle, pourrait presque être taillée pour avoir le même succès que Getting Better tellement le rendu fonctionne. Enfin sobrement, Being for the Benefit of Mr. Kite ! devient Being for the Benefit of Mr. Write !.
Copywrite s'est attaqué à un gros monument, alors forcément, les puristes crieront au sacrilège mais les autres s'en régaleront ! A vous de juger !
---
---

---
---
Streaming du jour - 20.04.2013 par
---