Pionnier du drone, véritable légende vivante, Dylan Carlson et son projet Earth sont de retour avec le dixième album d'une carrière entamée il y a presque 25 ans, au tout début des eighties.
Primitive & Deadly voit se côtoyer, en plus de l'incontournable Adrienne Davies, de nombreuses personnalités d'horizons variés tels que Rabia Shaheen Qazi (Rose Windows), Mark Lanegan (Queens of the Stone Age, Screaming Trees), Bill Herzog (Citizens' Utilities, Jesse Sykes and the Sweet Hereafter, Sunn O)))…), Joel RL Phelps, Brett Netson (Built To Spill, Caustic Resin) et Jodie Cox (Narrows).
Inutile de souligner la qualité rare, jamais démentie, de la discographie de Earth en constante et lente mutation.
Le retour de riffs lourds et plombés dès le morceau d'ouverture, flirtant quelquefois avec le heavy, semble suggérer que Carlson reprend un chemin abandonné lors de son hiatus de presque 10 ans successif à la sortie de Pentastar : In the Style of Demons. Sentiment conforté par le retour des vocalises, abandonnées à la même époque, sur quelques morceaux.
En fait, sur Primitive & Deadly, Earth semble avoir l'ambition de s'attaquer à la purification totale et sans complexe du rock. Totalement débarrassé de tout élément superflu, compressé à la limite du soutenable, Carlson crée un monument à la gloire de 25 ans de vie consacrés au drone metal. Une sorte d'album anniversaire consommant le cycle éternel de l'Ourobore et laissant présager énormément.



A l'heure où les eighties reviennent à la mode dans une version expurgée, Carlson et sa bande nous rappellent qu'ils y étaient et qu'elles étaient bien différentes de l'image édulcorée à grand renfort d'opérations marketing que l'on essaye de nous vendre actuellement.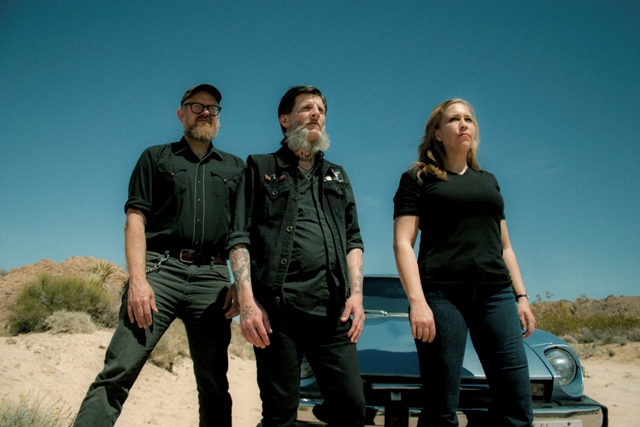 ---
Streaming du jour - 24.09.2014 par
,
---