Voyager dans les étoiles avec une beauté nordique, et si le programme s'avérait plus geek qu'il n'y paraît ?
1. Moonwalker
2. Play The World
3. Down On Heaven
4. Tiger You
5. Push It
6. My Girl
7. Wings
8. 4-Ever
9. Original Sin
10. 25

date de sortie : 05-11-2010
Label : Ninkina Recordings
Un titre en référence à la saga Star Wars dont l'album se voudrait septième épisode en quête d'approbation de la part de George Lucas himself (!), une pochette dont on ne saurait trop dire si elle est élégante ou kitsch, SF ou New Age, la jeune Scandinave remarquée chez nous à l'occasion de la deuxième édition du festival parisien ÅÄÖ consacré aux musiques actuelles suédoises n'avait rien sur le papier pour convaincre ou marquer les esprits, pas même ses allures de mannequin nordique ou un prénom qui ne surprendra Persson.
Et pourtant, la musique de la belle, passée par une folk aux accents countrysants avant de virer de bord avec la pop racée et touche-à-tout de son prometteur troisième opus Pets & Friends en 2008, n'est pas aussi lisse et formatée qu'on aurait pu le croire et même loin de là. On passera donc sur la mythologie de fantaisie SF véhiculée par des textes en anglais dont les allusions à l'épopée galactique - qui l'aurait "sauvée" à l'adolescence durant sa convalescence d'une lourde opération du dos - ne sautent pas aux oreilles du linguiste moyen pour se concentrer sur l'essentiel : des circonvolutions vocales dignes de Kate Bush en moins maniérées - ou pour le dire tout net, bien moins agaçantes - et des compositions à mi-chemin de la dream-pop subtile des Cocteau Twins et du lyrisme mystico-paganiste de Bat For Lashes, avec lesquels Nina partage un goût bien affirmé pour les atmosphères en clair-obscur.
D'aucuns, la voix aidant, auront également une pensée émue pour le mésestimé Supposed Former Infatuation Junkie d'Alanis Morissette sur un titre tel que Push It, entre deux excursions du côté d'une électro-pop plus dynamique (Play The World), d'un shoegaze synthétique au martèlement épique (le tubesque 4-Ever, pas loin de School Of Seven Bells) ou au contraire d'un piano/voix plus intimiste bientôt rehaussé du violoncelle à l'émotion retenue de Linnea Olsson (Paintbox) et de quelques percussions dramatiques (Original Sin).
Car si l'action, brassant amour, espoir et aventure, est censée se dérouler sur Tatooine, planète désertique qui vit grandir Luke Skywalker et naître son père Anakin, futur Dark Vador pour ceux qui suivent, l'album fait preuve quant à lui d'une belle densité de production, fourmillant d'arrangements dus aux participations d'un certain nombre d'instrumentistes du cru, en tête desquels la meneuse de The Tiny, Ellekari Larsson, ou Jon Ölmeskog (Silverbullit) parfait pour accompagner Nina aux claviers, le tout bénéficiant au mixage du savoir-faire de Christoffer Berg, producteur notamment de Fever Ray.
Un line-up complété par le bassiste de Division Of Laura Lee, Jonas Gustafsson, et le batteur Pontus Levahn (Torpedo, Tiger Lou), indispensable section rythmique dont l'apport aussi précis qu'habité contribue fortement à faire de ce Red Leader Dream le meilleur album de dream-pop de l'année, confirmant par ailleurs la personnalité singulière de cette charmante Suédoise déjà aux manettes de son propre label et dont on n'a sûrement pas fini de parler.
---
A lire également, une "interview Star Wars" sur OWNImusic.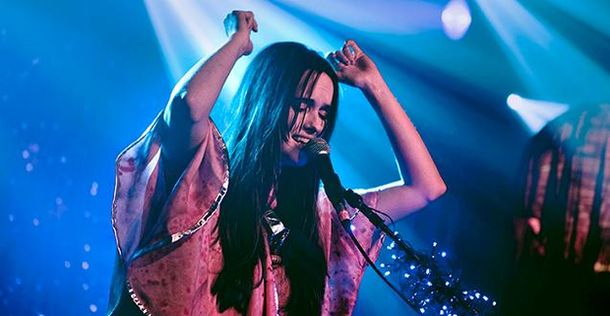 ---
Chroniques - 23.12.2010 par
---