Cavalcade est déjà le cinquième essai de Milo et accessoirement sa troisième sortie de l'année (rien que ça !) car venant juste dans la foulée de son très beau diptyque d'EPs Things That Happen at Day / Things That Happen at Night sorti en début de 2013 et que nous n'avions pas manqué d'adorer sur IRM. Qu'on se le dise, Milo fait dans le hip-hop intelligent et est assurément en passe de devenir l'un des rappeurs les plus intéressants du moment !

Tout est dans la justesse sur ce Cavalcade, comme une ruée contrôlée d'un bout à l'autre de l'EP. Au Moyen-Âge, Paracelse disait que la dose faisait le poison, Milo réactualise le truc et en rajoute même une couche en démontrant que c'est aussi la dose qui fait le remède. Homéopathiquement, Milo (et Riley Lake qui signe la production de l'album) pondère son hip-hop avec la juste dose d'abstract pour que ça ne devienne pas imbuvable. Ainsi sur le sublime Sophisty And Illusion, la sensation d'abstract contrôlé est palpable, les envolées et bizarreries s'arrêtent ainsi juste au bon moment, juste avant le trop, juste quand c'est parfait. Même sensation sur Ecclesiastes, morceau que n'aurait certainement pas désavoué le Yoni Wolf des débuts de Why ?, la guitare est bricolée juste comme il faut, les beats bruitistes sont élégants et les nappes sonores nous enveloppent sans nous étouffer.
La juste dose de samples aussi sans que le résultat soit caricatural et facile, un exemple ? Geometry And Theology utilise A Horse With No Name, le sample casse-gueule par excellence et bien pourtant le rendu est grand, car le titre d'America est utilisé avec parcimonie pour ne garder que le côté plaisant de la chose. On croise aussi et délicatement James Blake, les Dirty Projectors et on touche au Graal avec I Am Am et son échantillonnage assez superbe du Solitude Standing de Suzanne Vega.
Bien sûr il y a quelques défauts, mais ils font aussi le charme du emcee. Ainsi Milo a un flow et des textes alambiqués avec des paroles qui deviennent de plus en plus obscures et difficiles à chaque nouvelle sortie d'album. Vous connaissez beaucoup de emcees capable de monter un morceau hip-hop parlant de chiliogone, un polygone à 1000 côtés possédant 498500 diagonales ? Allah Mathematics peut-être ? Non sérieusement, personne, et bien Milo l'a fait ! La chose s'écoute sur Ba al Chiliagon Swords avec en prime un chouette featuring de YC The Cynic ! Car oui, en plus de toutes ses qualités, Cavalcade propose quelques apparitions de choix, outre YC The Cynic, on peut entendre Busdriver sur Red Oleanders ou Nocando sur Sophistry And Illusion ! Que du bon ! Milo devient de plus en plus grand et Cavalcade s'écoute d'urgence juste en dessous !
---
---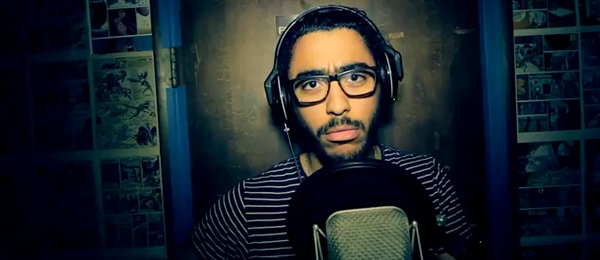 ---
---
Streaming du jour - 12.07.2013 par
---