Est-ce que ce Part Deux : Brick Pelican Posse Crew Gang Syndicate ne serait pas un genre de Music For the Advancement of Hip-Hop mais anglais et du XXIème siècle, avec en prime un côté déglingué à la The Shape Shifters, en plus un côté crew à la Wu-Tang Clan et en bonus un petit côté cool à la Soulquarians ?
Retour en arrière : avant d'être Cult Of The Damned, le collectif de rappeurs unifié sous la bannière du brillant label Blah Records de Lee Scott s'appelait Children Of The Damned et avait sorti un Tourettes Camp en 2007. Brick Pelican suivit en 2009 et le noyau dur formé de Lee Scott, Bill Shakes, Barebase, Salar, King Grubb, Tony Broke et Milkavelli (avant Monster Under the Bed) commença à agglutiner d'autres emcees : Black Josh, Stinkin Slumrok, Sniff (sans Trellion et c'est bien dommage), Sly Moon, Sleazy F et Bisk pour arriver en 2015 avec un changement de blase (et un EP éponyme) et en 2018 avec ce véritable premier album comptant pas moins d'une grosse dizaine de rappeurs et une demi-douzaine de producteurs (Dr. Zygote de Strange_U, Reklews, Sam Zircon, Bisk et encore et toujours Lee Scott).
Beaucoup de beaux noms (pour qui suit l'actualité du hip-hop anglais et donc IRM), tous avec des identités stylistiques affirmées et toutes bien différentes, Barebase avec son style rappé/chanté, sorte d'Ol' Dirty Bastard d'Outre-Manche qui par sa seule présence arrive à rafraîchir tout l'album, Salar et sa technique, Tony Broke et sa fulgurance, Bill Shakes et sa folie, Black Josh et sa décontraction, Stinkin Slumrok et sa rythmique bondissante, Sniff et son minimalisme, Lee Scott et Milkavelli en tauliers du truc, bref impossible de parler de tout le monde, ce Part Deux offre une pluie de one-liners parmi les plus extraordinaires d'Angleterre, et en prime transpire l'album de potes. Il n'y a qu'à jeter un œil (et une oreille) au clip de l'énorme Civilized pour s'en rendre compte, les rimes se suivent, oui, s'emboîtent, et comment, et l'émulation est parfaite :
A l'instar de la vidéo clippant Salt Water, ce projet pourtant numériquement gargantuesque sent bon le DIY et reste presque idéologiquement à taille humaine, Cult Of The Damned n'est pas un "super-groupe", c'est une bande de potes qui crachent du rap sans effort, s'amusent avec les mots et nous montrent que le tout est plus que la somme de ses parties :
Et que dire des productions ! Hantées, effrayantes, sombres, obsédantes, lentes, narcotiques et paradoxalement incroyablement percutantes, elles collent parfaitement à un projet entre horrorcore binaire et expérimentations sophistiquées. Part Deux se veut être un concentré de Blah Records, mais il va plus loin, il signe l'avènement ou plutôt le couronnement de cette nouvelle scène hip-hop anglaise et aurait finalement et logiquement pu être baptisé Blah Records Presents : Music For The Advancement Of Britain Hip Hop. De cet album, on en reparlera encore dans 20 ans, on prend les paris ?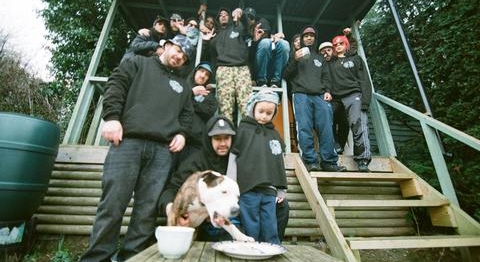 ---
Streaming du jour - 13.05.2018 par
---