< version française >
Few truly essential artists are so tragically unknown to the general public as Christ. - and it's all the more surprising when you consider that the Scottish beatmaker was a full-fledged member of one of the most worshiped electronic bands of the past two decades. Let's mention it once and for all, we're talking about Boards Of Canada, sprung from the famous Hexagon Sun collective and renowned for their quite cryptic communication. But to be honest, none of their music since Geogaddi reaches the same heights as the three albums released by their former colleague during the past ten years.
Would Christopher Horne's inspiration be inexhaustible? His forthcoming album Cathexis - Motion Picture Soundtrack, created as a musical score for the medium-length Japanese animated movie of the same name, made from computer generated images by the Swedish director Stefan Larsson to embrace the concept of "emotional" artificial intelligence, should bring us an answer this summer on Parallax Sounds Records, and the answer seems to sound pretty good :
---
The cover contest
< deadline : 7/07/2012 at 12 PM >
However, in the meantime, we can already be pleased about the musician's generosity : not only is he going to offer us an unreleased track by the end of the year, taking part of a larger project organized by IRM on which we will return gradually in the coming months (notably via facebook), but Christ. also has entrusted us with the organization of this contest, with a chance to win three signed vinyl copies of his three Benbecula LP releases, now almost sold out in this format.
The rules are simple: record a cover of the song of your choice among the whole Christ. discography (most of it being free to listen on his Bandcamp page), without any musical constraint. Drones, blast beats, wobbles, banjo or hand clapping, all transgressions are allowed, and even warmly encouraged. Experienced beatmakers as well as aspiring musicians, all Christ. lovers are given the opportunity to submit the reinterpretation of their choice to Mr. Horne himself, who will listen to them carefully and will have the casting vote.
Starting today, you have one month to send your song in WAV 16bit format (44khz) at christ.covercontest@gmail.com. A selection of the best covers chosen by Christ. will gain attention as a free compilation on his Bandcamp page, and the authors of the three most successful ones will receive a vinyl signed by himself. The number 1 will get the opportunity to choose between copies of
Metamorphic Reproduction Miracle (2003), Blue Shift Emissions (2007) and Distance Lends Enchantment To The View (2009), the number 2 will be able to grab one of the two remaining LPs, and the number 3 will get hold of the last one.
Good luck to you all !
Edit : the deadline is postponed to July 22th at 12PM, we are looking forward to your covers !
---
What they think about Christ.
Anthony Merrill (Parallax Sounds' founder) : Christopher Horne creates beautiful, emotional, sometimes dark, punkier, grittier, and distorted electronic sounds that have a lot of depth and feeling but at the same time can be mysterious, minimal and ambient. Christ. creates music that has a sort of magical atmosphere. Many people think his sound is in some ways similar to BoC but he does have his own unique style and sound. Christ.'s music is very underrated but he keeps on releasing quality music all the time. For me Christ.'s music is equally as good if not better and a lot more prolific than the slacking duo BoC.
POulbO (electronic musician) : I think that his music is huge, melodic, moody, something sounds like nostalgia, childy sadness... I really like it !
Have Faith In Sound (electronic music blog) : I particularly enjoyed the album Blue Shift Emissions, but the simple fact of mentioning only one of its releases puts aside the rest of the artist's work, which remains very good, and deserves to be more recognized. Christ. externalizes our most buried emotions, his deep and immersive music has unquestionably seduced HFIS, and we hope that more releases are planed very soon!
---
For the occasion, we also asked some questions to Christ., most notably about his forthcoming album.
---
The interview
Indie Rock Mag : Your forthcoming album, to be released this summer, will also be the original soundtrack for the Japanese medium-length film Cathexis. How did you get involved in this project? Could you resume its plot for us in a few words, and tell us why it seduced you?
Christ. : I was first made aware of Stefan's work when Benbecula sent me his video for a B-side of mine (One Sunny Cloudy Day). It's called Yuki, and it depicts some children interacting with this bizarre, organic-looking robot tree. It's really grainy, and odd. Very beautiful and melancholic.
A few years later he did Polygon Grafitti which accompanies Odyssey 31 from the Distance album. At that stage I was checking out a project he seemed to keep returning to about AUJIK, a people from a society integrated fully with technology and nature both on a physical and a spiritual level. I like odd and exotic things, and it appealed to me. He got in touch with the idea of working together on a lengthier project about AUJIK and their various rituals and interactions with their technology, and it seemed like a different approach to making music which got me pretty excited… We've worked pretty closely on it, in that the music kind of inspired the creation of the visuals as much as his visuals inspired the overall tone of the music. We both started from scratch, more or less around the same time, and fed from each other during the process.
---
Cathexis' trailer :
Cathexis – Motion Picture will be published by the Bristol-based music label Parallax Sounds (2muchachos, 93MillionMilesFromTheSun, Acid Mothers Temple). With a half dozen years spent on Benbecula Records, which went out of business after Distance Lends Enchantment To The View was released, has it been hard to find another trustworthy music label? How did Anthony Merrill convince you?
I'd been approached by a number of labels over the few years after Benbecula shut their doors, Parallax included. At the time, life had been pretty busy and I had been involved in things other than making music. Essentially I didn't have anything particularly coherent that would slot together into an album, and I made that clear. The plan wasn't originally to release the album as a separate entity from the film but Stefan and I discussed it, I made a lazy post on facebook, and Anthony got in touch. He's a pretty direct guy, which I appreciate, and he was offering something pretty similar to what I had previously with Benbecula. I like the stuff he's already released, and I like his focus on the music. I feel like I'm amongst good company releasing on Parallax.
Delicass Harmonium and Yugo 77, two rarities come out from your own Hyperact label in the second half of the 90s, are now quite impossible to be found. Will they be available again one day on your Bandcamp page?
The million dollar question. I get asked this one a lot. Trouble is, those albums were recorded well over a decade ago. I even look back on the most recent stuff, and think there's maybe bits I'd do differently, and that feeling gets magnified by the distance between me and the recording, in terms of time passed. You have to put a lid on things sometimes and move forwards. They were both recorded on four-track, and the quality isn't so good, so they'd require at least a remastering job… I don't know where the masters are at the moment and I'm not sure that if I started to clean them up I wouldn't get involved and start changing things… the short answer is "probably not". Just getting legal clearance for a good proportion of the samples would be a nightmare in itself.
Aside from these two first LPs and some EPs (including a recent split EP with the American beatmaker Fieldtriqp), your whole discography is available for download on Bandcamp, for little or nothing (£1 for the EPs and £2 for the LPs, after a flash sale at 50pc each one at the end of last month). We are well aware of the contemporary digital music issues... Have you given up the idea of living from your art, or do you consider that the music is made to be "shared"?
I try not to think too much about the "music business"… thing is, if you're selling physical copies of records, there's production, distribution and all that kind of stuff to pay for… the money that boutique labels and independent artists make from relatively short run releases isn't vast. In a lot of cases it more-or-less funds the next project on the horizon. Those Benbecula releases are obviously out of print now, so it's a way of making them available at a reasonable price… The way Bandcamp works, even at those low prices, I would tend to make a little more per copy than I would for selling physical vinyl records or CDs, so everybody wins. The sale was pretty mad… as you say, I set the prices dramatically low for a couple of weeks. The response was unexpected and overwhelming. I guess that says something about the current music business model.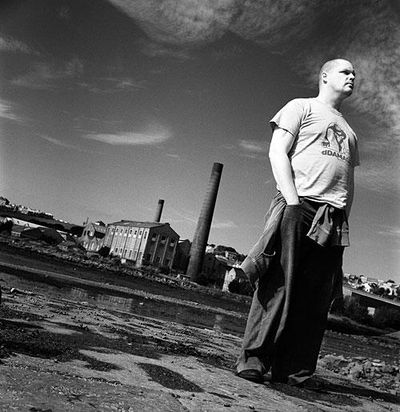 In recent years, you remixed two artists that could be considered as "heirs" of your dreamlike universe made of beats on air cushions, of acrobatics glitches and chiaroscuro synths: Zoon Van Snook and Alias. But is there any musicians you would particularly love seeing to remix your own compositions, or maybe taking part in this covers contest?
Anyone. I hear so much music that I absolutely love on music forum sites and Soundcloud and stuff. I'm just interested to hear other peoples' interpretations. There are so many people out there doing amazing, forward-thinking, stuff - people that should have access to a wider audience. I'll probably put a few of the good ones up on Bandcamp, which in turn will hopefully direct a bit of attention towards the producers that take part. Like I said on facebook, glockenspiels, flugelhorns, commodore 64s… yeah… everyone.
---
Many thanks to Christopher Horne, and also to Appaloosa and Have Faith In Sound for their help in the translation.
---
---