Longtemps qu'on avait pas eu du MF Doom à se mettre sous la dent, c'est chose faite avec Grip Grand qui remixe avec une classe incroyable les classiques du maître !
MF Doom est réputé pour ne pas accepter de remixes de ses œuvres et pourtant ce GG DOOM... BUT HOW ? vient d'être posté sur la page Facebook du maître ! Rien que ça, ça doit normalement aiguiser votre curiosité. Une seule écoute vous suffira, et même dès le premier titre But How ? reprenant Melody, on comprend pourquoi Doom a dit OK !
---
Télécharger GG DOOM... BUT HOW ?
Écouter la playlist sur Youtube
---
Grip Grand, beatmaker de San Francisco, a choisi douze pistes acappella de la légende du hip-hop underground, les a remixées, joué de mashup et de samples incroyables pour pondre cette mixtape de seulement sept titres, mais d'une classe à couper le souffle.
Ainsi par exemple sur l'excellent Jive Turkeys, c'est le Ghostwhirl originel qui a été utilisé, sur Genie In A Bottle (Buy The Lunch), c'est l'ultra-underground My Favorite Ladies qu'on entend. It Ain't Nuttin' avec Doom et The Herbaliser scintille sur Bain de Soleil. Autre exemple pour les adorateurs de MF, Gonads qui sample Change The Beat sortie sous le pseudo de Viktor Vaughn.
Grip Grand a choisi d'excellents titres de Doom, ceux avec un flow si typique du MC au masque de fer. Mais ce qui frappe le plus, c'est que les beats et l'échantillonnage sonnent comme du MF Doom classique, tellement qu'on se surprend à se demander si Doom n'a pas participé à la production ! Probablement pas, mais c'est vraiment cool de le voir soutenir des remixes de ses œuvres de cette qualité. Bravo Grip Grand et on en redemande !
---
---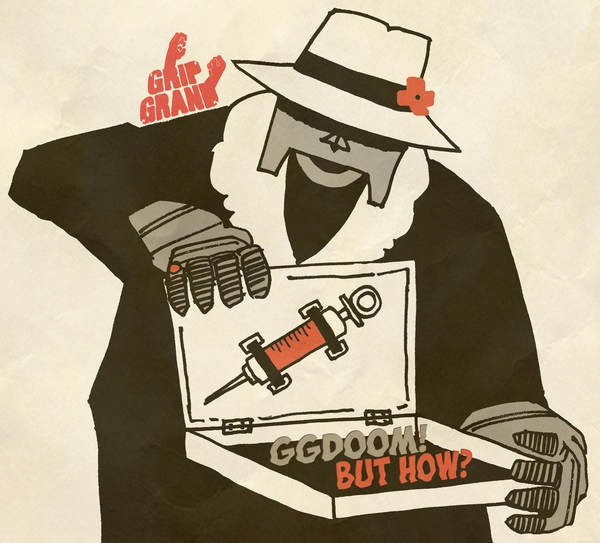 ---
---
Streaming du jour - 26.04.2013 par
---