Après avoir lâché quelques extraits que nous nous sommes empressés de vous faire déguster boulimiquement à travers une série de news, Killer Mike et El-P dévoilent enfin et dans son intégralité Run The Jewels, leur projet commun ! L'affaire s'écoute ci-dessous et se télécharge gratuitement et légalement via Fool's Gold en échange d'une simple adresse mail ! Ne vous privez surtout pas, vous aurez aussi entre les mains l'une des meilleurs sorties hip-hop de l'année, rien que ça !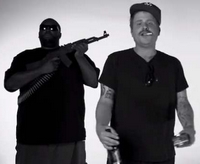 On pensait avoir laissé Killer Mike et El-P aux sommets de leur art l'année dernière avec respectivement les deux tueries que sont R.A.P. Music pour sa force pure et brutale et Cancer For Cure pour ses abstractions paranoïaques. Et bien non, les deux reviennent encore plus forts, gardant l'authenticité de chacun et leurs styles propres mais réalisant un vrai travail de duo plus qu'une simple collaboration hip-hop comme on en compte trop. Prendre le meilleur et créer quelque chose de novateur sans se galvauder, la chose paraît ardue et pourtant Run The Jewels prouve que c'est possible. Quelque chose de nouveau, mais en même temps quelque chose d'immédiatement identifiable comme étant du El-P et du Killer Mike. Ainsi El-P pourrait être le trou noir supermassif au centre de la galaxie Killer Mike, c'est lui qui crée le mouvement de celle-ci en en détruisant une partie et vice-versa, à moins que ce soit le contraire...
Run The Jewels est un album en mouvement fait d'expérimentations massives et pourtant tellement dynamiques avec des flows gavés d'énergie cinétique (Run The Jewels, Banana Clipper avec un Big Boi en explosion finale), des titres avec des productions pétries d'énergie sombre (36" Chains, Get It) et une violence presque palpable comme constante cosmologique (Job Well Done avec Until the Ribbon Breaks, Twin Hype Back avec Prince Paul). Run The Jewels impressionne par sa maîtrise, un peu comme s'il y avait un chef d'orchestre dans le ballet massif et inquiétant des étoiles d'une galaxie. A Christmas Fucking Miracle en est l'exemple parfait, le morceau se détruit deux fois, puis se reconstruit lentement et violemment à chaque fois. Run The Jewels prouve qu'il faut détruire pour créer et que tout cela est possible en même pas trente minutes. Chef-d'œuvre ? Oui, je crois bien...
---
---
---
---
Streaming du jour - 29.06.2013 par
---