Retrouvez chaque semaine dans nos pages les interviews de quelques-uns des contributeurs à la future compil' Twin Peaks d'IRM. Ancien collectif de hip-hop vicié, massif et ténébreux marqué par le Def Jux du El-P de la grande époque, Grosso Gadgetto sert aujourd'hui de véhicule au beatmaking laborantin de sa tête pensante Christian Gonzalez, qui s'y colle avec passion et sans concession pour cette 11e interview.
Avec une trentaine de morceaux publiés dans l'année via Soundcloud, le Lyonnais nous dévoile enfin toute l'étendue de son talent, aux confins de l'abstract hip-hop donc mais aussi de l'indus, de l'électronica (voire même de l'IDM), du trip-hop, de l'ambient... ou encore d'un électro-jazz atmosphérique et liquéfié réminiscent du Funki Porcini des 90s sur le récent et surprenant Messager. On retrouvera un peu tout ça et plus encore sur Meanwhile, véritable morceau à tiroirs que nous a concocté Christian car quand il est question de Twin Peaks, c'est forcément la dimension la plus ambivalente et barrée de la série de David Lynch qui ressort chez Grosso Gadgetto.
---
L'interview
IRM : Comment résumerais-tu ton rapport à Twin Peaks ? A l'univers de Lynch en général ?
Grosso Gadgetto : David Lynch est un artiste qui a énormément de talent, et qui fait les choses sans compromis. Ou tu aimes ou tu détestes ce qu'il fait. C'est un artiste qui à mon avis (je me trompe peut-être) fait les choses pour lui et, après, pour les autres. Ce n'est pas un reproche, bien au contraire, c'est ma conception de l'artiste. Il faut donc rentrer dans sa tête pour le suivre ce qui n'est pas toujours évident et Twin Peaks en est un bon exemple.
Ton personnage préféré dans la série ?
Pour moi, chaque personnage de la série, et même celui qui fait une courte apparition, a son rôle. Mais j'adore l'agent Dale Cooper, il devrait être le personnage le plus normal par son statut de flic (y a-t-il des gens normaux dans Twin Peaks ?) mais finalement il est aussi, voire plus perché que les autres.
Dans la Black Lodge c'est par lui que que l'on aperçoit tous ces personnages, bien sûr c'est une interprétation personnelle, c'est ce qui fait la richesse des films de David Lynch, personne n'en a la même interprétation. Dur à suivre, le mec est barré !
Une scène qui t'a particulièrement touché... ou fait flipper ?
Chaque passage de l'agent Cooper dans la Black Lodge.
J'adore cet environnement flippant et angoissant à la Hitchcock. L'interprétation hallucinante de ce que voit ou entend Cooper, ce Nain, ces dialogues à l'envers et tout ce qui se passe dans cette pièce, c'est très étrange, tu as du mal à savoir lequel des deux a pris du LSD !? Toi ou eux !?
Tu as enregistré un morceau pour notre future compilation Twin Peaks, quel aspect de la série t'a inspiré ? Toute anecdote est bienvenue !
Oui, et ce fut avec plaisir. J'ai nommé ce titre Meanwhile, en référence justement à une scène assez flippante qui se déroule dans la Black Lodge entre Cooper et Laura Palmer, mais j'ai avant tout essayé de m'inspirer de cette ville et de son environnement assez étrange.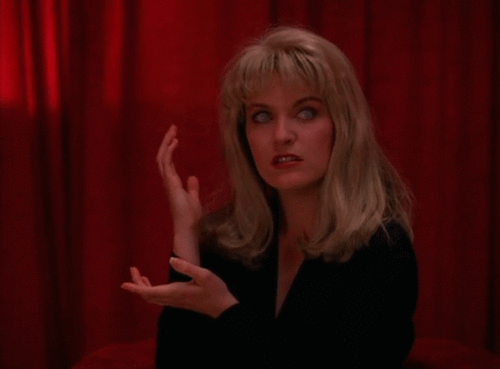 Avec ce titre, je rentre dans cette ville avec l'arrivée des pompiers (!?), ce qui signifie qu'il s'est sûrement passé quelque chose !? Je développe sur une ambiance mélodique à la fois triste et joyeuse, qui parfois s'arrange, parfois se dégrade, le tout accompagné d'un beat légèrement jazzy... par respect envers le maître Angelo Badalamenti !
Tu as eu vent de quelques-uns des musiciens impliqués dans ce projet. Duquel es-tu le plus curieux d'entendre la contribution ?
Évidemment, je ne connais pas tous ces artistes. Je suis donc allé les écouter et je citerais Benoît Pioulard qui n'aura pas de mal à retranscrire l'environnement de Twin Peaks, il est en plein dedans. Cages que j'aime beaucoup, je suis curieux d'écouter ce qu'ils vont faire. Mais aussi Petrels et son drone satanique, Sturqen et Undermathic que je trouve intéressants. Et surtout Terminal Sound System que je découvre, je trouve cela énorme, il n'y a pas vraiment de style et à la fois tous les styles, avec toujours une ligne directrice assez dark. J'aime beaucoup.
Un album vers lequel tu reviens quand il te faut ta dose de Garmonbozia ?
Haha, très bonne question. J'en citerais deux :

The Devil's Walk d'Apparat chez Mute Records, un album de toute beauté à la limite du palpable, à la fois sombre et plein de couleurs, des mélodies qui touchent le cœur, surtout le mien ! Un des rares albums qui arrivent à me rendre triste et joyeux en même temps, il n'est pas rare que je verse ma petite larme en l'écoutant.

Little Johnny From The Hospitul de Company Flow chez Def Jux Records, un album juste magique composé par El-P, mon maître ! Ce disque a amené le hip-hop à des années-lumières. L'ambiance flippante et rassurante de ce disque est pour moi la matière active du Garmonbozia.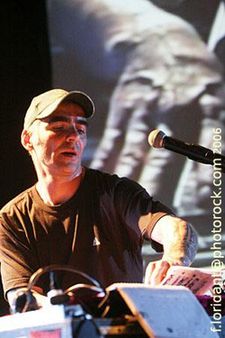 En 2016 tu as sorti pas mal de nouveaux instrus via Souncloud, certains d'entre eux compilés depuis sur l'excellent Vivisection. Quelques mots sur le choix de lâcher ces morceaux en streaming par ce moyen ? D'autres projets sur les rails ?
Oui en effet je suis assez productif, j'y passe énormément de temps, c'est ma drogue, je suis addict à ça !
Pour répondre à ta question, depuis toutes ces années que je côtoie le monde de la musique et son bizness, j'ai signé sur pas mal de labels indépendants et même une major sous différents projets. Mais j'ai malheureusement rarement vu le taf effectué en matière de promo, ventes, travail de fond sur un artiste etc. et surtout la thune de mon travail. Du coup les labels ne m'intéressent plus trop, ce qui me permet une certaine liberté à tous les niveaux, l'intégralité de mes titres sont sur le net et gratos évidement, ça ne me rapporte pas de thune sur les ventes et les droits... mais au moins je sais pourquoi !
Je pars du principe que ça ne sert à rien d'avoir ta musique gravée ou pressée sur un disque si personne ne sait que tu existes ! Des disques de moi j'en ai plein les murs à la maison ! Un artiste sans une équipe derrière lui n'est malheureusement pas grand-chose. C'est cette équipe qui est dure à trouver ! Des fois, il vaut mieux être seul que mal accompagné.
Être indépendant ça a aussi son bon côté car cela me permet de rencontrer des gens, des artistes avec qui je bosse, sans avoir à rendre des comptes.
Des projets ? Oui plein, surtout des collaborations avec des gens rencontrés sur le net, mais pas de live pour l'instant, normal je n'en cherche pas !
---
---
English version
IRM : How would you describe your relationship with Twin Peaks ? With the work/world of David Lynch in general ?
Grosso Gadgetto : David Lynch is a highly talented artist, who does not compromise. Either you like or you hate the stuff he creates. He's an artist who, in my opinion (and maybe I'm wrong) creates stuff mainly for himself rather than for other people. This is not a reproach, quite the contrary, I think this is the way an artist should be. You have to get inside his head to follow his mindstream, which is not always obvious and Twin Peaks is a good exemple of that.
Your favorite character in the series ?
In my opinion, every character in the series, even the ones who make the shorter apparitions, have their importance. But I love Agent Cooper, who should be the "normalest" person due to his status, as he is a cop (is there such a thing as "normal people" in Twin Peaks ?) but in the end, he is as weird, if not more, than the others.
In the Black Lodge, he is the person through whom we get a glimpse of all the different characters, of course it's a personal interpretation, this is what makes David Lynch's movies so meaningful, no one has the same interpretation of them. The guy's so screwed up it's hard to follow !
A scene that particularly moved - or scared - you ?
Every time Agent Cooper is in The Black Lodge.
I love this Hitchcockian scary and angsty setting. The mind-blowing interpretation of everything Cooper sees or hears, this Dwarf, these reversed dialogues and everything that happens in this room is very strange, you have to wonder which one took LSD !? You or them !?
You recorded a track for our forthcoming Twin Peaks compilation, what aspect of the series inspired you ? Any anecdote about that ?
Yes, and the pleasure was mine. I named this track Meanwhile in obvious reference to a rather spooky scene happening in the Black Lodge between Laura Palmer and Cooper, but I mainly tried to take inspiration from the city and its rather strange surroundings.
With this track I enter in the city with the firemen (!?), and that means that surely something wrong has happened !? Then I open up to a happysad mood, sometimes getting better, sometimes worse, along with a silghtly jazzy beat... paying my respects to the Master Angelo Badalamenti !
You heard about some of the musicians involved in this project. Which one are you the most curious to hear the contribution from ?
Obviously I don't know every artist in here. So I had a listen to some and I would say Benoît Pioulard who won't have much difficulties to get into Twin Peak's mood, as he's already sunken in it. I really love Cages and I wonder what they will do. But also Petrels and their satanic drone, and I find Sturqen and Undermathic interesting. But above all, I am currently discovering Terminal Sound System and I find it huge, there's no particular style and every style at the same time, always following a a very dark path. I really like it.
An album you often listen to when you need all your Garmonbozia ?
Ha ha, very good question. I will quote two :

Apparat's The Devil's Walk (Mute Records), a very beautiful and almost palpable record, dark and full of colours at the same time, with melodies that really strike heart strings, especially mine ! One of the few albums that can make me sad and happy, all at once, I often cry a tiny tear listening to it.

Company Flow's Little Johnny From The Hospitul (Def Jux Records) is a magical record composed by my master El-P ! This record brought hip-hop light-years ahead. Its scary and comforting mood is the active matter of Garmonbozia in my eyes.
In 2016 you released several new instrumentals through your Soundcloud page, some of them collected on the excellent compilation album Vivisection. A few words on that choice to release them in this particular manner ? Some other projects on the way ?
Yes, I'm rather productive, I'm spending a lot of time in this, this is my drug, my addiction.
To answer your question, I'll say that throughout all the years I've been working in the music bizness, I've been signed on quite a lot of labels, even on a major, with different projects. But I have too seldom seen the by-products of the promotion, background work with an artist, the sales, etc. and above all, the money from my work. Therefore I'm not really interested in labels anymore, which allows me a certain level of freedom, every track I've ever made is available for free on the internet, I don't get any money from it... but at least now I know why !
I work on the assumption that it's useless to have your music burnt or pressed on a record if nobody knows you even exist ! My walls are filled with records I have made ! An artist, if he doesn't have a team supporting him, is unfortunately not worth much. This team is what is the hardest to find ! Better alone than in bad company...
To be independent also has good sides : I can meet people, and artists to work with, I'm not accountable to anyone for that.
Projects ? I have many, mostly collaborations with people I met on the internet, but no live for now, which is obvious as I'm not looking for any live venue !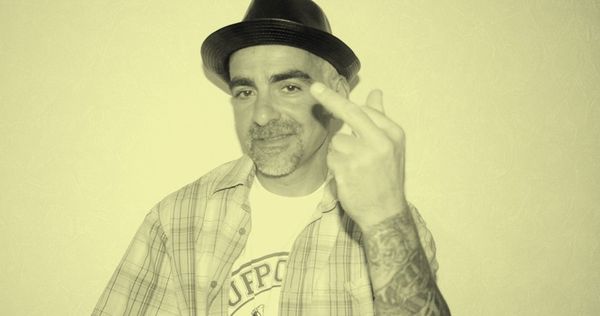 ---
Un grand merci à Christian Gonzalez. Son morceau intitulé Meanwhile paraîtra sur notre compilation Twin Peaks au printemps prochain.
---
Interviews - 26.12.2016 par lloyd_cf, RabbitInYourHeadlights
---
---