Retrouvez chaque semaine dans nos pages les interviews de quelques-uns des contributeurs à la future compil' Twin Peaks d'IRM. Une interview aujourd'hui plus courte qu'à l'accoutumée car de son propre aveu au moment d'accepter notre proposition, Maciej Paszkiewicz n'avait jamais visionné la série, preuve à la fois de sa boulimie créatrice et du pouvoir de fascination de l'œuvre de David Lynch sur l'inconscient collectif puisque l'auteur de Return To Childhood n'a pas pour autant hésité une seule seconde à relever le défi.
Orphelin du label IDM Tympanik Audio qui avait publié l'intégralité de ses sorties soit 3 albums et une excellente compil de faces-B entre 2009 et 2013, Undermathic se cherche désormais une nouvelle écurie pour sortir un projet ambitieux dont il nous parle plus bas. Et Twin Peaks dans tout ça ? On dira que les collisions entre humanité et chaos dans ses compositions électroniques aux textures à la croisée de l'industriel et de l'organique entretenaient déjà suffisamment de rapports involontaires avec la série pour que l'on démarche le Polonais et que le résultat, à la fois onirique et menaçant comme souvent avec lui, ne nous a pas déçus !

---
L'interview
IRM : Tu m'as avoué n'avoir jamais vu Twin Peaks. Qu'en est-il des films de David Lynch ?
Undermathic : Oui, ça peut sembler étrange mais je n'ai jamais eu l'occasion d'en regarder ne serait-ce qu'une minute, même chose pour les films de ce réalisateur. J'espère qu'un jour, quand je passerai moins de temps à faire de la musique, je pourrai corriger cela. (sourire)
J'aime le cinéma en général et quand je regarde quelque chose, j'entre dans le film à cent pour cent, comme si j'étais transporté dans un monde différent.
Qu'est-ce qui a inspiré le morceau enregistré pour notre compilation ?
Ce morceau vient de la première version (la démo disons) d'un titre de mon nouvel album à venir, mais j'ai pensé qu'il conviendrait bien à cette compilation. L'inspiration, comme toujours... elle vient d'un peu partout. A vrai dire j'en ai même trop, je suis très sensible.
Un album vers lequel tu reviens quand il te faut ta dose de Garmonbozia ?
Il y a de nombreuses années, c'était les deux classiques de The Cure, Disintegration et Bloodflowers que j'écoutais beaucoup quand j'étais d'humeur mélancolique. Aujourd'hui, il n'y a pas d'album en particulier. Mais "la douleur et la tristesse" stimulent beaucoup la création dans mon cas, donc en quelque sorte... je les apprécie.
Indistinct Face, ton dernier album en date, remonte à près de 4 ans déjà. Tu m'as révélé travailler sur un nouvel opus, peux-tu nous en dire plus à ce sujet ?
Oui, et j'y travaille toujours, encore et encore...
C'est parce que tout est compliqué et que je suis déjà un peu fatigué, pour être honnête. J'ai créé environ 30 morceaux, et j'ai choisi les 12 meilleurs, donc pour la musique tout est déjà prêt. Désormais, je travaille sur des vidéos, sur l'édition, l'enregistrement, les licences, etc.
Bien sûr, je dois aussi trouver un bon label, parce que Tympanik Audio n'existe plus.
J'ai un projet ambitieux - publier deux albums en 2017. Le premier, nommé Living Holograms, sera emphatique, très analogique et plein d'énergie, avec cinq clips. Le second, intitulé Moments And Places, sera principalement basé sur le piano, très atmosphérique, calme et tranquille.
---
---
Original english version
IRM : You confessed never have seen Twin Peaks. What about David Lynch's movies ?
Undermathic : Yes, it can seem strange but I never had the occasion to watch even one minute of it, same thing with the movies from this director. I hope that one day, when I won't be creating so much music, I will correct this situation. (smile)
I love movies in general and when I am watching something I am entering the movie one hundred per cent, like being into a separate world.
Where did you find inspiration for the song your recorded for our compilation ?
This track comes from the first (let's say demo) version of a track from my new forthcoming album, but I thought that it would be right for this compilation. Inspirations, as ever… they are everywhere. I even have too much inspiration, I am very sensitive.
An album you often listen to when you need all your Garmonbozia ?
Many years ago it was two classic albums from The Cure, Disintegration and Bloodflowers which I listened to a lot of times when I was in a melancholy mood. Today I don't have such an album. But 'pain and sorrow' are very stimulating for creation in my case, so in a way… I like them.
Indistinct Face, your last album to date, was released nearly 4 years ago already. You told me that you've been working on a new record, can you tell us more about it ?
Yes, and I am still working, I am still working and I am still working…
That's because everything is complicated and I am already slightly tired, to be honest. I created about 30 tracks, I chose the 12 best, so all the music is already ready. Now I am working on music videos, editing, recording, licences etc.
Of course I must also find some good music label, because Tympanik Audio doesn't exist anymore.
I have an ambitious plan – to publish two albums in 2017. The first one, named Living Holograms, will be big, very analogue and full of energy, with five music videos. The second one, entitled Moments And Places, will be based mainly on piano, very atmospheric, calm and quiet.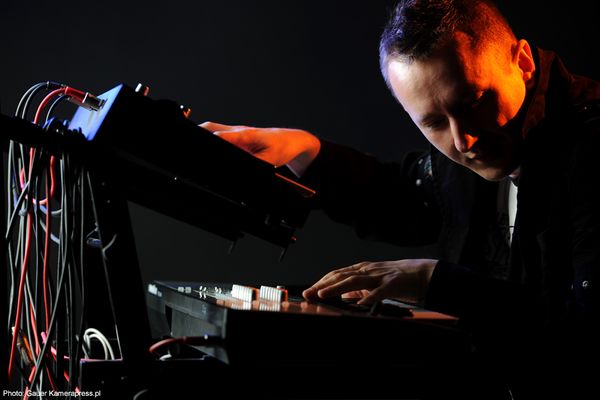 ---
Un grand merci à Maciej Paszkiewicz. Son morceau intitulé All Around You paraîtra sur notre compilation Twin Peaks au printemps prochain.
---
Interviews - 13.01.2017 par
---