Retrouvez chaque semaine dans nos pages les interviews de quelques-uns des contributeurs à la future compil' Twin Peaks d'IRM. Peintre, vidéaste, photographe, professeur d'arts plastiques venu à la musique sur le tard, nous avions déjà interviewé Philippe Neau en 2013, un entretien fleuve sur la création et le rapport de sa musique, radicalement ambient, avec son environnement.
Cette fois c'est donc sous le prisme de Twin Peaks mais aussi de sa foisonnante actualité sous des identités mutantes que l'on retrouve l'artiste protéiforme et particulièrement productif en ce moment, sur des labels auxquels il est fidèle depuis quelques années tels que Petroglyph Music, Dhatūrā, Etched Traumas ou Format Noise. Tellement productif que le mois dernier passait sous nos radars une première collaboration avec les expérimentateurs sonores portugais Benjamin Silva-Pereira et Nuno Ribeiro, ça s'appelle Mitosis et l'album témoigne du goût du trio pour des fantasmagories labyrinthiques et pour le coup très lynchiennes, faites de guitares hallucinées, de jazz ténébreux, d'interférences extra-dimensionnelles et de nappes dark ambient baroques aux percus hypnotiques de cauchemar éveillé :
---
L'interview
IRM : Comment résumerais-tu ton rapport à Twin Peaks ? A l'univers de Lynch en général ?
Philippe Neau : Je suis un grand fan du travail de Lynch : ses films (Lost Highway et surtout Mulholland Drive), sa musique (Blue Bob et Crazy Clown Time surtout), ses peintures et dessins. Je regrette de n'avoir pas pu voir l'exposition à la Fondation Cartier mais je feuillette assez régulièrement le catalogue... Son univers me touche beaucoup et me parle. J'aime l'étrangeté qui s'en dégage, entre réalité et rêve sombre, ce climax crépusculaire, cette tension sourde qui domine souvent...
En ce qui concerne Twin Peaks : j'ai d'abord vu le film quand il est sorti. J'avais été un peu déboussolé dans cet univers car je supposais et ressentais des vides, des manques, visiblement il me manquait des éléments pour saisir "l'histoire" et les ellipses et en même temps j'étais fasciné par les images, les couleurs, la noirceur, l'univers, le décalage justement. J'ai vu la série il y a quelques années. Tous les épisodes à suivre en une semaine : une belle expérience ! Très forte, fascinante... Les morceaux du puzzle entre le film et la série se sont plus ou moins assemblés. Les vides et ellipses comblés, partiellement.
Ton personnage préféré dans la série ?
Celui qui me fascine le plus est la Dame à la Bûche et particulièrement ses messages mystérieux, sortes de bouteilles jetées à la mer sans retour possible.
Dale Cooper est aussi fascinant. Personnage mystérieux et décalé : enquêteur ou passeur ?
Pour finir, la musique apparait comme une entité à part entière, très présente, qui rend palpable cet univers, s'adapte aux images et module les climats.
Une scène qui t'a particulièrement touché... ou fait flipper ?
Les moments de flottement dans la saison 2, où l'histoire ne semble pas avancer... La scène du labyrinthe où les personnages se retrouvent et tout flotte... Les scènes où Bob apparaît... Le générique du début est excellent aussi... En fait pas mal de moments.
Tu as enregistré un morceau pour notre future compilation Twin Peaks, quel aspect de la série t'a inspiré ? Toute anecdote est bienvenue !
J'ai préféré laisser de côté les mélodies du générique qui pourtant me plaisent beaucoup. Je suis parti du personnage de la Dame à la Bûche. Il y a d'ailleurs un sample de sa voix et de l'un de ses messages subliminaux dans le morceau. Dans mon esprit, je voulais évoquer la série par le côté nature et son potentiel de mystère. C'est donc plus une évocation de la série, comme si la Dame à la Bûche se promenait dans les bois... A moins qu'il ne s'agisse de Bob ou Laura...
Tu as eu vent de quelques-uns des musiciens impliqués dans ce projet. Duquel es-tu le plus curieux d'entendre la contribution ?
Oui, j'ai eu vent de certains participants. Tout le programme me paraît attrayant : j'attends avec impatience la sortie !
Un album vers lequel tu reviens quand il te faut ta dose de Garmonbozia ?
Cela ne m'arrive pas souvent... plutôt de la mélancolie, vague à l'âme... ça dépend aussi des saisons... The Young Gods... Ministry... Bob Marley... Timber Timbre... Bon Iver... En ce moment ce sont les K&D Sessions.
En 2016 tu as sorti les beaux EPs Persephone et surtout Tracks to Nowhere, ténébreux et radiant, qu'on adore à IRM, ainsi que deux collaborations avec l'Américain December Nightskies. Quelques mots à ce propos ? D'autres projets sur les rails ?
En effet, j'ai participé à la série "Codex" (orchestrée par David de Dhatūrā) évoquant des héroïnes mythologiques. L'idée m'a beaucoup plu : évoquer et rendre sonore un univers plus ou moins fantasmé et basé sur des légendes. Le personnage le plus sombre m'est tombé dessus...
Je suis très content d'avoir pu sortir Tracks to Nowhere (sur Format Noise). Cet EP a eu une drôle d'histoire : il est passé par plusieurs chemins et labels qui ont disparu entretemps... Un cheminement assez lent...
Pour la collaboration avec December Nightskies, c'est Kendall qui m'a contacté en 2015. On a sorti 7 versions de Vibrating Walk. L'idée était de partir de morceaux de chacun, de les coller, retoucher, mixer et remixer. Nos deux univers se rencontrent dans l'évocation d'un paysage sonore froid, aride, étendu... On a sorti un split aussi cette année...
Une collaboration avec BroodingSideOfMadness, Dis-tu, est sortie aussi il y a peu sur Etched Traumas : je suis très content du travail réalisé avec Joseph et ses mélodies dans cette évocation du poème de Mallarmé....
D'autres projets ? Une collaboration avec Walter Fini devrait sortir bientôt... Un album sur 7MNS... Des morceaux en chantier à finir... Des collaborations en stand by (Monsieur Saï, Le Crapaud, He-lium ...) donc à réactiver, d'autres qui se profilent (Harry Summer, Philippe Lamy, Ullapul)...
Un seul petit regret cette année : le projet Les Troubles d'Echo (sur Sonoscape, une peinture et un morceau de 35 mn) n'a pas vraiment trouvé sa place... Il reste des toiles : avis aux amateurs !
Autre nouvelle pour 2017 : l'alias nobodisoundz va laisser sa place à philippe neau... Besoin de muter et de rendre cohérent tous mes projets.
---
Philippe Neau / nobodisoundz sur Bandcamp ici et là / Facebook ici et là / Soundcloud
---
English version
IRM : How would you describe your relationship with Twin Peaks ? With the work/world of David Lynch in general ?
Philippe Neau : I'm a big fan of Lynch's work : his films (Lost Highway, and above all, Mulholland Drive), his music (Blue Bob and Crazy Clown Time especially), his paintings and his drawings. I regret not having been able to go and see his exhibition at the Cartier Foundation but I regularly flip through the catalogue... His universe clicks with me and talks to me. I like the weirdness that oozes out of it, beween reality and dark dreams, this dusk-like climax, this tense atmosphere that often prevails...
As for Twin Peaks, I first saw the movie when it came out. I was a little disoriented in this universe because I was feeling there were voids, I was obviously lacking elements to understand the "story" and the ellipsis and at the same time I was fascinated by the images, the colors, the darkness, the universe, the offset dimension actually. I watched the series a few years ago. Every single episode in one week : a beautiful experience ! Very strong, fascinating... the puzzle pieces betwen the film and the series got linked together more or less. The voids and omissions got filled, at least partially.
Your favorite character in the series ?
The character who fascinates me the most is the Log Lady et especially her mysterious messages, like bottles thrown at sea without any hope of return.
Dale Cooper is fascinating too. A weird and out-of-place character ; does he investigate or is he chanelling something ?
Eventually, music is an entitiy by itself, very real, it makes the universe tangible, adapts itself to the pictures and regulates the whole atmosphere.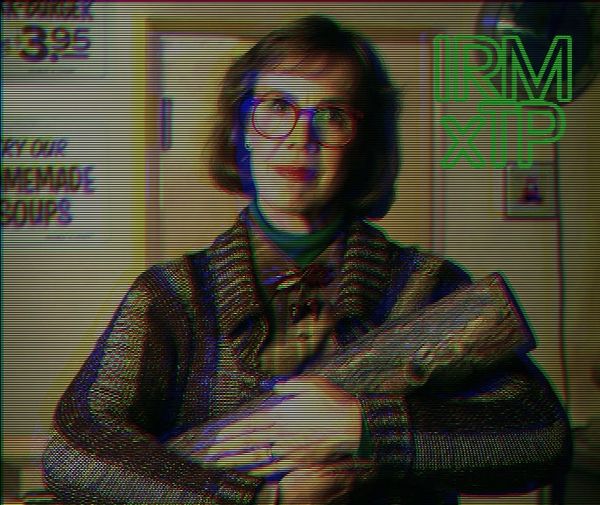 A scene that particularly moved - or scared - you ?
Hovering moments in season 2, when the storyline doesn't seem to carry on... The maze scene when characters gather and everything floats... Scenes when Bob appears... The opening credits are not bad either... In fact a lot of moments.
You recorded a track for our forthcoming Twin Peaks compilation, what aspect of the series inspired you ?
I made the choice to let aside the melodies from the opening credits, that I really like nevertheless. I started with the Log Lady. By the way, there is a sample of her voice and one of her subliminal messages in the track. In my mind, I wanted to evoke the series for its natural aspect and its mystery potential. This is more like an evocation of the series, as if the Log Lady took a walk in the woods... Unless it's Bob or Laura...
You heard about some of the musicians involved in this project. Which one are you the most curious to hear the contribution from ?
Yes, I heard about some of the musicians involved. The whole program seems attractive to me : I'm eagerly waiting for the release !
An album you often listen to when you need all your Garmonbozia ?
It doesn't happen often... mostly melancholia, gloominess... it also depends on the seasons... The Young Gods... Ministry... Bob Marley... Timber Timbre... Bon Iver... Right now it's the K&D Sessions.
Last year you released the EPS Persephone and especially the dark and dazzling Tracks To Nowhere that we like a lot at IRM, and also a couple of collaborations with the American musician December Nightskies. A few words about those ? Some other projects on the way ?
Yes, I participated in the "Codex" series (orchestrated by David from Dhatūrā) about mythological heroines. I really loved the idea : to evoke and sonorize a more-or-less fantasized universe based on legends. I inherited the darkest character...
I'm very happy to have been able to release Tracks to Nowhere (out on Format Noise). This EP has a weird story : it went through different paths and labels that have disappeared since... A very slow path...
As for the collaboration with December Nightskies, Kendall contacted me in 2015. We released 7 Vibrating Walk versions. The idea was to start from both our tracks, paste, modify, mix then remix them. Our two worlds collide with the evocation of a cold, dry, wide sonic landscape... We also released a split this year...
A collaboration with BroodingSideOfMadness, called Dis-tu, is out too on Etched Traumas : I'm very happy of the work we made with Joseph, and his melodies evoking a Mallarmé poem...
Other projects ? A collaboration with Walter Fini should be out soon... An album on 7MNS... Works in progress to complete... Collaborations on stand-by (with Monsieur Saï, Le Crapaud, He-lium...) to re-activate, others coming soon (Harry Summer, Philippe Lamy, Ullapul)...
I only have a little regret for this year : my project Les Troubles d'Echo, on Sonoscape (a painting and a 35 minutes track) didn't really find its place... There are still paintings left : connoisseurs are welcome !
Another news for 2017 : nobodisoundz will switch to philippe neau... I have to blend all my projects into a coherent one.
light shadows from philippe neau on Vimeo.
---
Un grand merci à Philippe Neau. Son morceau intitulé Mystery Of Woods paraîtra sur notre compilation Twin Peaks au printemps prochain.
---
Interviews - 16.01.2017 par
,
---