Retrouvez chaque semaine dans nos pages les interviews de quelques-uns des contributeurs à la future compil' Twin Peaks d'IRM. 21e interviewé, Frietboer, qui s'il n'avait de son propre aveu jamais visionné la série en entier, en avait conservé une impression suffisamment durable pour s'impliquer dans le projet via une collaboration inédite.
Frietboer, c'est donc le Néerlandais Thijs van den Bosch, patron du label Frietboerism défrichant l'underground hip-hop des Pays-Bas, et lui-même aussi à l'aise dans les productions hip-hop abrasives ou dans un abstract oppressant (l'immense EP Phiertrek) que dans des sphères plus atmosphériques, qu'il explore justement avec l'aide de son compatriote DJ Daan aux platines sur le morceau enregistré pour notre compilation.

---
L'interview
IRM : Comment résumerais-tu ton rapport à Twin Peaks ? A l'univers de Lynch en général ?
Frietboer : La peur, et quelque chose qui n'est pas de cette planète, quelque chose d'irréel.
Ton personnage préféré dans la série ?
La Dame à la Bûche.
Tu as enregistré un morceau avec DJ Daan pour notre future compilation Twin Peaks, quel aspect de la série t'a inspiré ? Toute anecdote est bienvenue !
Ma première rencontre avec Twin Peaks c'était à une fête dans un petit village. Quelqu'un a mis la série alors que j'essayais de dormir… tout ce dont je me souviens c'est qu'une femme n'arrêtait pas de crier. DJ Daan et moi on n'a jamais regardé la série en entier.
Tu as eu vent de quelques-uns des musiciens impliqués dans ce projet. Duquel es-tu le plus curieux d'entendre la contribution ?
Chantal Acda.
Un album vers lequel tu reviens quand il te faut ta dose de Garmonbozia ?
Je pense que ce serait Rage Against the Machine, l'éponyme.
En 2016 tu as sorti l'EP hip-hop et spoken word F​.​Y​.​I., réflexion sur la culture et l'héritage en collaboration avec 3 artistes néerlandais, que tu as mis en musique. Quelques mots à ce propos ? D'autres projets sur les rails ? Es-tu toujours en contact avec le rappeur américain Brad Hamers ? On est plusieurs dans l'équipe à rêver d'un successeur au noisy You Were Murdered As A Kid de votre duo Dust On Snow...
F.Y.I., For Your Information, c'est quatre personnes expliquant par le biais de leur poésie leur héritage personnel et la place qu'ils y trouvent… à dire vrai si j'y ai également pris part avec mes mots, c'est parce que je ne me sens pas si connecté que ça avec mes racines.
Après le projet Dust On Snow avec Brad Hamers, j'ai essayé de lui demander des morceaux mais il était toujours trop occupé par d'autres projets donc rien de neuf encore.
Dernièrement je suis particulièrement intéressé par le son des cassettes audio et vidéo... j'aime l'instabilité du son de ces bandes. Cette année j'aimerais refaire un album comme Freemo, mais je ne suis plus aussi productif ces temps-ci...
---
---
Original english version
IRM : How would you describe your relationship with Twin Peaks ? With the work/world of David Lynch in general ?
Frietboer : Fear and not from this earth/unreal.
Your favorite character in the series ?
The Log Lady.
You recorded a track with DJ Daan for our forthcoming Twin Peaks compilation, what aspect of the series inspired you ? Any anecdote about that ?
My first encounter with Twin Peaks was at a homeparty in a small village. Somebody put the series on while i was trying to sleep… all i can remember was a woman screaming all the time. DJ Daan and i never watched the whole series.
You heard about some of the musicians involved in this project. Which one are you the most curious to hear the contribution from ?
Chantal Acda.
An album you often listen to when you need all your Garmonbozia ?
I think that will be Rage Against the Machine – Rage Against the Machine.
In 2016 you released F.Y.I., a hip-hop/spoken word/poetry EP about culture and heritage with 3 artists from Netherlands, and you as composer. A few words about it ? Some other projects on the way ? Are you still in touch with Brad Hamers ? We would definitely love to hear a new album from your noisy project Dust On Snow, almost 6 years after You Were Murdered As A Kid...
F.Y.I., For Your Information were four people explaining via their poetry about their personal heritage and place in it… i actually joined with my words because i don't feel that much relation to my own roots.
After the Dust On Snow project with Brad Hamers i tried to ask him for several tracks, but he was too caught up in other projects so nothing new yet.
Lately i am very much into the sound of cassette tapes or vhs tapes… i like the inconsistancy of the sound from tapes. This year i would like to make an album like Freemoo, but i haven't been that productive those last few years…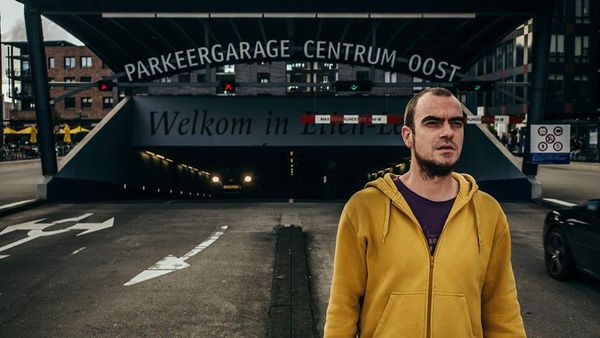 ---
Un grand merci à Thijs van den Bosch. Son morceau avec DJ Daan intitulé And David Would Say Many Things paraîtra sur notre compilation Twin Peaks au printemps prochain.
---
Interviews - 18.01.2017 par RabbitInYourHeadlights
---
---