Retrouvez chaque semaine dans nos pages les interviews de quelques-uns des contributeurs à la future compil' Twin Peaks d'IRM. Parmi eux, Dirk Serries, cultissime expérimentateur d'outre-Quiévrain dont les soundscapes à guitare ont contribué à donner au dark ambient et au drone doom leurs lettres de noblesse et à ouvrir leurs horizons forgés par la musique industrielle à l'influence du jazz et de l'improvisation.
Avec une disco aussi étoffée sur plus de trois décennies depuis les premiers balbutiements post-indus de son alias Vidna Obmana (abandonné en 2009 après 25 ans de stakhanovisme dans le dark ambient versant électronique ou noisy), tout admirateur de Dirk Serries a forcément son projet fétiche. Pour moi ce fut Continuum : deux albums fabuleux avec Bass Communion (aka Steven Wilson de Porcupine Tree) au mitan des années 2000 pour 6 instrumentaux hors-format œuvrant dans un dark ambient/doom ambient mythologique et particulièrement épuré. Depuis, c'est de plus en difficile de ne rien laisser échapper de ce que sort le Belge dans des univers divers et variés, mais en 2016 on a essayé à nos risques et périls, l'occasion d'un petit point en fin d'interview après les twin-peakseries habituelles.

---
L'interview
IRM : Comment résumerais-tu ton rapport à Twin Peaks ? A l'univers de Lynch en général ?
Dirk Serries : Je suis un admirateur et un fan de David Lynch depuis les tout débuts quand il a réalisé Eraserhead. Twin Peaks fut une révélation à l'époque pour nous les geeks, comme c'était fait pour la télévision. Je me souviens qu'avant la diffusion de la série ici en Belgique, un ami d'enfance et moi avions cherché frénétiquement le film réalisé pour le marché européen. Un film qui avait une fin différente et faisait du méchant, Bob, une véritable personne. Nous organisions des fêtes privées sur le thème de Twin Peaks avec des tartes aux cerises, des litres de café, des vidéos amateur de ventilateurs et un salon décoré comme la Red Room. Oui, de toute évidence on était pas mal obsédés par tout ça.
Ton personnage préféré dans la série ?
Bien qu'il n'ait pas beaucoup de présence à l'écran en dépit d'un rôle essentiel, j'aime beaucoup Mike, le Manchot. Il y a quelque chose de mystérieux et d'inconfortable à propos de ce personnage et je ne peux qu'espérer qu'il réapparaîtra dans la nouvelle saison afin d'éclairer sa relation avec Bob.
Parmi les personnages principaux, ce serait Ray Wise dans le rôle de Leland Palmer. Un personnage magnifique et bien interprété, la façon dont il se transforme d'avocat presque ennuyeux en assassin psychotique est fascinante.
Une scène qui t'a particulièrement touché... ou fait flipper ?
Plusieurs scènes m'ont véritablement ému ou ébahi. Mais j'aime toujours autant ce dernier épisode que David Lynch lui-même est revenu diriger, après une série d'épisodes franchement idiots voire ennuyeux pendant la 2ème saison. La manière dont il a repris les choses en main avec une telle pièce de pur art abstrait m'a estomaqué. Les scènes dans la Red Room sont tout simplement fantastiques et me rappellent pourquoi Twin Peaks est devenu si unique.
Tu as enregistré un morceau pour notre future compilation Twin Peaks, quel aspect de la série t'a inspiré ?
Ce morceau est un remix d'un enregistrement inédit de Microphonics, issu des sessions de l'album Microphonics XXVI-XXX : Resolution Heart. Pour le faire coller au thème de Twin Peaks, j'ai inversé tous les sons de l'enregistrement original. Chaque son de guitare que vous entendez est inversé, qu'il soit ensuite manipulé ou non.
Tu as eu vent de quelques-uns des musiciens impliqués dans ce projet. Duquel es-tu le plus curieux d'entendre la contribution ?
Définitivement intéressé par la compilation dans son ensemble, mais je suis particulièrement curieux d'entendre les contributions de Chantal Acda et Kyle Bobby Dunn.
Un album vers lequel tu reviens quand il te faut ta dose de Garmonbozia ?
Trois albums ex aequo au-dessus du lot : Tabula Rasa d'Arvo Pärt, La Mutazione de Giancarlo Toniutti et The Plain Truth de Maurizio Bianchi. Trois albums qui incarnent la tristesse, le chagrin, la douleur, mais qui servent aussi à soigner. De la musique qui apaise et crée pour moi ce genre de havre isolationniste.
En 2016 tu as sorti le superbe Legion Of Radiance enregistré live avec Yodok III (ainsi qu'un live au festival Roadburn intitulé The Mountain Of Void), l'impressionnant album d'improvisation free signé Daelman/Serries/Troch, un nouveau volet magnétique de ta série drone ambient Microphonics (Resolution Heart), un 7' minimaliste entre drone et shoegaze avec Jesu (qui s'appelle aussi Resolution Heart), l'album de guitare dissonante Etched Above The Bow Grip, une session live improvisée (Enomeni) avec Aidan Baker et N chez Midira, une réédition par Tonefloat de tes Continuum Recyclings (incluant des remixes signés Vidna Obmana du fabuleux Continuum I), plusieurs performances improvisées en compagnie du saxophoniste John Dikeman, des collaborations avec Rutger Zuydervelt (Machinefabriek), Chihei Hatakeyama, Celer... Est-ce qu'on en a laissé passer ? D'autres projets sur les rails ?
Merci. 2017 sera une année de transition et de réflexion. L'année dernière, beaucoup de sorties ont vu le jour, mais certains événements m'ont également conduit à ré-imaginer l'avenir et aborder plusieurs questions différemment. Donc cette première moitié d'année mettra l'accent sur les concerts (ceux du 5ème anniversaire de Raw Tonk, du DST Trio, de Yodok III) et je vais passer moins de temps en studio. 2017 sera également l'année où Hellmut Neidhardt (N) et moi-même donnerons naissance à Scatterwound, collaboration en chantier depuis 7 ans [album 0.0 à paraître début février, ndlr], et plus tard, Tomas Järmyr - le batteur de Yodok III - et moi même allons réactiver notre duo The Void Of Expansion. Vraiment hâte d'y être !
---
Vidna Obmana sur Bandcamp
Fear Falls Burning sur Bandcamp
---
Original english version
IRM : How would you describe your relationship with Twin Peaks ? With the work/world of David Lynch in general ?
Dirk Serries : I've been an admirer and fan of David Lynch since almost day one when he directed Eraserhead. Twin Peaks was the revelation back then for us geeks as it was for television. I remember that, before the TV series was broadcasted over here in Belgium, a childhood friend and I furiously searched for the movie that was made for the European market. A movie that had a different ending and made the villain Bob a real person. Since then we organized Twin Peaks-themed private parties with cherrypie, liters of coffee, home-made videos of ventilators and a living room decorated like the Red Room. Yes, you could say we were pretty obsessed.
Your favorite character in the series ?
Despite he hardly had screentime but nevertheless played an essential role, I really like the One-Armed Man. Something mysterious and uncomfortable about that character and can only hope in the new series he'll return in order to enlight his relationship more with Bob.
From the main characters without exception Ray Wise as Leland Palmer. Magnificent character and well-acted, the way how he transforms from the almost dry lawyer to the psychotic killer is mesmerizing.
A scene that particularly moved - or scared - you ?
Several ones definitely moved or stunned me. But still love that final episode when David Lynch himself returned to direct that one, after frankly a series of silly, sometimes boring, episodes in the 2nd season. The way how he came back with such an abstract piece of pure art left me flabbergasted. The scenes in the Red Room are just fantastic and remind me why Twin Peaks became so unique.
You recorded a track for our forthcoming Twin Peaks compilation, what aspect of the series inspired you ?
This track is a remix of an unused Microphonics recording, culled from the studio sessions for the Microphonics XXVI-XXX : Resolution Heart album. What I did in order to adjust it to the Twin Peaks theme is reverse all the sounds of this original recording. Every guitar sound you hear is reversed, whether processed afterwards or not.
You heard about some of the musicians involved in this project. Which one are you the most curious to hear the contribution from ?
Definitely interested in the compilation album as a whole but for sure curious to hear the contributions by Chantal Acda and Kyle Bobby Dunn.
An album you often listen to when you need all your Garmonbozia ?
Three albums on par to top them all : Arvo Pärt's Tabula Rasa, Giancarlo Toniutti's La Mutazione and Maurizio Bianchi's The Plain Truth. Three albums that personalize the sorrow, grief and pain but equally work as a medicine. Music that is soothing and creates that personal isolationistic haven.
In 2016 you released the beautiful live album Legion Of Radiance with Yodok III (and a live at Roadburn Festival called The Mountain Of Void), the quite impressive Daelman/Serries/Troch free improv album, a magnetic new installment of your drone ambient series Microphonics (Resolution Heart), a minimal drone/shoegaze 7' with Jesu (also called Resolution Heart), the discordant guitar album Etched Above The Bow Grip, an improvised live session (Enomeni) with Aidan Baker and N on Midira, a reissue by Tonefloat of your Continuum Recyclings (including Vidna Obmana remixes of the beloved Continuum I), several improvised performances with saxophonist John Dikeman, collaborations with Rutger Zuydervelt (Machinefabriek), Chihei Hatakeyama, Celer... What did we miss ? Some other projects on the way ?
Thanks, 2017 will be a year of transition and reflection. Last year a lot of releases saw the daylight but also some events that led to re-drawing the future and how to approach several issues differently. So this first half of the year the focus is on the concerts (the Raw Tonk 5th anniversary shows, DST Trio, Yodok III) and less studio time. 2017 will be also the year when Hellmut Neidhardt (N) and myself will give birth to the Scatterwound collaboration we've been planning to do for almost 7 years [editor's note : 0.0, out in February], and later on Yodok III drummer Tomas Järmyr and I will re-boot our duo The Void Of Expansion. Really looking forward !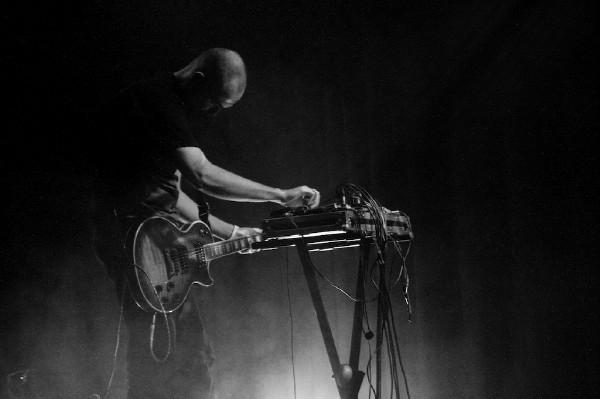 ---
Un grand merci à Dirk Serries. Son morceau intitulé Microphonics XXVIII - Inflame the Spleen paraîtra sur notre compilation Twin Peaks au printemps prochain.
---
Interviews - 20.01.2017 par RabbitInYourHeadlights
---
---