Retrouvez chaque semaine dans nos pages les interviews de quelques-uns des contributeurs à la future compil' Twin Peaks d'IRM. Aujourd'hui, c'est au tour d'Oso Blanco de se prêter à notre petit jeu des questions/réponses et cerise sur la cherry pie, le beatmaker californien nous livre même en avant-première la vidéo qu'il a réalisée pour agrémenter son Cooper's Dreams, le titre qu'il nous a offert ! Via 77 Rise Recordings et US Natives, son hip-hop DIY aura été une découverte pour nous cette année, et son travail a lui aussi été grandement influencé par David Lynch et Twin Peaks.
En 2016, Oso Blanco aura ratissé largue niveau inspiration ! D'abord avec Kung Fu Treachery qui explorait les filiations sonores entre le trip shaolin, les ambiances de séries Z hongkongaises et le hip-hop, du déjà vu me direz-vous ! Oui, effectivement, mais le Californien y a ajouté la juste dose de boom-bap lo-fi qui fait qu'on se prendrait pour un ninja avec un couteau à beurre. Sans rapport (quoi que...), Oso Blanco est ensuite allé faire ses courses du coté de Bollywood avec l'excellent Blancowood. Un truc tout frais, technique, abstrait mais cool, le beatmaker s'est accaparé les dissonances indiennes pour les amplifier et les magnifier ! Ici, la succession de vignettes, comme autant d'épisodes, donne un côté cinématique au LP qui se veut comme une lente progression, du grand art fait d'abstract et de coolitude, domaines qu'il maîtrise : pour preuve, son dernier Cuts For The Boombox sorti à quatre mains avec son pote Matt Kuartz dont on reparlera plus bas, mais d'ailleurs je me tais, place à Oso Blanco, à son interview et surtout ne ratez pas son clip !
---
L'interview
IRM : Comment résumerais-tu ton rapport à Twin Peaks ? A l'univers de Lynch en général ?
Oso Blanco : Ma relation avec Twin Peaks, c'est que je peux me perdre dans son monde singulier et sa galerie de personnages. Twin Peaks est l'une des rares séries que je peux regarder en rafale quand j'ai le cafard. Le caractère unique de la série m'a toujours laissé envoûté, à en vouloir plus, tout comme l'excentricité qui se dégage de l'histoire et des personnages tout au long de la série.
Ton personnage préféré dans la série ?
C'est l'une des questions les plus difficiles parce que les personnages qui se démarquent dans Twin Peaks sont tellement nombreux, en temps normal je choisirais l'agent Cooper parce qu'il est juste dingue et que je n'ai jamais assez de ses petites citations, mais là je dirais le gamin à la crème de maïs, qui si tu n'es pas sûr de qui je parle est le petit-fils de Mme Tremond. La scène avec la crème de maïs est toujours restée profondément ancrée en moi, donc je pense que ce gamin bizarre et flippant doit être mon personnage préféré. Hahaha.
Une scène qui t'a particulièrement touché... ou fait flipper ?
Pour moi, ça remonte à cette scène de la crème de maïs, le petit-fils dit je crois "certaines choses arrivent juste comme ça" et il claque des doigts. Je sais pas trop, juste l'ambiance générale et le côté flippant de cette scène m'ont toujours frappé au plus profond de mon être. Ma scène préférée de toute la série.
Tu as enregistré un morceau et monté une vidéo pour notre future compilation Twin Peaks, quel aspect de la série t'a inspiré ?
Pour la vidéo et la chanson, j'ai essayé d'assembler un morceau à l'atmosphère grave et inquiétante et une vidéo en noir et blanc très lugubre pour les faire correspondre. Ce que j'ai tenté de faire je suppose, c'est de faire ressortir les vibrations sinistres que l'on peut trouver dans Twin Peaks sans vraiment les tirer de l'imagerie Twin Peaks.
Tu as eu vent de quelques-uns des musiciens impliqués dans ce projet. Duquel es-tu le plus curieux d'entendre la contribution ?
Il y a tellement de talentueux artistes impliqués, c'en est presque écrasant, je suis juste excité à l'idée d'écouter le projet en entier et de sentir les différentes vibrations et perceptions que chaque individu apporte à l'édifice, ça va vraiment être étonnant de découvrir l'interprétation du son de Twin Peaks par chacun des contributeurs et ce que la série signifie pour eux.
Un album vers lequel tu reviens quand il te faut ta dose de Garmonbozia ?
Je ne sais pas si j'ai un album, mais il y a des chansons qui peuvent faire remonter beaucoup de pensées douloureuses capables de me faire quelque peu basculer du côté obscur, ceci dit aujourd'hui j'essaie de garder mes distances avec ça. Toutefois pour ne pas éluder totalement la question, je dirais que l'album A Son of the Sun d'Uyama Hiroto me rappelle toujours tous les moments de mon passé.
In 2016 tu as sorti deux albums, Kung Fu Treachery chez US Natives Records et l'extraordinaire Blancowood sur 77 Rise Recordings. Quelques mots à leur propos ? D'autres projets sur les rails ?
Yep, 2016 a été une année dingue pour moi, je crois vraiment que mon entrée dans la musique a été une bénédiction. Avec ma vie personnelle et familiale dans un chaos sans fin, ça a été génial de pouvoir mettre beaucoup de ce chaos dans une musique qui a été jugée digne de sortir physiquement. Kung Fu Treachery était un petit projet sympa que j'ai assemblé en quelques semaines avec très peu de sommeil surtout, juste du travail, des beats et beaucoup de films de kung-fu de la Shaw Brothers, un projet très fun, mais très probablement aussi mon premier et dernier projet dans le monde du kung fu de salon.
Sans Us Natives et Ill Clinton pour me mettre sur la carte dans l'univers du beatmaking, je n'aurais jamais eu la grande opportunité de travailler avec Matt Bloom [patron de 77 Rise Recordings, ndlr] qui comme moi est un Californien de souche, et qui met beaucoup de foi en moi et dans mon talent de musicien.
Blancowood c'était mon projet psychédélique pour réintroduire le monde à la musique de Bollywood que mon idole Madlib a rendue si célèbre. En fait, je viens de sortir mon deuxième projet sur 77 Rise Recordings, une split cassette avec mon pote anglais Matt Kuartz, le bonhomme est pété de talent et m'a beaucoup appris dans le monde de beatmaking, donc pour moi ce fut un immense honneur de réaliser ce projet avec lui.
En ce qui concerne les projets futurs, cette année vous verrez une suite à Blancowood qui est presque terminée, et puis j'ai quelques autres projets sous le coude, mais pour l'instant je n'en dirai pas plus.
---
---
Original english version
IRM : How would you describe your relationship with Twin Peaks ? With the work/world of David Lynch in general ?
My relationship with Twin Peaks is one where i can get lost in its unique world and cast of characters. Twin Peaks is on a short list of shows that i tend to binge-watch when i'm in a mental funk. The series uniqueness has one that has always left me entranced and wanting more, along with the quirkiness that comes along with the story and characters throughout the series.
Your favorite character in the series ?
This is one of the hardest question because the cast of characters that stand out in Twin Peaks is so vast, normally i would pick Agent Cooper because he is just such a nut and i can't get enough of his little quotes, but i'd have to say the creamed corn kid which if you are not sure who i mean is Mrs. Tremond's grandson. The scene with the cream corn always stuck in deep with me so i think that weird creepy kid has to be my favorite character. Hahaha.
A scene that particularly moved - or scared - you ?
To me it goes back to that cream corn scene, the little grandson says i believe "some things just happen like this" and he snaps his fingers. I'm not sure, just the over ambiance and creepiness of that scene always just hit me deep into the core. My favorite scene in the whole series.
You recorded a track with a home-made video for our forthcoming Twin Peaks compilation, what aspect of the series inspired you ?
For the video and the song I tried to place together a song with a serious ominous vibe and a very gloomy black and white video to match. What i guess i attempted was to bring out the dreary vibes that can be found in Twin Peaks without actually drawing from the pool of Twin Peaks.
You heard about some of the musicians involved in this project. Which one are you the most curious to hear the contribution from ?
There are just so many talented artist involved, it's almost overwhelming, i'm just excited to see the project in full and see the different vibes and perceptions that each individual brings to the table, it's really gonna be amazing to see each person's take on the sound of Twin Peaks and what it is to them.
An album you often listen to when you need all your Garmonbozia ?
I don't know if i have an album former but there are some songs that can bring up a lot of painful thoughts that can put me into a bit of a world of darkness, but nowadays i try to stay away from that. But to not cop out completely i will say the album by Uyama Hiroto entitled A Son of the Sun always gets me reminiscing of all the moments of my past.
In 2016 you released two albums, Kung Fu Treachery with US Natives Records and the extraordinary Blancowood with 77 Rise Recordings. A few words about them ? Some other projects on the way ?
Ya 2016 was a crazy year for me, I truly believe my music start has been a blessing. With my personal and home life in ever such chaos, it was great to put a lot of that chaos into music that was deemed worthy enough for physical release. Kung Fu Treachery was a nice little project i put together in a few weeks with very little sleep mostly, just work and beats and many many Shaw Bros kung fu flicks, very fun project but most likely my only project in the world of loft kung fu.
Without Us Natives and Ill Clinton putting me on the map in the beat world, i would have never got the great opportunity to work with Matt Bloom [editor's note : head of 77 Rise Recordings] who like me is a local Californian, and he puts a lot of faith in me and my musical talent.
Blancowood was my psychedelic project to reintroduce the world to Bollywood music that my idol Madlib made so famous. I actually just released my second project on 77 Rise Recordings which is a split tape with my UK brother Matt Kuartz, dude has extreme skills and has taught me a lot in the world of beat making, so for me it was a huge honor to put together this project with him.
As far as future projects, this year you will see a follow up to Blancowood which is almost complete, plus i have a few other projects up my sleeve, but for now those will just leave as whispers in the wind.

---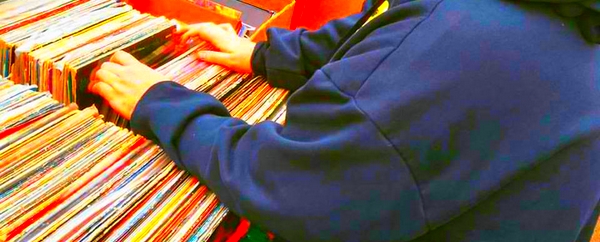 ---
Un grand merci à Oso Blanco. Son morceau intitulé Cooper's Dreams paraîtra sur notre compilation Twin Peaks au printemps prochain.
---
Interviews - 22.01.2017 par
... et plus si affinités ...
Oso Blanco
sur IRM -
Bandcamp

Oso Blanco - Cooper's Dreams (compilation #IRMxTP)
---