Retrouvez chaque semaine dans nos pages les interviews de quelques-uns des contributeurs à la future compil' Twin Peaks d'IRM. Jostein Dahl Gjelsvik et Rune Sagevik aka Pjusk ont profité de la vague de froid pour se glisser dans nos colonnes aujourd'hui. Un duo ambient et électronique venu de Norvège que l'on suit assidûment à IRM et dont le superbe Syklus fut le seul EP de 2016 commun aux classements d'Elnorton et Rabbit à l'heure des bilans de fin d'année.
Tout aussi fusionnels qu'avec leur musique d'une parfaite homogénéité atmosphérique, les auteurs de Tele et Drowning in the Sky ont répondu comme un seul homme à ce questionnaire Twin Peaks, n'hésitant pas à témoigner de leur passion pour Dune, un mal-aimé dans la filmo de David Lynch. L'occasion d'en savoir plus également sur la direction que prendra la musique des Norvégiens sur leur prochaine sortie, après deux EPs très différents publiés l'an passés.

---
L'interview
IRM : Comment résumeriez-vous votre rapport à Twin Peaks ? A l'univers de Lynch en général ?
Pjusk : Nous sommes plus attachés à ses films qu'à la série, pour être honnête. Je me souviens en particulier de Dune et de son Prophecy Theme par Brian Eno. L'Épice doit continuer à circuler. Également Lost Highway et Blue Velvet - des films qui vous restent vraiment dans la tête. Mulholland Drive. Des histoires et des personnages vraiment intrigants.
Votre personnage préféré dans la série ?
Il faut avouer qu'on était vraiment fascinés par la Dame à la Bûche. Plutôt surréaliste.
Une scène qui vous a particulièrement touchés... ou fait flipper ?
A vrai dire nous n'avons pas revu la série depuis qu'elle a été diffusée à la télévision norvégienne au début des années 90, donc c'est dur de pointer une scène en particulier. Quand on pense à Twin Peaks, les scènes qui impliquent Bob et celles avec Dale Cooper et le nain dans la salle aux rideaux de velours viennent immédiatement à l'esprit, donc ça doit vouloir dire que ces scènes sont celles qui ont eu le plus d'impact à leur façon.
Vous avez enregistré un morceau pour notre future compilation Twin Peaks, quel aspect de la série vous a inspirés ?
Nous nous sommes inspirés de la façon dont David Lynch distord la logique et la perception.
Vous avez eu vent de quelques-uns des musiciens impliqués dans ce projet. Duquel êtes-vous les plus curieux d'entendre la contribution ?
Impatients d'écouter le morceau d'Offthesky. Il a toujours une approche très intéressante du sound design et de la composition.
Un album vers lequel vous revenez quand il vous faut votre dose de Garmonbozia ?
Floods d'Aris Kindt et le Consumed de Plastikman sont deux grands albums pour ce sentiment de noirceur et de déprime.
En 2016, vous avez sorti deux EPs en collaboration avec plusieurs amis musiciens, le récent Syklus avec notamment Loscil en invité et avant cela, Shibuya qui nous avait surpris par ses beats flirtant avec la techno. D'autres projets sur les rails ? Cette orientation plus rythmique va-t-elle avoir une suite ?
Nous voulions explorer cette direction plus uptempo depuis longtemps - tout en conservant notre identité sonore. Pas totalement convaincus d'être parvenus à cet équilibre sur l'EP Shibuya, mais nous avons passé de bons moments à Tokyo à jouer ces morceaux. En ce moment nous revenons en fait au son de notre premier album Sart qui était par moments très percussif. La boucle est bouclée. C'est comme ça que ça marche, je suppose.
---
---
Original english version
IRM : How would you describe your relationship with Twin Peaks ? With the work/world of David Lynch in general ?
Pjusk : We are more attached to his movies than to the series, to be quite honest. I remember in particular Dune with the Prophecy Theme by Brian Eno. The spice must flow. Also Lost Highway and Blue Velvet - movies that really stuck inside your head. Mulholland Drive. Really intriguing story lines and characters.
Your favorite character in the series ?
We must admit we were really fascinated with the Log Lady. Quite surreal.
A scene that particularly moved - or scared - you ?
We haven't actually watched the series since it ran on Norwegian television sometime in the early nineties, so it's hard to pinpoint a particular scene. When thinking of Twin Peaks the scenes which involves Bob and the scenes with Dale Copper with the dwarf in the velvet room quickly come to mind, so we guess that means that those scenes had the most impact in some way.
You recorded a track for our forthcoming Twin Peaks compilation, what aspect of the series inspired you ?
We are inspired by the way David Lynch twists logic and perception.
You heard about some of the musicians involved in this project. Which one are you the most curious to hear the contribution from ?
Eager to be checking out the track by Offthesky. Always very interesting approach to sound design and composition.
An album you often listen to when you need all your Garmonbozia ?
Aris Kindt's Floods and Plastikman's Consumed are two great albums for that down and dark feeling.
In 2016 you released two collaborative EPs with several musicians/friends : recently Syklus with Loscil among others, and before that, Shibuya, that surprised us quite a bit with its techno influences. Some other projects on the way ? Are you going to explore that new rhythm-based direction further soon ?
We have been wanting to explore the more up-beat directions for a long time - but at the same time keeping our signature sound while doing that. Not totally convinced that we managed that balance act well enough on the Shibuya EP though, but we had a great time in Tokyo playing that set. At the moment we actually find ourselves going back to the sound of our debut album Sart which was quite percussive at times. Full circle accomplished. That's the way it works, I guess.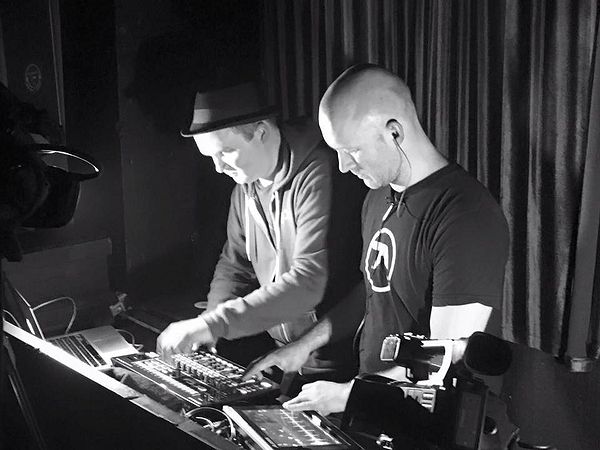 ---
Un grand merci à Pjusk. Leur morceau intitulé A Paler Mural paraîtra sur notre compilation Twin Peaks au printemps prochain.
---
Interviews - 25.01.2017 par
---