Retrouvez chaque semaine dans nos pages les interviews de quelques-uns des contributeurs à la future compil' Twin Peaks d'IRM. Et aujourd'hui, 50e entretien oblige, l'éloge lynchien s'accompagne en exclu d'une vidéo du morceau offert par Perkin Warbek (anciennement aaron3000) à notre projet, réalisée par Cédric Mayence.
A l'image de cet Untitled #1 que vous pourrez retrouver cet été au générique du 11e volet (sur 16 !) de la compilation IRMxTP, intitulé I Will Be in the Shadows If You Need Me (Let The Wicked Fall Into Their Own Nets) et dédié à l'abstract et au hip-hop instrumental du côté obscur, le clip est clair et saccadé, à la fois étrange et familier, hypnotique et rythmiquement juste assez déréglé pour s'avérer désorientant. Mais trêve de mots, place à ces belles images en noir et blanc puis au traditionnel entretien où le pensionnaire du label I Had An Accident, découvert via le cut-up délicieusement psyché de la mixtape L'Anathème d'une Bicyclette - qui triturait en 2012 des morceaux signés Thavius Beck, Prefuse 73, BoC, cLOUDDEAD, Mia Doi Todd, Edan, Chapelier Fou ou même Radiohead/Thom Yorke... la classe en somme - nous fait partager son intérêt pour la dimension subliminale et langoureuse de Twin Peaks et pour un groupe que l'on ne défendra jamais assez dans ces pages : Savath & Savalas.
---
L'interview
IRM : Comment résumerais-tu ton rapport à Twin Peaks ? A l'univers de Lynch en général ?
Perkin Warbek : Je dirais que le subliminal, le non-dit m'a toujours attiré. Il m' a toujours paru plus pertinent de se laisser porter par des œuvres telles que celles de Lynch et laisser les questions posées sans réponse. Je me rends compte que même ma réponse semble cryptée... OK, disons qu'au moment où le public demande des choses très concrètes en matière d'art en général, le plus souvent actionné par de grosses ficelles, il me paraît plus pertinent de s'abandonner, lâcher prise sur sa conscience que de se voir déterminé par les archétypes sociétaux. Ça doit être dû à mon côté 1984, je pense....
Ton personnage préféré dans la série ?
Perkin Warbek : Audrey Horne. Comme tous les ados de l'époque, je me suis retrouvé extrêmement décontenancé devant cette fausse candeur, ce côté « indéchiffrable » qui émane d'elle (ok, comme de beaucoup d'autres personnages tu me diras... ). Et puis il y a cette sensualité très subtile d'elle, pour moi c'est un grand personnage féminin.
Au risque de véhiculer des clichés, les seuls personnages qui trouvent de l'intérêt à mes yeux sont ces personnages féminins indécodables, comme hors de la portée de qui que ce soit. J'ai dû passer des heures à regarder "Ophelia" de John Millais par exemple, sans avoir de clef particulière, juste à la regarder. Le tableau dégage une telle quiétude devant la mort, je trouvais et je trouve encore ce tableau fascinant. Sherylin Fenn avait ce côté figure pré-raphaélite, pour cette fascination qui en découlait. Et non, rien n'était dû à mes hormones, je te rassure.
Une scène qui t'a particulièrement touché... ou fait flipper ?
Perkin Warbek : Et bien cela va sonner cliché une fois de plus, mais cette scène de danse avec la même protagoniste au café m'a toujours intrigué... La langueur de cette scène et le côté hypnotique de cette dernière m'a toujours quelque part habité. J'aime à imaginer que les gens puissent danser de cette manière, très confuse, sur certaines de mes compositions...
Tu as enregistré un morceau pour notre future compilation Twin Peaks, quel aspect de la série t'a inspiré ?
Cédric Mayence : Chez Lynch, ce qui est marquant, c'est la presque imperceptible anormalité de la banalité. Un endroit comme les autres embourbé dans l'étrangeté de son quotidien. La répétition glaçante d'évènements irréels qui rythment la vie.
Perkin Warbek : C'est une loop répétitive, et nous avons vu avec Cédric la possibilité de construire une narration autour de cela, une boucle du même événement répété comme à l'infini pour tenter de projeter l'audience vers un certain sentiment de mal être. (dédicace à ZOWIE)
Tu as eu vent de quelques-uns des musiciens impliqués dans ce projet. Duquel es-tu le plus curieux d'entendre la contribution ?
Perkin Warbek : A la vue du travail de Sisyphe que vous avez fourni, le choix est très large ! Je dirais Aidan Baker car l'ambient est un genre musical que j'apprécie particulièrement en ce moment, disons que pour le moment c'est le genre vers lequel je lorgne de plus en plus, sans prétendre aucunement en être capable.
J'ajouterais également Thavius Beck, cela fait longtemps que j'ai pas écouté ce qu'il fait et puis cela me ramène à mes premiers amours avec son groupe Lab Waste (d'ailleurs à quand le nouvel album ou j'ai loupé le coche ?). [ndlr : eh non toujours pas de nouvel opus pour Lab Waste et c'est bien dommage...]
Un album vers lequel tu reviens quand il te faut ta dose de Garmonbozia ?
Perkin Warbek : Sans hésitation Appropa't de Savath Y Savalas. Cet album marque le syncrétisme de tous les genres musicaux effleurés ou travaillés plus en amont par Guillermo Scott Herren, le tout scandé par la voix tout à fait unique d'Eva Puyuelo Muns. Je me souviens d'une conversation avec Lori Scacco, moitié du groupe STORMS qu'elle a formé avec elle, où cette dernière me racontait comment cette voix l'avait marquée à vie, que nul ni personne ne pourrait remplacer ce grain de voix unique, sans passer par aucun filtre, Eva réussit à te faire passer par tous les sentiments possibles. Sa rareté en fait aussi quelqu'un, à mes yeux, d'élégant dans une société atrophiée par la culture du moi. D'ailleurs j'ai été surpris qu'elle accepte mon invitation, encore plus de la trouver sur les réseaux sociaux.
Et puis cet album c'est aussi l'atmosphère de Barcelone, la moiteur de ses rues, la sensualité qui s'en dégage. Scott vivait à l'époque à Barcelone et ce travail « in situ » et sur la longueur a bien réussi à capter ce mélange, je trouve.
En 2016 tu as sorti Lo Que Bien Empieza Bien Acaba chez I Had An Accident, deux longues suites de plus de 20 minutes en collaboration avec Eva Puyuelo Muns de Savath & Savalas justement, où se télescopent ambient, acoustique, électro expérimentale, psychédélisme, samples vintage etc. Quelques mots à ce propos ? D'autres projets sur les rails ?
Perkin Warbek : Et bien comme je le disais tout à l'heure, le simple fait qu'Eva accepte a été très surprenant pour moi. J'étais déjà très fan de ce qu'elle postait, donc elle m'a renvoyé une série de morceaux qu'elle écoutait, et j'ai tenté de les réunir en les mélangeant, triturant jusqu'à en obtenir une sensation de symbiose. J'espère que cela est réussi. Je travaille le plus souvent en une prise, et ne reviens quasiment jamais sur ce que je fais, d'aucuns diront que je devrais plus peut-être, mais c'est l'erreur potentielle qui m'attire. Comme une sorte de commande neurologique incontrôlable.
Je m'étais juré de poster plus de choses, compositions et autres mixtapes, mais n'ayant aucunement velléité quant à inonder la toile de ces bouts de rien, je préfère me cantonner à quelques apparitions, je travaille donc sur la suite de ce programme en compagnie de la même Eva Puyuelo Muns, mais aussi sur une beat tape très foutraque, j'ai quelques pistes de labels, je verrai bien... Sinon une split tape en compagnie de Tim Hester qui a récemment publié son très bel album hommage à un de ses proches disparus appelé Souvenirs... De toute manière j'ai toujours essayé de m'exprimer sans rien attendre, si 3 personnes m'écoutent, c'est tant mieux, je n'attends rien de particulier en contrepartie. Je suis partie prenante du discret. Mais sans art vraiment nous mourrons lentement, alors chacun a le droit de revendiquer ou poser des choses sur bande. Pour le bien-être de tous, je pense.
---
---
Original english version
IRM : How would you describe your relationship with Twin Peaks ? With the work/world of David Lynch in general ?
Perkin Warbek : I would say that the subliminal and the unsaid has always been a huge magnet to me. It always seemed to me that it was more relevant to let yourself indulge in artworks such as Lynch's and let the questions unanswered. I realize that even my answer seems encrypted... Sooo, let's say that as soon as the audience asks for real and tangible elements as far as art in general is concerned, often a bit too obviously, it seems to me more relevant to let yourself go, give up your conscience, than to see yourself determined by societal archetypes. This must be my 1984 side speaking...
Your favorite character in the series ?
Perkin Warbek : Audrey Horne. As for every teenager at the time, I found myself discomfited by this false innocence, this indecipherable thing that exudes from her (ok, as from many other characters in the series, to be fair...). Then there is this very subtle sensuality she holds, to me she is a great female character.
At the risk of sounding cliché, the only characters that find grace to my eyes are these indicephirable female characters, who seem out of any reach whatsoever. I must have spent ages watching John Millais' "Ophelia" for exemple, without having any particular key in hand, just watching it. This painting brings such a peaceful attitude towards death out, I found and still find it fascinating. Sherylin Fenn had this pre-raphaelite feeling to her, for this fascination which resulted from her. And no, nothing to do with my hormones, I can assure you.
A scene that particularly moved - or scared - you ?
Perkin Warbek : Well it is going to sound cliché once more but this dance scene with her always puzzled me... The languid feeling from this scene and its hypnotic effect always haunted me, in a way. I'd like to think that people could dance this way, this very confused way, on some of my tracks...
You recorded a track for our forthcoming Twin Peaks compilation, what aspect of the series inspired you ?
Cédric Mayence : Concerning Lynch, what is striking is the almost unnoticeable abnormality of banality. A place like the others stuck in its everyday weirdness. The spine-chilling repetition of unreal events that give life its rhythm.
Perkin Warbek : It's a repetitive loop, and with Cédric we saw the possibility of building a narration around it, a loop of the same event repeated indefinitely to try to bring the audience to a certain uneasiness. (dedicated to ZOWIE)
Here is the track's video, directed by Cédric Mayence :
You heard about some of the musicians involved in this project. Which one are you the most curious to hear the contribution from ?
Perkin Warbek : Regarding the Sysyphus work you've done, the choice is wide ! I'll say Aidan Baker because ambient is a musical genre I really like now, let's say it's the genre I'm moving closer and closer to, without believing I could be able to produce some.
I'll add Thavius Beck, I haven't listened to anything he's done for a long time now and that brings me back to my first love with his band Lab Waste (when will a new LP be out ? Have I missed anything ?). [editor's note : well... no, nothing new yet for Lab Waste...]
An album you often listen to when you need all your Garmonbozia ?
Perkin Warbek : Without any hesitation Savath Y Savalas' Appropa't. This album encompasses the syncretism of every musical genres worked or even slightly grazed by Guillermo Scott Herren, sang with the really unique voice of Eva Puyuelo Muns. I remember a conversation with Lori Scacco, half of the band STORMS they formed together, in which she told me that this voiced scarred her for life, that no one could ever replace this unique voice texture, that can make you go through every feeling possible without any filter. Her discretion appeals to me as elegance in a society that shrinks because of the ego culture. By the way I was surprised that she accepted my invitation online, but even more that she could be on social networks.
And then this album is Barcelona, its atmosphere, the dampness of its streets, the sensuality that oozes from them. Scott was living in Barcelona at the time and this work "in situ" and lengthwise managed well to bring out this mix, I think.
In 2016 you released Lo Que Bien Empieza Bien Acaba on I Had An Accident, two 20+ minutes cut-up tracks with Eva Puyuelo Muns from Savath & Savalas, mixing ambient, acoustics, experimental electronics, psychedelia, vintage samples etc. A few words about it ? Some other projects on the way ?
Perkin Warbek : Well, as I said earlier, the simple fact that Eva accepted was very surprising to me. I was a really big fan of everything she posted, so she sent me a series of tracks back, that she was listening to, and I tried to unite them by mixing all of them, by manipulating them until I had this symbiosis I was looking for. I hope I managed to get something out of it. Most of the times I work on one take only, and never go back to what I've done, some may say I should, but I'm attracted to the potential errors. It's a kind of neurological uncontrollable command.
I had sworn to post more things online, compositions and other mixtapes, but as I don't intend to drown the web with these bits of nothing, I'd rather reserve myself for a few apparitions, so I'm working on the continuation of this program with the same Eva Puyuelo Muns, but also on a slightly messy beat tape, I have some clues towards labels, I'll see... Otherwise, a split-tape with Tim Hester who just released a nice homage to his disappeared loved ones called Souvenirs... In any way I've always tried to express myself with no expectations whatsoever, if 3 people are listening to what I do, well, let it be so, I do not expect anything in counterpart. I like discretion. But with no art we really are dying slowly, so everyone has a right to claim or put things on tape. For the good of everybody, I think.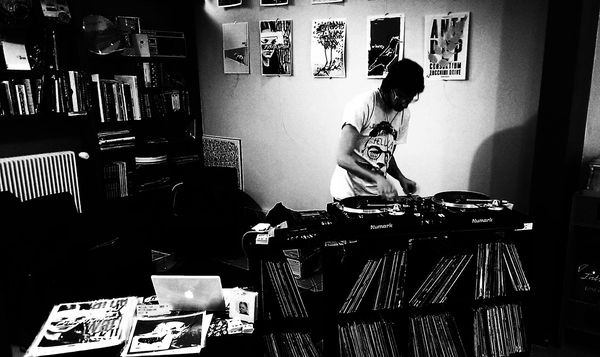 ---
Un grand merci à Perkin Warbek. Son morceau intitulé Untitled #1 paraîtra sur notre compilation Twin Peaks au printemps.
---
Interviews - 12.04.2017 par
,
---