Retrouvez chaque semaine dans nos pages les interviews de quelques-uns des contributeurs à la future compil' Twin Peaks d'IRM. Depuis l'ambient folk tourmentée de l'immense The Sunderland Valves et de son faux jumeau déglingué The Sunderland Wreck en 2012, le Danois David Folkmann Drost aka Moongazing Hare fait partie de ces artistes de chevet de la rédaction d'IRM que l'on aimerait être un peu moins seuls à défendre mais que cette confidentialité nous rend d'autant plus précieux.
C'est là bien sûr l'une des raisons pour lesquelles nous avons convié l'auteur du récent Wild Nothing à participer à notre projet, mais s'il nous a finalement gratifiés d'un duo avec Tanja Vesterbye Jessen (des compatriotes Distortion Girls) au minimaliste habité, les fantasmagories brumeuses aux atmosphères volontiers forestières et hantées de ses sorties solo ne pouvaient manquer d'évoquer la série culte de David Lynch et Mark Frost, de même que l'ambient baroque et lancinante aux ambiances de rêve éveillé de The Restless Fields, projet associant le Suédois d'adoption à l'Allemand Philipp Bückle - qui fut notre 4e interviewé.

---
L'interview
IRM : Comment résumerais-tu ton rapport à Twin Peaks ? A l'univers de Lynch en général ?
David Folkmann Drost : J'aime vraiment David Lynch, mais je ne me décrirais pas comme un fan absolu. J'ai tendance à réagir assez fortement à ses films ou à leur demeurer hermétique, mais ils sont toujours intéressants. J'avais l'habitude de m'endormir pendant les films de Lynch et de les revoir une ou deux fois. Non pas qu'ils soient ennuyeux, mais je pense que la dimension onirique de sa narration a tendance à me faire plonger très facilement dans mes propres états de rêve, ou quelque chose comme ça.
Ton personnage préféré dans la série ?
La Dame à la Bûche, haut la main. Tu gardes trace de ces réponses, pour qu'on puisse avoir un bilan statistique des personnages de Twin Peaks préférés des contributeurs ? (sourire)
Une scène qui t'a particulièrement touché... ou fait flipper ?
Je pense que ce serait la vidéo amateur qui montre Laura peu avant sa mort. Désolé si la référence est vague, mais c'est un peu flou pour moi.
Tu as enregistré un morceau pour notre future compilation Twin Peaks, quel aspect de la série t'a inspiré ?
J'ai certainement été inspiré par l'ambiance de la ville elle-même et, de façon plus large, par le sentiment qu'il existe également des pièces manquantes énormes (et souvent importantes) dans les histoires que David Lynch raconte. Des bouts qu'il vous faut assembler vous-même ou accepter de ne jamais connaître. Je ne sais pas si ce sentiment s'est transmis dans ce que j'ai fait, mais regarder des trucs comme ça me rappelle qu'il est important de ne pas "sur-écrire" les chansons et de laisser les choses sortir au lieu de forcer les chansons à s'expliquer complètement.
Tu as eu vent de quelques-uns des musiciens impliqués dans ce projet. Duquel es-tu le plus curieux d'entendre la contribution ?
Cela va devenir un peu incestueux, mais j'aime toujours entendre ce que fait Philipp Bückle. Parmi les autres noms qui m'ont sauté aux yeux, il y a Mike Cooper, aMute et Aidan Baker. Mais surtout, j'ai vraiment hâte de tout écouter dans son contexte.
Un album vers lequel tu reviens quand il te faut ta dose de Garmonbozia ?
J'ai un appétit malsain pour le Garmonbozia, de sorte que pas mal de choses pourraient entrer dans cette catégorie. Peut-être The Sunset Tree par les Mountain Goats, Didn't It Rain par Songs:Ohia ou Of Ruine Or Some Blazing Starre par Current 93.
Philipp Bückle nous a déjà parlé dans son interview en décembre dernier de votre projet commun The Restless Fields, dont il nous annonçait une suite plus "pop" pour cette année. Mais ton actu de l'an passé ce fut aussi le très beau Wild Nothing, quelques mots sur tout ça ? D'autres projets sur les rails ?
Tout d'abord, merci. Je suis content du résultat pour Wild Nothing. Je pense qu'on pourrait dire que c'est un joli album Garmonboziaque, ou du moins un album sur le fait d'essayer d'accepter et de me résigner aux inévitables allers-retours du malheur et de la paralysie, bien que pas nécessairement enregistré dans une situation de malheur. En me disant que les choses ne finissent pas forcément bien, mais que beaucoup de choses sur le chemin valent la peine d'être vécues et recherchées. J'ai essayé d'impliquer d'autres personnes un peu plus qu'à mon habitude, pour que ça ne sonne pas trop autocomplaisant ou déprimant. Je voudrais faire ça plus souvent, et c'est l'une des raisons pour lesquelles j'aime travailler avec Philipp sur The Restless Fields. Quand je suis seul, je peux être englouti par ma propre fainéantise, mais en travaillant avec quelqu'un comme lui, j'arrive à me nourrir de sa créativité et j'essaie d'être à la hauteur des standards qu'il établit. Non pas que mon travail en solo ne soit pas valide, mais il est difficile d'avoir une expression vraiment équilibrée de l'expérience humaine sans refléter aussi les contextes sociaux dans lesquels vous vivez.
---
---
Original english version
IRM : How would you describe your relationship with Twin Peaks ? With the work/world of David Lynch in general ?
David Folkmann Drost : I really like David Lynch, but I couldn't describe myself as a fanatical follower of his. I tend to either respond quite strongly to his films or feel like I am on the outside looking in, but they are always interesting. I used to always fall asleep during Lynch movies and have to rewatch them once or twice. Not because they were boring, but I think the dreamlike quality of his storytelling just makes it very easily blend into my own dream-states, or something like that.
Your favorite character in the series ?
Log Lady, hands down. Are you keeping track of these responses, so we can have a statistical breakdown of people's favourite TP characters ? (smile)
A scene that particularly moved - or scared - you ?
I think the home video that shows Laura shortly before her death. Sorry if that is a vague reference, but it is a little fuzzy to me.
You recorded a track for our forthcoming Twin Peaks compilation, what aspect of the series inspired you ?
I'm certainly inspired by the ambience of the township itself, and to a large extent by the feeling that there are also huge (and often important) chunks missing from the stories that David Lynch is telling. Bits that you will have to piece together yourself or learn to accept that you will never know. I don't know if that feeling carries over into what I do, but watching these things are a reminder that it is important not to "over-write" songs and to leave things out, instead of forcing the songs to fully explain themselves.
You heard about some of the musicians involved in this project. Which one are you the most curious to hear the contribution from ?
This is going to get a bit incestuous, but I always love to hear what Philipp Bückle does. Other names that jumped out at me were Mike Cooper, aMute and Aidan Baker. Most of all, I really just look forward to hearing everything in context.
An album you often listen to when you need all your Garmonbozia ?
I have an unhealthy appetite for Garmonbozia, so quite a few things could fall into this category. Maybe The Sunset Tree by The Mountain Goats, Didn't It Rain by Songs:Ohia or Of Ruine Or Some Blazing Starre by Current 93.
In his own Twin Peaks interview last december, Philipp Bückle already told us that you were working on a more "pop" second release of your common project The Restless Fields. In 2016, besides the previous Restless Fields record, you also published a beautiful solo album, Wild Nothing. A few words about those ? Some other projects on the way ?
Firstly, thank you. I am happy with how Wild Nothing turned out. I think you could say that it is a pretty Garmonbozoic record, or at least about trying to accept and resign myself to the inevitable coming and going of unhappiness and paralysis, but not necessarily recorded from a position of unhappiness. Telling myself that things don't necessarily go well or end well, but that there is a lot of stuff along the way that is worth living for and looking out for. I tried to involve other people a little more than usual (for me), so it didn't become too self-indulgent or mopey. I want to do that more, and that is one of the reasons I love working with Philipp on The Restless Fields. When I am by myself, I can disappear up my own bum, but working with someone like him, I can feed of his creativity and try to live up to the standard he sets. Not that solo work isn't valid, but it is hard to really have a rounded expression of human experience without also reflecting the social contexts you live in.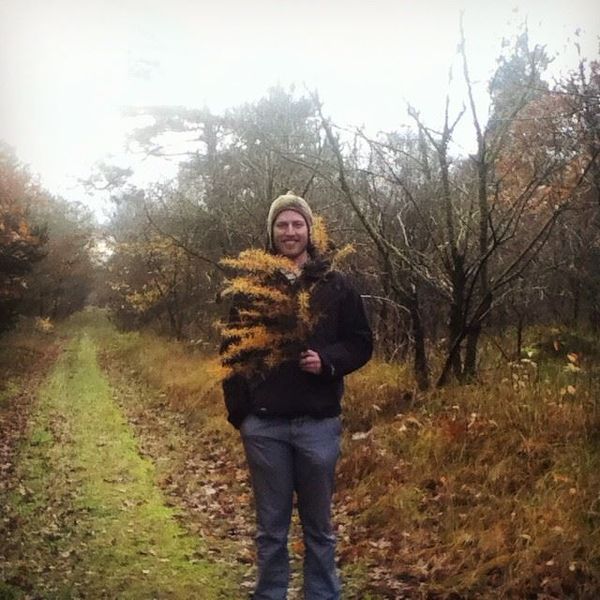 ---
Un grand merci à Moongazing Hare. Son morceau intitulé Sundayland Lights en collaboration avec Distortion Girls paraîtra sur notre compilation Twin Peaks au printemps.
---
Interviews - 09.04.2017 par RabbitInYourHeadlights
---
---