Enregistré autour d'un concept concret poussé dans ses retranchements les plus abstraits, celui de traduire en musique les paysages des Fenlands à l'Est de l'Angleterre, situés comme l'indique le titre de l'album en-dessous du niveau de la Mer du Nord et dévastés par quatre siècles de drainage artificiel, Beyond Sea Level tente aussi et surtout de raviver les sensations de son auteur, parti capter les sons de cet environnement en friche qu'il aimait à explorer étant enfant.
1. _Sealevel. 1
2. _Sealevel. 2
3. _Sealevel. 3
4. _Sealevel. 4
5. _Sealevel. 5
6. _Sealevel. 6
7. _Sealevel. 7


date de sortie : 29-05-2012
Label : 12k
Autant dire que le projet tenait à coeur l'ex batteur de Slowdive (et patron de l'excellent label ambient KESH Recordings, dont les sorties s'écoutent librement via Bandcamp), qui suite au mixage de l'album est même retourné sur place le diffuser par haut-parleurs et le réenregistrer à l'air libre, laissant la musique communier une dernière fois avec les bruits de la nature ou de l'agriculture humaine. Ainsi, au terme d'une intro illuminée par des arpèges de guitare en suspension dans la mouvance de Labradford ou Talk Talk, les mélodies de l'Anglais, encore reconnaissables bien qu'activement malmenées sur le fantasmagorique Bunny aux inquiétants replis reptiliens sorti l'an dernier chez Miasmah, s'effacent le plus clair du temps au profit de méditations texturées où se mêlent inextricablement field recordings marécageux, vagues de bruit blanc, oscillations synthétiques et autres boucles instrumentales inondées de reverb'.
Tandis que les chants d'oiseaux, le ronronnement des tracteurs ou même quelques notes de boîte à musique sur le plus erratique _Sealevel.5 percent par intermittence ce voile de bruit statique aux éléments résolument fugaces et fluctuants, sonorités organiques, manipulations analogiques et traitements électroniques se confondent et fusionnent dans un grand maelström solaire et obsédant, qui intrigue autant qu'il fascine par son mélange de nostalgie contemplative et de curiosité troublante pour l'envers des choses, obsession lynchienne reparaissant sur le fabuleux _Sealevel.7 pour une ultime plongée dans les abîmes de la mémoire et de l'antimatière.
Complété d'un essai intitulé An Exploration of the Subterranean Fenland Environment, de notes et de photographies insérés dans un livret de 80 pages, d'un dessin à l'encre de Simon Scott lui-même et d'un code de téléchargement dévoilant 30 minutes de bonus enregistré live, Beyond Sea Level fait honneur à l'ambition dont l'Anglais - croisé au côté de Rafael Anton Irisarri (The Sight Below, Orcas), Dag Rosenqvist (Jasper TX, From The Mouth Of The Sun) ou plus récemment Aidan Baker sur le gargantuesque The Spectrum Of Distraction - fait preuve album après album dans cette seconde carrière de soundscaper, autant qu'à l'esthétique du label 12k qui nous en offre deux extraits supplémentaires à l'écoute sur son site.
De toute évidence, vous n'avez plus la moindre excuse pour passer à côté de ce chef-d'oeuvre.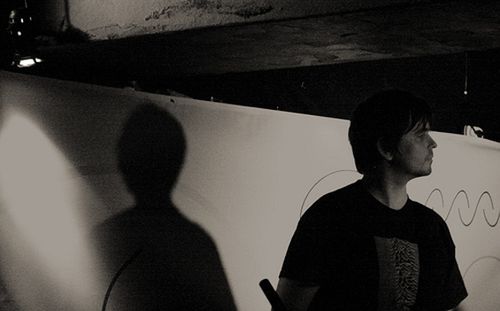 ---
Chroniques - 22.06.2012 par
---