Il y a deux exercices totalement opposés dans lesquels les Anglais de Cornershop ont toujours excellé : l'album homogène construit autour d'un concept musical cohérent - dernier exemple en date, Cornershop & The Double 'O' Groove Of intégralement chanté par Bubbley Kaur et influencé plus ouvertement que jamais par le folklore panjabi - et le grand fourre-tout psychédélique aux sonorités éclatées, à l'image du kaléidoscopique Handcream For A Generation ou du side-project Clinton dont on avait eu l'occasion de reparler il y a peu via l'inépuisable Disco & The Halfway To Discontent demeuré sans suite.
1. What Did The Hippie Have In His Bag ? [feat. Castle Hill Primary School]


2. Who's Gonna Lite It Up ? [feat. Izzy Lindqwister]


3. Non-Stop Radio (Extended Play) [feat. Celeste]


4. Solid Gold [feat. Katie]


5. Beacon Radio 303 [feat. Rajwant]
6. Milkin' It [feat. In Light Of Aquarius]


7. Concrete, Concrete [feat. Kay Kwong]
8. Something Makes You Feel Like [feat. Soko]
9. Inspector Bamba Singh's Lament [feat. Amar]
10. Dedicated [feat. Lorraine]
11. What Did The Hippie Have In His Bag ? [feat. Castle Hill Primary]
12. First Wog On The Moon (Bonus Track)


date de sortie : 14-05-2012
Label : Ample Play
Disons-le d'emblée, c'est ouvertement dans cette seconde veine que s'inscrit Urban Turban, septième opus en 20 ans de carrière dont les morceaux emmenés par une multitude d'interprètes de tous horizons s'enchaînent comme on tournerait les pages d'un cahier de vacances colorié par un Picasso retombé en enfance. C'est minimaliste, hétéroclite, toujours accrocheur, souvent jouissif, parfois un peu kitsch et pourtant jamais aussi évident que ça en a l'air, à l'image de ce What Did The Hippie Have In His Bag ? qui ouvre et clôt justement l'album sur les jeux d'enfants d'une chorale en culottes courtes (rappelant celle de Staging The Plaguing Of The Raised Platform sur Handcream... ) à laquelle Tjinder Singh raconte l'histoire d'un voyageur du temps aux cheveux longs ramenant de ses périples certainement bien "chargés" toutes sortes de musiques et d'objets insolites. Tout est dit.
Néanmoins, et tout comme on trouvait finalement du hip-hop ou de la funk d'exploitation aussi bien que de la pop baroque ou du disco sur The Double 'O' Groove Of, Urban Turban n'a de décousu que l'apparence, multipliant les ponts discrets à l'image de Concrete, Concrete qui semble reprendre à la sauce disco-funk la mélodie synthétique aux accents dancefloor du régressif Non-Stop Radio chanté mécaniquement par la Française Celeste. Ou la ligne de basse et les synthés d'un Beacon Radio 303 qui n'aurait pas dépareillé sur l'opus précédent, préfigurant non sans subtilité les arrangements du génial Milkin' It, ode au hip-hop d'antan et sommet groovesque et psyché d'un album qui en compte quelques autres, en tête desquels Inspector Bamba Singh's Lament dont les vocalises en panjabi rivalisent de lancinance avec les stridences électroniques pour mieux contraster avec les rondeurs de la basse et des tablas.
Des tablas dont jouait d'ailleurs avec virtuosité l'hymnique Who's Gonna Lite It Up ? sur fond de heavy rock narcotique et saturé transcendé par les vocalises vindicatives de la Suédoise Izzy Lindqwister, chanteuse de feu Rodeo Massacre : encore un pont et doublement celui-là puisqu'on retrouve cette inspiration électrique sur le plus léthargique Something Makes You Feel Like réminiscent du Velvet Underground des débuts. Citons enfin l'électro-funk d'un Solid Gold à la ferveur communicative mais peut-être un poil trop répétitif, le discoïde Dedicated aux charmants effluves northern soul, et outre le titre bonus dont on vous laisse la surprise nous voilà arrivés au bout de ce pur concentré de plaisir immédiat, livré juste à temps pour l'été qui s'annonce.
Que du bonheur en somme mais tout de même un léger bémol pour les fans hardcore des auteurs de l'immortel When I Was Born For The 7th Time, revenus en force en 2009 avec l'électrisant et racé Judy Sucks A Lemon For Breakfast : celui d'avoir choisi de s'articuler autour de Singhles que l'on avait déjà épuisés jusqu'à la moelle à force d'écoutes répétées l'an dernier. Le plaisir est parfois éphémère mais on ne peut pas toujours tout avoir, même avec Cornershop !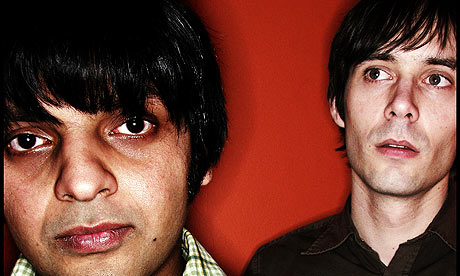 ---
Chroniques - 30.05.2012 par
---