On doit peut-être à Jon Mueller, batteur des excellents Pele, Collections of Colonies of Bees et Volcano Choir, le regain d'inspiration de William Ryan Fritch célébré dans nos pages il y a quelques jours à l'occasion de la sortie du fracassant Heavy EP.
En confiant au multi-instrumentiste californien, plus connu sous le pseudonyme de Vieo Abiungo ou au violon de Skyrider, les rênes de son projet multimédia dédié aux conséquences de la prise de conscience de la mortalité sur nos rapports à l'existence et au moment présent, le compère du guitariste Chris Rosenau (au sein des trois groupes sus-nommés), lui même habitué à marteler une guitare acoustique depuis son Death Blues éponyme d'il y a deux ans, ne s'est pas seulement adjoint les services de l'un des arrangeurs les plus évocateurs et inventifs de cette dernière décennie. Ensemble offre en effet à l'auteur de Thunder May Have Ruined The Moment un nouveau terreau d'émotions à transcender par son approche unique de la dynamique orchestrale, plus que jamais marquée par le folklore ethnique comme par les élégies de la musique classique contemporaine.
Hormis la tension qu'induisent les percussions et cette guitare slide héritée de l'americana des primitivistes, autant dire qu'il ne reste plus grand chose de l'aridité bluesy et tourmentée des débuts sur Ensemble, le foisonnement lyrique mais brut de Fritch (à gauche sur la photo) arrondissant les angles sans trop les polir à force de vents enivrants, de chœurs célestes et de clappements embrasés, arabesques violoneuses et autres cordes orientales esquissant la bande-son d'un road-movie dans les plaines d'Afrique ou les steppes d'Asie.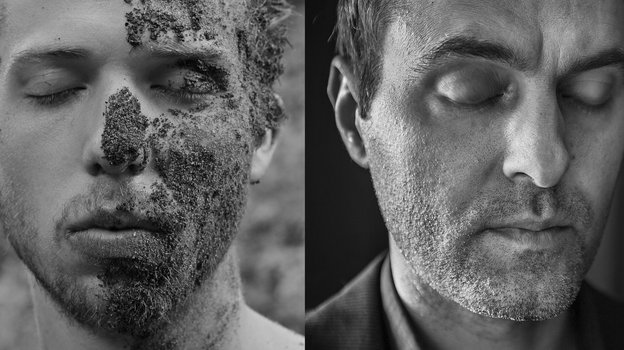 Résolument multi-dimensionnel, ce quatrième opus, complété par l'artwork tribal de la sculpteure Lillian Rammel et sept essais de plasticiens, de poètes ou de musiciens (on appréciera particulièrement la présence de Faith Coloccia, elle-même photographe et illustratrice en plus d'officier au sein de Mamiffer, Pyramids ou au côté d'Alex Barnett) consacrés à des évènements signifiants de leur vie, empile les lignes mélodiques et les enluminures baroques comme on engrange les souvenirs et les sentiments qui nous aident à continuer d'avancer contre vents et marées.
Épique et vibrant, exalté mais sans illusions, le chef-d'œuvre instrumental de cette rentrée.
---
En écoute en avant-première chez NPR et via le Soundcloud du label Rhythmplex.
Edit - désormais sur Bandcamp également :
---
Streaming du jour - 07.09.2014 par
---