Puisqu'on en est aux rattrapages estivaux, autant faire dans les rafraîchissements musicaux, sans rimer pour autant avec insouciance ou frivolité.
1. Knochentanz
2. Little Black Buzzer
3. Song for Thirza
4. Vachaspati/Kaavya
5. Everything Sacred
6. Sufi Song
7. Broken Wave
8. Blues Jumped the Goose


date de sortie : 15-01-2016
Label : Domino
En tête de liste, cette collaboration entre le folkeux écossais James Yorkston, le joueur de sarangi et vocaliste indien Suhail Yusuf Khan et le double bassiste britannique Jon Thorne, discret troisième membre de Lamb depuis leurs tout débuts, exalte en effet sans ingénuité le caractère sacré de la vie, mêlant pop acoustique, indie folk à l'Anglaise et influences ethniques avec un naturel qui n'a d'égal que le sens de l'espace que Yorkston développait sur ses plus belles sorties, Year of the Leopard en tête (à l'époque de cette interview, presque dix ans déjà).
Little Black Buzzer, reprise du poète et songwriter écossais Ivor Cutler, en est le parfait exemple, fusionnant folklore celtique et ferveur lancinante typique de la musique indienne, la mélodie vocale partagée par Yorkston et l'Irlandaise Lisa O'Neill lorgnant au détour d'un refrain choral sur les mantras hindous. Autant dire qu'on est loin du bête recyclage world, Knochentanz mettant d'emblée l'accent sur l'authenticité spirituelle des cordes de Khan pour 13 minutes d'un crescendo fébrile et passionné où le picking de Yorkston se fait ouvertement primitiviste au second plan (on pense à l'excellent Daniel Bachman, la guitare steel aidant), au côté de la basse deep et discrètement jazzy de Thorne, combinaison que l'on retrouvera dans une humeur nettement plus affligée sur le Blues Jumped the Goose final.
Tout aussi superbe, la suite ne cessera d'associer modernité et traditions. Si le songwriting épuré et le jeu de guitare à la Bert Jansch de James Yorston tendent s'imposer sur le romantique Song for Thirza (avec O'Neill aux harmonies toujours et des refrains au pouvoir d'apaisement bienvenu), sur l'introspectif Broken Wave (Khan prenant le relai au micro au milieu de cette ode à la réconciliation, d'une voix claire et vibrante dont la dévotion touche au cœur) ou sur l'éponyme Everything Sacred, doléance tristement d'actualité au dieu qui laisse sa création détruire sans ciller tout ce que la vie a de plus sacré, l'héritage indien n'est pas en reste avec le court Vachaspati/Kaavya, méditation à la basse et au sarangi, et le bouillonnant Sufi Song qui retrouve les deux Britanniques en soutien du doigté mystique et des vocalises fougueuses de Khan.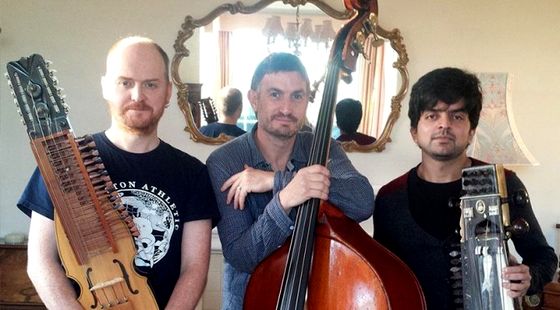 Alors qu'un peu partout la béatitude laisse place à la souffrance et le pardon à la méfiance, un album qui célèbre notre capacité à nous guérir les uns les autres se doit d'être accueilli sans cynisme. On compte sur vous.
---
Chroniques - 29.07.2016 par
---