Désormais quinquagénaire, Mark Lanegan s'était plutôt fait discret depuis la sortie de Phantom Radio en 2014. Ce retrait était néanmoins relatif et ne pouvait être justifié qu'au regard du caractère stakhanoviste de l'Américain qui dans cet intervalle de temps avait toutefois pris le temps de collaborer, entre autres projets, à des sorties de The Duke Spirit, Ten Commandos ou Tinariwen.
1. Death's Head Tattoo
2. Nocturne
3 . Blue Blue Sea
4. Beehive


5. Sister
6. Emperpor
7. Goodbye To Beauty
8. Drunk On Destruction
9. First Day Of Winter
10. Old Swan

date de sortie : 28-04-2017
Label : Heavenly
C'est donc avec une certaine fraîcheur que Mark Lanegan revient sur un Gargoyle qui n'a pas vocation à caresser l'auditeur dans le sens du poil. La paire introductive composée du monument Death's Head Tattoo et Nocturne le confirme immédiatement. La voix caverneuse de Mark Lanegan et les instrumentations électriques puissantes convoquent un gouffre sensationnel qui n'est pas sans rappeler le Nick Cave de Let Love In.
La suite ne peut être aussi massive sans éprouver les nerfs de l'auditeur. Elle n'en est pas moins mémorable. Aussi, les synthétiseurs flottants de Blue Blue Sea rappellent le Eels d'Electro-Shock Blues sur ce titre funéraire à souhait, aussi bien dans l'esprit sonique qui s'en dégage que dans les paroles. Les boucles de guitares à tendance new wave de Beehive préparent ensuite parfaitement le terrain pour Sister, deuxième monument de ce disque. Sur ce morceau, les synthétiseurs se mettent au service de la voix charismatique d'un Mark Lanegan qui établit un véritable numéro d'équilibriste. Imperturbable malgré l'émotion véhiculée, il semble arrêter le temps. Le genre de ligne vocale si puissante et fondamentale qu'elle fonctionnerait presque aussi bien a capella.
Après cette passionnante première partie qui lorgne clairement vers l'univers de Nick Cave et où Mark Lanegan s'appuie sur sa voix de crooner pour explorer une facette rugueuse, le propos va être plus léger.
Plus cabotines, les guitares de Emperor épousent, à la manière de The Decemberists, une batterie dynamique aux accents country. Puis, sur Goodbye To Beauty, Mark Lanegan nous offre un titre trompeur : la beauté n'est pas abandonnée, elle est à l'inverse clairement recherchée à la manière de Death Cab For Cutie si bien que, sur cette ballade électrique contemplative, on commence déjà à perdre une partie de la profondeur précédemment explorée sans que cela ne soit (encore) préjudiciable.
Pas encore puisque, entre pop et new wave, Drunk On Destruction peine à s'envoler tandis qu'il faudra plusieurs écoutes pour découvrir le véritable pouvoir de captation de la ballade cotonneuse First Day Of Winter. C'est surtout le titre final Old Swan qui constitue un revers à la limite de la faute de goût. Le chant se fait très avenant et la démonstration technique trop évidente, voyant même le collaborateur d'Isobel Campbell s'orienter dangereusement vers l'univers de U2.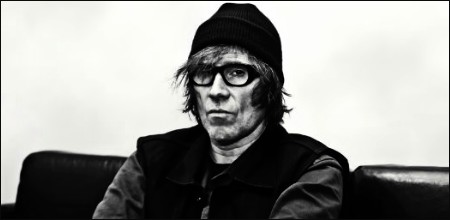 Rien de rédhibitoire à l'échelle du disque toutefois puisque, malgré une seconde partie plus légère au point qu'elle comporte quelques morceaux moins indispensables (Drunk On Destruction) et donc un véritable échec (Old Swan), Mark Lanegan nous gratifie ici d'un vrai bon cru porté par quelques hymnes absolus (Death's Head Tattoo et Sister) qui feront date dans une discographie qui ne l'avait probablement jamais vu aussi bien assumer la gravité de son organe vocal.
---
Chroniques - 08.05.2017 par
---