Retrouvez chaque semaine dans nos pages les interviews de quelques-uns des contributeurs à la future compil' Twin Peaks d'IRM. Désormais pilier de la facette la plus cinématographique et mélangeuse du label allemand Denovali qu'il a rejoint en 2011 avec l'immense Heavy Weather, notre invité du jour fit d'abord les belles heures de l'underground australien avec notamment HALO, duo noise/sludge/indus passé par les rangs du label Relapse, A Beautiful Machine, projet solo entre post-rock et shoegaze, et bien sûr Terminal Sound System dont les premières sorties éditées à l'époque par sa propre structure Embryo Records sont désormais offertes au téléchargement, comme les albums des deux projets précédemment cités, via archive.org.
Skye Klein, l'homme derrière ces alias et bien d'autres encore, du défunt trio expérimental Circle Of Lebanon - qui se voulait déjà la continuation des hallucinations de David Lynch - au dub ténébreux de Tether en passant par Siilt dont le nouvel opus dark ambient vient de voir le jour le mois dernier et dont on reparle plus bas dans l'entretien, est devenu depuis l'un de nos musiciens de chevet, la faute au génial A Sun Spinning Backwards qui avait mis KO la rédaction il y a 4 ans. Un album particulièrement aventureux, à la fois élégiaque et belliqueux, qui a laissé place sur son successeur Dust Songs ainsi que sur le morceau enregistré pour notre compilation à davantage de fragilité, une instabilité hantée que l'on retrouvera vraisemblablement sur le prochain long format de TSS cet automne chez Denovali et qui témoigne mieux que jamais des correspondances oniriques entre l'univers du Melbournien et celui de l'auteur de Twin Peaks.
---
L'interview
IRM : Comment résumerais-tu ton rapport à Twin Peaks ? A l'univers de Lynch en général ?
Skye Klein : Ma première exposition à quoi que ce soit de David Lynch fut une carte postale d'Eraserhead sur le mur de ma cuisine quand j'étais enfant. Je n'avais aucune idée de ce que c'était, ou à quoi c'était lié.
Quelques années plus tard, un ami du lycée avait Twin Peaks en VHS, enregistré à la télé. Je me souviens avoir trouvé ça fascinant et complètement déconcertant à la fois.
J'ai continué à tomber sur des copies (généralement de mauvaise qualité en VHS de 3e main) au fil des années, jusqu'à pouvoir finalement me poser avec le coffret complet il y a 12 ans et tous les regarder d'affilée.
Le travail de Lynch a été partie intégrante de la formation de ma propre esthétique artistique et de mon approche de la narration. C'est un maître de ce que j'appellerais la "réalité hallucinatoire" et je faisais de très fortes comparaisons entre ses (sur)réalités cinématographiques et mes propres expériences de rêves et cauchemars terrifiants qui m'ont affligé de l'enfance jusqu'à tout récemment.
Ton personnage préféré dans la série ?
Je choisirais Dale Cooper, notamment parce que je peux fortement m'identifier à son archétype d'"étranger dans un monde étrange".
Une scène qui t'a particulièrement touché... ou fait flipper ?
Il y a tant de bonnes scènes, c'est presque impossible d'en choisir une. Le rêve de Cooper / La danse du Nain est bien sûr célèbre pour une bonne raison, capturant totalement l'atmosphère et la musique de Twin Peaks en une scène incroyablement émouvante, et aussi "It's happening again" avec le Géant et la performance de Julee Cruise.
Et bien sûr - ma préférée à cet instant - le générique d'ouverture, parce qu'avec le fabuleux thème musical de la série, il me remplit d'une émotion indescriptible. Il y a probablement un mot en Allemand pour qualifier ça, mais je ne peux le décrire que comme une intense aspiration pour la douleur existentielle et le chagrin d'amour, tout en sachant que même en perdant tout, à la fin tout ira bien pour nous.
Tu as enregistré un morceau pour notre future compilation Twin Peaks, quel aspect de la série t'a inspiré ?
David Lynch a de toute évidence une tendresse particulière pour l'Amérique "classique" des 50s et la chanson dont j'ai choisi d'enregistrer une reprise (Lonesome Town - écrite par Baker Knight et popularisée par Ricky Nelson) représente pour moi une parfaite tranche de cette époque. Je pense que les paroles et l'atmosphère de la chanson se transposent parfaitement à Twin Peaks et au travail de Lynch en général, et de façon assez amusante, la vidéo de Ricky Nelson interprétant cette chanson que l'on peut trouver sur Youtube est assez similaire à la scène du Just You and I dans Twin Peaks.
Une partie de la puissance de Twin Peaks vient de cette sensation d'un profond océan de ténèbres, inconnu et impossible à connaître, juste sous la surface de la normalité - une métaphore pour l'âme humaine entre autres choses. Les mots et la mélodie de cette chanson m'ont parlé et m'ont inspiré pour les retranscrire dans un paysage sonore évoquant perte et désolation.
Tu as eu vent de quelques-uns des musiciens impliqués dans ce projet. Duquel es-tu le plus curieux d'entendre la contribution ?
J'ai honte de dire qu'en découvrant la liste des contributeurs, c'est la première fois que j'entends parler de la plupart d'entre eux - ce qui en dit long sur mon isolement ! Je suis vraiment impatient de me perdre dans la compilation en intégralité !
Un album vers lequel tu reviens quand il te faut ta dose de Garmonbozia ?
Slowdive - Souvlaki.
La dernière sortie en date de Terminal Sound System, le déliquescent et hanté Dust Songs chez Denovali, date déjà de 2014, mais tu viens de publier en cassette le successeur ambient des crépusculaires Schism Tapes de Siilt : 002, en écoute via Bandcamp. Quelques mots sur cette sortie ? D'autres projets sur les rails ?
Je fais constamment de la musique, chaque jour où j'en ai la possibilité (soit presque tous les jours). La grande majorité de ce que j'enregistre ne sort jamais, c'est ce que je fais pour me détendre et échapper à la réalité du quotidien.
002 est une compilation de drones et atmosphères de boucles de guitare que j'ai enregistrée au cours des derniers mois spécifiquement pour un projet de partage de bandes (où un tas de gens s'envoient anonymement des cassettes de bruit dans le monde entier). C'est une affaire discrète, intentionnellement éditée avec le bouton pause de mon enregistreur cassette, enregistrée sur une vieille cassette retrouvée, et laissée sale et sombre sans aucun "mastering". L'intention principale est celle d'un background sonore "environnemental", ou peut-être la bande-son de mes insomnies de fin de nuit ou début de matinée (j'ai eu beaucoup de mal à dormir ces dernières années).
Pour le reste, la prochaine sortie de Terminal Sound System sera pour octobre chez Denovali, et il y a d'autres choses sur lesquelles je travaille, plus précisément de la techno très poussiéreuse - une sorte de contrepoint pulsé au 002 de Siilt, et un autre projet encore sans nom qui se situerait entre A Beautiful Machine, HALO et une sorte de black metal.
---
---
Original english version
IRM : How would you describe your relationship with Twin Peaks ? With the work/world of David Lynch in general ?
Skye Klein : My first exposure to anything David Lynch was an Eraserhead postcard on the wall of my kitchen when I was a child. I had no idea what it was, or what it related to.
Years later a high school friend had Twin Peaks on VHS cassettes, taped off the television. I remember finding them compelling and completely baffling, in equal parts.
I continued to stumble across (usually bad-quality third-generation VHS) copies over the years, until I finally sat down with the complete box set about 12 years ago and watched them all back to back.
Lynch's work has been an integral part of forming my own artistic aesthetic and approach to storytelling. He is a master of what I would call "hallucinatory reality" and I draw very strong comparisons between his own cinematic (sur)realities and my own experiences of terrifying waking dreams/nightmares that afflicted me from childhood until fairly recently.
Your favorite character in the series ?
I would have to choose Dale Cooper - not least because I can strongly identify with his "stranger in a strange land" archetype.
A scene that particularly moved - or scared - you ?
So many good scenes, it's almost impossible to choose one. Cooper's dream / The Dwarf's dance is of course famous for good reason, totally capturing the mood and music of Twin Peaks in one incredibly moving scene, and also the "It's happening again" Giant / Julee Cruise performance.
And of course - and my favourite, right now - the opening credits, because they - along with the genius theme music - fill me with undescribable emotion. There is probably a word for it in German, but I can only describe it as an intense yearning for existential pain and heartbreak, whilst knowing that despite losing everything, in the end everything will be OK.
You recorded a track for our forthcoming Twin Peaks compilation, what aspect of the series inspired you ?
David Lynch obviously has a fondness for 50s / "classic" America and the song I chose to record a cover version of (Lonesome Town - written by Baker Knight and made famous by Ricky Nelson) is to me a perfect slice of that era. I think the lyrics and atmosphere of the song transfer perfectly to Twin Peaks and Lynch's work in general, and funnily enough the film of Ricky Nelson performing this song you can find on Youtube is pretty similar to the Just You and I scene in Twin Peaks.
You heard about some of the musicians involved in this project. Which one are you the most curious to hear the contribution from ?
I am ashamed to say that reading through the list of other contributors, this is the first I have heard of most of them - which says a lot about my own isolation ! I am definitely looking forward to losing myself in the entire compilation !
An album you often listen to when you need all your Garmonbozia ?
Slowdive - Souvlaki.
Terminal Sound System's last release to date was the deliquescent and haunted Dust Songs published by Denovali at the end of 2014, but you just released in cassette format the follow-up to Siilt's crepuscular Schism Tapes, named 002 and streaming through Bandcamp. A few words about this one ? Some other projects on the way ?
I'm constantly working on music, every day that I possibly can (which is most days). The vast majority of it is not released, it's what I do to relax and drift away from everyday reality.
002 is a compilation of looped guitar drones and atmospheres that I recorded over the past few months specifically for a tape-sharing project (where a bunch of people anonymously send tapes of noise to one another around the world). It's a low-key affair, intentionally edited together roughly with the pause button on my cassette recorder, recorded to an old found cassette and left muddy and murky without any "mastering". Its main intention is as background / "environmental" ambience, or maybe late night/early morning insomnia soundtrack (the past few years I have been having much trouble sleeping).
As for other things - the next Terminal Sound System release is due out through Denovali in October, and I have a few other things I am working on, more specifically some very dusty techno - kind of a pulse-based counterpart to the 002 Siilt release, and another still-unnamed project that sits partway between A Beautiful Machine, HALO, and some kind of Black Metal.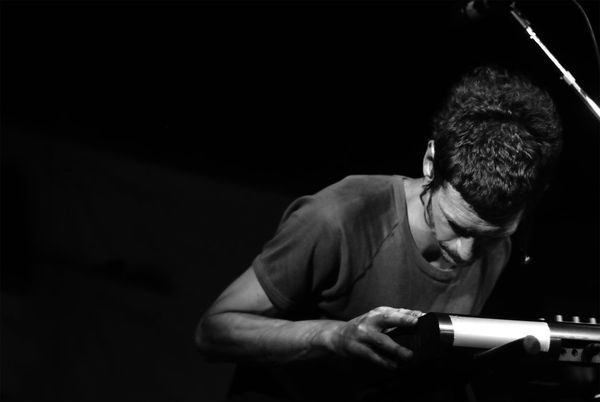 ---
Un grand merci à Terminal Sound System. Sa reprise lynchienne de Lonesome Town paraîtra sur notre compilation Twin Peaks au printemps.
---
Interviews - 18.04.2017 par
---