Retrouvez chaque semaine dans nos pages les interviews de quelques-uns des contributeurs à la future compil' Twin Peaks d'IRM. S'il fait partie de ces quelques participants à n'avoir jamais regardé Twin Peaks, Orouni n'en est pas moins un admirateur du travail de David Lynch, raison pour laquelle il participe à nouveau à un projet collaboratif lancé par notre webzine.
En effet, le Français nous avait déjà fait l'honneur de participer au 2007 Fresh & French Tour, toujours disponible au téléchargement, avec un Panic At The Beehive qui le voyait déjà mettre en avant le chant d'une artiste, en l'occurrence Mlie. Tout juste dix ans plus tard, c'est un Beyond The Grave jazzy et de haute volée qui le voit collaborer pour la première fois avec la chanteuse Aldwin, tandis qu'Emma Broughton assure les parties de flûte et Hullo celles de saxophone.
Par ailleurs, alors que le successeur de Grand Tour se fait attendre depuis trois ans, Orouni nous dresse un état des lieux rapide de ses travaux en cours. Il nous tarde de découvrir des matériaux originaux émanant de cet artiste que l'on suit depuis plus d'une décennie et qui se confiait déjà dans nos colonnes pour un entretien-vérité passionnant en 2008.
---
L'interview
IRM : Comment résumerais-tu ton rapport à Twin Peaks ? A l'univers de Lynch en général ?
Orouni : Je dois avouer que je n'ai jamais regardé la série Twin Peaks, et pourtant j'ai été assez rapidement tenté par le fait de participer à la compilation initiée par IndieRockMag. En effet, l'aura de la série est telle qu'on a l'impression de la connaître même si on n'en a vu aucun épisode. De plus, pour avoir vu et apprécié nombre des films de David Lynch (Elephant Man, Blue Velvet, Lost Highway, Mulholland Drive...), je trouve fascinant son travail en tant que réalisateur de longs-métrages. Si ses contempteurs lui reprochent le caractère abscons de ses œuvres et la difficulté à en suivre un fil narratif (ces critiques peuvent être entendues, en particulier pour Inland Empire, que je n'ai pas tellement aimé), c'est justement ce regard unique et cette conception si caractéristique du cinéma qui me plaisent. En effet, je n'estime pas que le cinéma, ni même la littérature ou la peinture, et a fortiori la musique, ont vocation à être des disciplines dont les produits devraient être compréhensibles. C'est donc ce parti pris qui m'intéresse chez Lynch : un côté narratif pas nécessairement cousu de fil blanc, qui n'empêche pas ses films de posséder des qualités très importantes en termes d'esthétique, de jeu d'acteurs, de capacité à rendre visible un certain imaginaire refoulé, ou encore de musique.
Ton personnage préféré dans la série ?
J'ai l'impression que c'est Bob, car il s'agit du personnage le plus insaisissable (et qui détient donc le plus grand nombre de potentialités). Est-ce vraiment un personnage à part entière, d'ailleurs ? Il semblerait que Bob soit une entité démoniaque évoluant dans un monde parallèle et manipulant alternativement différents être humains dans ce bas monde, où il se déplace sous l'apparence d'une chouette. Autant de raisons pour en faire son protagoniste préféré.
Une scène qui t'a particulièrement touché... ou fait flipper ?
Comme je n'ai vu aucun épisode de la série, je citerais la scène du film Twin Peaks : Fire Walk With Me lors de laquelle apparaît puis disparaît un cheval blanc dans une pièce. Pourquoi ? Comment ? Sur le moment, je n'ai rien compris, cela ne m'a pas dérangé, et j'ai trouvé ça fascinant. J'ai vu le long-métrage il y a 15 ans et m'en souviens encore, c'est dire.
Tu as enregistré un morceau pour notre future compilation Twin Peaks, quel aspect de la série t'a inspiré ?
J'ai commencé par écouter en boucle la musique composée par Angelo Badalamenti (Soundtrack From Twin Peaks). J'avais déjà une composition qui me semblait convenir à un univers un peu jazz et mystérieux. En entendant la BO de Badalamenti, j'ai relevé de nombreux sons caractéristiques, avec lesquels je pouvais arranger ma chanson, dont je n'avais alors qu'une démo instrumentale. Concernant les paroles, j'ai décidé d'aborder la série du point de vue de Laura Palmer, puisque je trouvais approprié de faire chanter une voix féminine (à l'instar de Julee Cruise). À ce propos, je salue le travail de la chanteuse Aldwin, qui prête son timbre habité à Beyond The Grave : il s'agit d'une première collaboration, et ce qu'elle apporte au morceau me plaît beaucoup.
Tu as eu vent de quelques-uns des musiciens impliqués dans ce projet. Duquel es-tu le plus curieux d'entendre la contribution ?
Je suis très impressionné par la variété des pays d'origine des musiciens participant à cette compilation. Je suis donc assez curieux d'entendre leurs contributions. J'ai une pensée particulière pour Glass Coat, formation électro dirigée par un ami musicien qui a joué de la basse dans Orouni il y a quelques années.
Un album vers lequel tu reviens quand il te faut ta dose de Garmonbozia ?
Spontanément, je pense à un disque de Portishead, Dummy ou Third. Ce groupe a la faculté de créer des chansons aux atmosphères extrêmement plombantes. Douleur et tristesse transpirent très souvent de leurs morceaux. Et si ce n'est pas le type de musique que j'écoute le plus souvent, lorsque j'entends Portishead, le groupe réussit le tour de force de faire apparaître très puissamment cette Garmonbozia sans pour autant que j'en sois moi-même affecté, ce qui continue à me donner envie de l'écouter.
A l'exception d'un single sorti en 2015 sur un split avec Water Babies, la dernière sortie d'Orouni remonte à 2014 avec Grand Tour. Quelques mots à ce propos ? D'autres projets sur les rails ?
Nous sommes en train d'enregistrer un nouveau disque, qui est entièrement écrit, et dont nous jouons déjà certains morceaux sur scène. Je ne sais pas encore quand il sortira, car il reste du travail à accomplir. Ainsi, pour faire patienter le public qui, on l'imagine, retient son souffle, quelques chansons sont censées sortir sur des compilations dans le courant de l'année 2017, outre celle qui a été produite spécialement pour IndieRockMag. Par ailleurs, en tant que lauréats du tremplin Linkaband, nous avons enregistré et mixé un morceau au studio Davout juste avant qu'il ferme, et il va bien falloir que cette chanson sorte également.

---
---
English translation
IRM : How would you describe your relationship with Twin Peaks ? With the work/world of David Lynch in general ?
Orouni : I must admit that I have never watched Twin Peaks, but I was nevertheless unhesitating to participate to this IRM compilation. Actually, the aura of the series is such that anyone can feel like he knows it even without having seen any episode. Moreover, because I have seen and appreciated many of Lynch's movies (Elephant Man, Blue Velvet, Lost Highway, Mulholland Drive...), I find his work fascinating as a movie director. If people who despise him argue that his work is abstruse and his storylines hard to follow (critics that can be legit, especially for Inland Empire, that I didn't like), it's precisely this unique look at things he has and this so peculiar conception of cinema in itself that I fancy. In fact, I don't think that neither cinema, literature or even painting, nor music should be considered as disciplines which contents have to be understood. This is this committed stance I like in Lynch : a narrative side that is not so obvious, and that doesn't prevent his movies from having very important qualities as far as esthetics, acting, making particularly suppressed imaginary contents visible, or even music.
Your favorite character in the series ?
I am under the impression that it's Bob, because he's the less tangible character (and so he has the most potential). Is he even really a fully-fledged character ? It looks like Bob is an evil entity living in a parallel world and manipulating alternately different humans in our world, where he is wandering under the guise of an owl. So many reasons to be my favourite character.
A scene that particularly moved - or scared - you ?
As I haven't seen any episode of the series, I would quote a scene from the movie (Fire Walk With Me) during which a white horse appears/disappears in a room. Why ? When I saw it, I didn't understand, it didn't bother me, I found it fascinating. I saw the movie 15 years ago and I still remember it, so...
You recorded a track for our forthcoming Twin Peaks compilation, what aspect of the series inspired you ?
First I listened Angelo Badalamenti's soundtrack on repeat. I already had a composition that could fit a jazzy mysterious mood. Listening to Badalamenti's OST, I caught many distinctive sounds, with which I could arrange my song, of which I only had an instrumental demo at the time. Concerning the lyrics, I decided I would embrace Laura Palmer's point of view, because I found it appropriate to have a female lead voice (as for Julee Cruise). I have to thank the work of the singer Aldwin, who lends her voice to Beyond the Grave : it is our first collaboration, and I really like what she brings to the track.
You heard about some of the musicians involved in this project. Which one are you the most curious to hear the contribution from ?
I am very impressed by the diversity of the countries the musicians participating to this compilation come from. So I am very eager to listen to their contributions. I have a special thought for Glass Coat, an electro combo led by a musician friend who played bass in Orouni a few years back.
An album you often listen to when you need all your Garmonbozia ?
Spontaneously, I think of a Portishead record, Dummy or Third. This band has the power to create songs with extremely heavy atmospheres. Sadness and pain very often ooze from their tracks. And whereas it is not the kind of music I often listen to, as soon as I hear Portishead, the band achieves this tour de force : This Garmonbozia appears very powerfully, but I am not that affected, and thus I still really want to listen to them.
At the exception of a single out in 2015 on a split with Water Babies, your last production was 2014's Grand Tour LP. A few words about that ? Some other projects on the way ?
We are currently recording a new record, that is entirely written, and we even already play some of its tracks live. I don't know yet when it will come out, because there's still work to do. So, to have our audience - who, we think, must be holding their breath - wait, a few songs will be released, sparkled between compilations in 2017, other than the exclusive track we made for IRM. Moreover, as we are the winners of the Linkaband Talent Show, we recorded and mixed a song in the Studio Davout just before it closed down, and this song will have to be released too.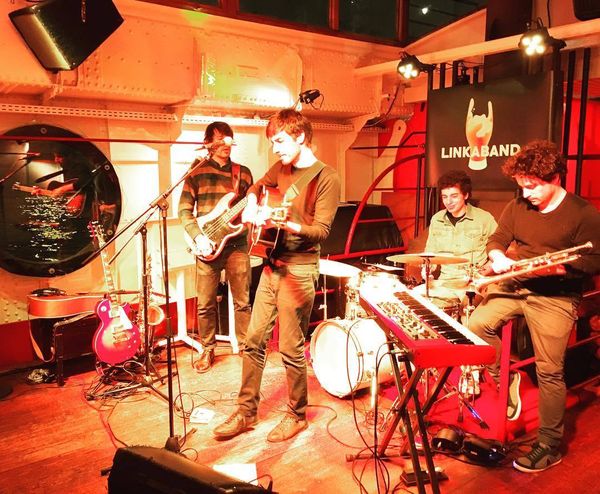 Photo : Florence Berthezène.

---
Un grand merci à Orouni. Son morceau intitulé Beyond The Grave paraîtra sur notre compilation Twin Peaks au printemps.
---
Interviews - 21.04.2017 par
,
---