Retrouvez chaque semaine dans nos pages les interviews de quelques-uns des contributeurs à la future compil' Twin Peaks d'IRM. Pour la petite histoire, c'est Régis Baillet aka Diaphane, merci à lui, qui nous a mis en contact avec notre invité d'aujourd'hui. On peinait en effet à localiser Jérôme Chassagnard sur les réseaux sociaux, médium qui pour d'évidentes raisons pratiques nous a permis de centraliser la communication autour de ce projet.
Introduit par son compère de feu Ab Ovo comme "un fan hardcore de Lynch" - l'entretien qui suit en témoigne -, il faut en effet remonter à Myspace pour trouver trace du Français émigré à Taiwan sur les coutumières plateformes virtuelles, mais le pensionnaire d'Hymen Records n'a pas pour autant chômé ces dernières années, une sortie solo tous les deux ou trois ans sur ce sous-label IDM d'Ant-Zen depuis la fin d'Ab Ovo, sans compter le superbe éponyme de The Prayer Tree (2010) demeuré sans suite et qui compte plus d'un aficionado dans nos pages.
Dernier en date, l'excellent Outer Dialog de février 2016 télescopant nappes introspectives vaporeuses et beatmaking géométrique extraverti en collaboration avec Jérémie Mathes, et depuis c'est surtout via des vidéos témoignant d'une fascination égale pour le cosmos, les éléments, les figures symétriques en miroir et les vieilles séries Z SF que l'on retrouve régulièrement l'auteur d'Inner Dilaog, qui en profite pour revisiter son répertoire depuis Ab Ovo :
Une approche visuelle qui a parfois pour point commun avec le morceau composé par Jérôme pour notre compilation de découper et réorganiser des éléments d'une même œuvre de façon très personnelle, à l'image des deux clips suivants :
---
L'interview
IRM : Comment résumerais-tu ton rapport à Twin Peaks ? A l'univers de Lynch en général ?
Jérôme Chassagnard : J'ai découvert David Lynch grâce à Elephant Man que j'ai vu tout à fait par hasard un soir en allumant la télévision il y a de ça bien longtemps.
Ce film m'a tellement bouleversé que j'ai par la suite voulu voir tous ses films... pourtant c'est loin d'être le plus proche de son univers mais il a une caractéristique c'est que c'est certainement son film le plus humaniste à ce jour, avec Une histoire vraie.
La dernière scène du film est pour moi une des plus belles scènes du cinéma jamais réalisée. Elle est magistrale.
Pour ce qui est de Twin Peaks j'ai vu la série pour la première fois en VHS, j'ai mis plusieurs jours à la regarder et là aussi j'ai pris une claque énorme mais pour différentes raisons.
J'ai tous les films de Lynch en DVD, certains des livres lui étant consacrés, plein de photographies des tournages, d'autres faites pour la promo dans les cinémas etc.
J'ai aussi le livre consacré à son exposition de peintures et de photographies à la fondation Cartier.
Pour ce qui est de sa filmographie j'aime tout ce qu'il a fait à l'exception d'Inland Empire et de Dune qui est intéressant mais ne me touche pas plus que ça ; d'ailleurs il n'aime pas Dune lui-même car il n'a pas pu vraiment faire ce qu'il voulait.
Ton personnage préféré dans la série ?
Je dirais Diane, comme le titre de mon morceau, parce qu'elle est présente en permanence au travers du magnétophone de Dale Cooper alors qu'on ne la voit jamais.
De ce fait on peut considérer si on veut que c'est le personnage le plus mystérieux de la série.
Une scène qui t'a particulièrement touché... ou fait flipper ?
Celle où Laura parle avec des gars qui veulent se la taper au One Eyed Jack's et où on voit ses deux visages.
J'avais envie de vomir en assistant à ça et à la détresse de Laura.
Il y a aussi la scène où elle se retrouve avec sa copine chez Jacques Renault qui l'attache et la viole. Insupportable.
Puis dans un registre plus doux il y a cette scène où Laura part dans un long monologue et dont Cheerleader 69 a fait un morceau hommage tout aussi beau que la scène elle-même.
Tu as enregistré un morceau pour notre future compilation Twin Peaks, quel aspect de la série t'a inspiré ?
J'ai voulu m'inspirer du côté un peu jazzy qu'on retrouve dans la série et en même temps j'ai aussi voulu me servir de samples de la voix de Dale Cooper dans son magnétophone quand il fait son rapport à la fameuse Diane... je trouvais l'idée intéressante et je ne voulais pas faire quelque chose de purement électronique, ce qui à mon sens n'aurait pas collé avec l'esprit de la série.
Après c'est peut-être un morceau anecdotique, à vrai dire je n'en sais rien ça sera aux auditeurs de juger.
Tu as eu vent de quelques-uns des musiciens impliqués dans ce projet. Duquel es-tu le plus curieux d'entendre la contribution ?
Je connais bon nombre d'entre eux, je suis impatient de les écouter mais à vrai dire tout ce qui a été fait pour cette compilation m'intéresse.
Je dois aussi dire que j'ai découvert des artistes que je ne connaissais pas en lisant les interviews successives des uns et des autres pour la compilation et que je les ai inclus dans mes favoris sur ma chaîne Youtube.
Donc je suis impatient d'entendre les contributions de Benoît Pioulard, Aidan Baker, Mike Cooper, Lawrence English, Fallows, Féroces, Robin Foster, Grosso Gadgetto, Monolog, James Murray, nebulo, Ochre, Philippe Petit, Petrels, David Shea entre autres.
Je suis impressionné par le nombre de participants et j'ai vraiment hâte de tout écouter, je suis sûr que je vais me régaler !
Un album vers lequel tu reviens quand il te faut ta dose de Garmonbozia ?
Je suis papa depuis peu et ma fille a besoin de toute mon énergie donc je fais attention avec le Garmonbozia mais j'ai réécouté du Coil récemment, y compris les derniers sur lesquels je n'avais pas eu le temps de me pencher.
Par contre Coil j'aime beaucoup mais à petite dose parce que leur musique est extrêmement chargée.
Ils avaient vraiment quelque chose d'important à faire passer dans leur musique et ils l'ont remarquablement bien fait.
Pour la dose de Garmonbozia light sans caféine j'écoute régulièrement Sigur Rós - Valtari, douce mélancolie.
Tu as sorti il y a tout juste un an en collaboration avec Jérémie Mathes l'album Outer Dialog, suite toujours chez Hymen Records de l'excellent Inner Dialog. Depuis tu nous as concocté quelques mixes ambient/électronica (cf. plus bas). Quelques mots sur ces dernières publications ? D'autres projets sur les rails ?
En ce moment je prends un certain plaisir à faire moi-même des vidéos sur mes propres morceaux, ça me donne cette impression d'achever mon œuvre en quelque sorte, ou du moins ça me permet de donner ma propre vision de morceaux qui au final ne m'appartiennent plus et sur lesquels tout le monde peut légitimement avoir ses propres images. Ça n'a pas vraiment de prétention artistique mais j'aime faire ça.
Quand j'ai un peu de temps libre je fais quelques mix aussi, rien à voir avec ce qu'on peut attendre d'un DJ techno mais j'y prend aussi beaucoup de plaisir.
Pour ce qui est des news, mon nouvel album devrait sortir bientôt, je reviens en quelque sorte aux vieilles amours mais je n'en dirai pas plus pour l'instant car je préfère que ça reste une surprise.
Je travaille aussi sur un autre projet avec un ami musicien qui sera aussi une autre facette de mon travail.
Et puis un de mes morceaux va bientôt être utilisé pour la présentation d'un programme éducatif utilisant la technologie VR. Ce programme est le fruit du travail d'un chercheur du MIT et sera présenté au SIGRRAPH 2017 à Los Angeles.
---
---
English translation
IRM : How would you describe your relationship with Twin Peaks ? With the work/world of David Lynch in general ?
Jérôme Chassagnard : I discovered Lynch with Elephant Man, which I happened to be watching one night on television a long time ago.
This film moved me so much that I wanted to see all his movies afterwards - it's the remotest movie from Lynch's universe per se, but it's got one peculiarity : it's probably his most humanistic to this day ; well, this one and The Straight Story.
The last sequence is, I think, one of the most beautiful ever directed. it's a masterpiece.
As regards Twin Peaks, I saw the series on videotape first, and it took me several days to watch it ; and I was blown out again, but for different reasons.
I own all of Lynch's movies on DVD, as well as some monographies about him, a lot of backstage pics, promo pics, etc.
I also own the catalog of his paintings and photography exhibition at Fondation Cartier.
When it comes to his filmography, I like everything he's done, except for Inland Empire and Dune, an interesting movie which doesn't move me that much. Lynch himself doesn't like Dune that much because he wasn't able to direct it the way he wanted.
Your favorite character in the series ?
I'd say Diane, who gave her name to the track I recorded ; because she's always here through Dale Cooper's tape recorder, but you can never see her. Which means you can consider her as the most mysterious character in the series, if you will.
A scene that particularly moved - or scared - you ?
The one sequence when Laura's speaking to two guys who want to bang her at One Eyed Jack's, and you get to see her opposite personalities.
I wanted to puke when I saw this, and Laura's despair.
There's also that one sequence when she's with her friend at Jacques Renault's ; and he ties and rapes her. Unbearable.
On a softer tone, there's that sequence when Laura starts a long monologue which was used by Cheerleader 69 for a track that I think is as beautiful as the very sequence :
You recorded a track for our forthcoming Twin Peaks compilation, what aspect of the series inspired you ?
I wanted to use that somewhat jazzy tone you get in the series' soundtrack. I also wanted to use samples of Dale Cooper's voice, when he reports to that Diane on his tape recorder... I thought that was an interesting idea ; besides, I didn't want to record something that was purely electronic - which wouldn't have been in keeping with the tone of the series, I think.
Eventually, you might feel this a somewhat anecdotic track ; to be honest I'm not sure and I'll leave it for the listeners to judge.
You heard about some of the musicians involved in this project. Which one are you the most curious to hear the contribution from ?
I know a lot of them, I can't wait to listen to them all, but to be honest I'm interested in everything that might have been recorded for this compilation.
I also have to admit that I have discovered artists I didn't know about just by reading the various interviews made for the compilation ; I have included them all on my YouTube channel. I am therefore very eager to listen to what Benoît Pioulard, Aidan Baker, Mike Cooper, Lawrence English, Fallows, Féroces, Robin Foster, Grosso Gadgetto, Monolog, James Murray, nebulo, Ochre, Philippe Petit, Petrels and David Shea have recorded - among others.
I'm very much impressed by the number of participants and I really can't wait to listen to the whole thing, I know it'll be a treat !
An album you often listen to when you need all your Garmonbozia ?
I became a father only recently, and my daughter needs all the energy I can give, so I'm really careful with Garmonbozia. However, I have been re-listening to some Coil releases recently, including the later ones which I hadn't had occasion to pay much attention to before.
I really like Coil, but in small doses only, because their music is so full of everything.
They truly had something important to pass on through their music, and so they did.
For my daily Diet Garmonbozia fix, I regularly listen to Sigur Rós' Valtari, sweet melancholy.
Just one year ago, you released a collaborative LP with Jérémie Mathes, Outer Dialog, following the remarkable Inner Dialog - both on Hymen Records. Since then, you have graced us with ambient/electronica mixes. Could you tell us more about these releases ? Any new project on the way ?
These days, I've been having a lot of fun shooting my own videos for my tracks. It gives me that feeling that my whole work is done, so to speak - or at least it allows me to shed my own light on tracks that don't belong to me anymore, which anyone can have their own vision of. I'm not claiming I'm doing anything of real value artistically, but I really enjoy doing it.
In my spare time, I also mix a bit, nothing you would expect from a techno music DJ but I also enjoy doing this a lot.
What's new indeed ? My new LP should be out soon. I'm back to my roots, so to speak, but I won't say anything more for now - I'd rather it remained a surprise.
I'm also working on another project with a musician friend of mine, it will show another side of what I do.
And one of my tracks is soon to be used at the presentation for an educational software using VR technology. This software was designed by an MIT scientist, and it will be showcased at SIGRRAPH 2017 in Los Angeles.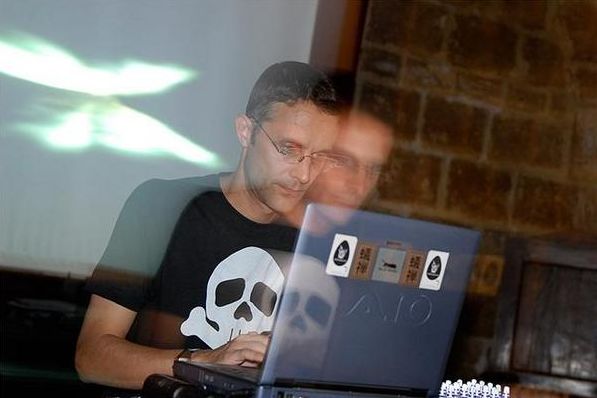 ---
Un grand merci à Jérôme Chassagnard. Son morceau intitulé Diane paraîtra sur notre compilation Twin Peaks au printemps.
---
Interviews - 25.04.2017 par
,
---