Retrouvez chaque semaine dans nos pages les interviews de quelques-uns des contributeurs à la future compil' Twin Peaks d'IRM. Contacté pour notre projet, notre invité du jour a transformé l'idée en véritable concept, enregistrant son titre hommage à la série sur les lieux du crime en quelque sorte, non pas du meurtre de Laura Palmer mais d'un projet lynchien tombé aux oubliettes.
La photo ci-dessus est issue des sessions studio qui ont suivi mais les deux suivantes sont des prises de vue du lieu en question, Teufelsberg, dont le Danois basé à Berlin nous entretient plus bas du lien avec le cinéaste américain et son univers fantasmagorique et pernicieux. Auteur depuis janvier de pas moins de trois sorties remarquables (et remarquées, dans nos pages pour le moins), Mads Lindgren aka Monolog n'est pas beaucoup plus sain d'esprit à en juger par ses soundscapes électroniques vindicatifs et oppressants au futurisme belliqueux, mais le morceau enregistré pour notre compil' à venir devrait en surprendre plus d'un par ses atmosphères dark ambient intrigantes et toutes en retenue.

---
L'interview
IRM : Comment résumerais-tu ton rapport à Twin Peaks ? A l'univers de Lynch en général ?
Mads Lindgren : Quand la série a été diffusée pour la première fois à la télévision danoise, j'ai été saisi par le calme de la nature et la fraîcheur des paysages, qui s'est ensuite transformée progressivement en véritable casse-tête hallucinatoire et même en vraie terreur à mesure du déroulement de l'intrigue. Je suis un fan de Lynch depuis que j'ai vu Eraserhead et Blue Velvet. Il arrive à me faire peur, peu de gens en sont capables.
Ton personnage préféré dans la série ?
Bob le tueur.
Une scène qui t'a particulièrement touché... ou fait flipper ?
La conversation dans la Loge Noire avec "Bras Gauche" [le Petit Homme Venu d'Ailleurs est souvent considéré comme le fameux bras gauche coupé de Mike, ndlr] et quelques-unes des courtes scènes coupées avec Bob le tueur m'ont certainement laissé une impression durable.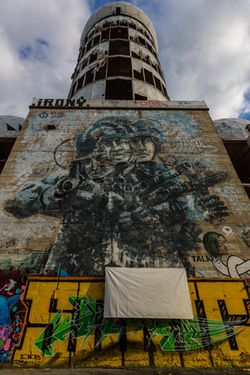 Tu as enregistré un morceau pour notre future compilation Twin Peaks, quel aspect de la série t'a inspiré ? Toute anecdote est bienvenue !
A la fin de la Seconde Guerre mondiale, ils ont entassé tous les débris de guerre à l'extérieur de Berlin, et les ont recouverts de poussière. Puis à l'apogée de la guerre froide, plutôt ironiquement, ils ont fait de cette "montagne" (Teufelsberg) une station radar. C'est maintenant une ville fantôme, qui s'est dégradée depuis des années. Il y a une atmosphère très flippante dans les vieux dômes des radars et les bâtiments désolés. J'ai enregistré là-bas tous les sons que j'ai utilisés pour le morceau de la compilation, puisque Mr. Lynch voulait acheter ce bâtiment et le transformer en école de cinéma. Force est de reconnaître que ce bâtiment est vraiment en adéquation avec son esprit.
Tu as eu vent de quelques-uns des musiciens impliqués dans ce projet. Duquel es-tu le plus curieux d'entendre la contribution ?
Je suis très impatient d'entendre la contribution de Jérôme Chassagnard, j'ai adoré les morceaux ambient de son album Inner Dialogue chez Hymen. Même chose pour Ochre, ça devrait être intéressant. Très certainement offthesky, j'ai beaucoup écouté son alias Zen Savauge sur Thinnerism et Autoplate et vraiment adoré. Je suis content de voir qu'il est toujours actif. Ynoji a également une vision très intéressante de l'ambient donc j'ai de grandes attentes pour lui aussi.
Un album vers lequel tu reviens quand il te faut ta dose de Garmonbozia ?
Ce serait Destroy Erase Improve de Meshuggah. Cet album me met d'humeur dystopique comme rien d'autre.
En ce début d'année, tu as déjà sorti deux albums, Conveyor et When the Clouds Roll By, ainsi que l'EP Conviction avec Subheim chez Denovali. Quelques mots à ce propos ? D'autres projets sur les rails ?
J'ai été très heureux de lâcher ces trois sorties, chacune dotée d'une âme et d'une humeur propres. When the Clouds Roll By chez Subtrakt a été pensé comme un canal d'énergie directe pour mes morceaux les plus impitoyables, je voulais faire une sortie sous-titrée "trucs qui dépotent". Conveyor a été plus comme un voyage et une réinvention du "son" Monolog, qui m'a permis de redécouvrir ma guitare en mettant l'accent sur le récit et pas seulement sur l'énergie. C'est un foyer pour les dimensions les plus paisibles du deuil, de la mort puis du réassemblage et de la sortie du tunnel à la fin du processus.
Dernier vinyle sorti, avec Subheim - nous sommes essentiellement 2 variations de la même gamme émotionnelle. Je serais le feu et le déferlement manifestes, Subheim l'asphyxie glaciale et la belle cristallisation mélodique de ce cadavre. Nous sommes (presque) voisins et avons tourné ensemble pour le label Ad Noiseam donc nous avons décidé (après pas mal de bières) de nous asseoir et d'unifier ces univers. Pour moi, c'est l'une des collaborations où les deux entités coexistent le plus clairement dans un espace confiné, se soutenant l'une l'autre au lieu d'interférer.
Je suis actuellement en train de finir un projet avec deux danseurs français pour lequel j'ai adapté à leurs mouvements un paysage sonore très sinistre, une première pour moi. Et bien sûr je suis aussi déjà en train de travailler sur le prochain album. Tu sais, le Mal ne dort jamais. (sourire)
---
---
Original english version
IRM : How would you describe your relationship with Twin Peaks ? With the work/world of David Lynch in general ?
Mads Lindgren : When this first aired in danish television i was gripped by the calm nature surroundings and the cool vibe of the sets, that then gradually turned into a real mind bender and true dread as the plot unfolds. Been a Lynch fan since i saw Eraserhead and Blue Velvet. He manages to scare me, not many people do.
Your favorite character in the series ?
Killer Bob.
A scene that particularly moved - or scared - you ?
Having the conversation in the Black Lodge with "Left Arm" and a few of the short cutscenes showing Killer Bob most certainly left an impression.
You recorded a track for our forthcoming Twin Peaks compilation, what aspect of the series inspired you ? Any anecdote about that ?
When WWII was over they took all the war junk and piled it up outside berlin, threw some dirt on it. Then when the cold war was at its peak, ironically enough, they used this "mountain" (Teufelsberg) for a radar station. This is now a ghost town, and has been decaying for years. Very spooky vibe in the old radar domes and desolate buildings. I recorded all the sounds I used for the compilation there, since Mr. Lynch wanted to buy this building and turn it into a film school. I can only acknowledge that this building is very much down the lines of his spirit.
You heard about some of the musicians involved in this project. Which one are you the most curious to hear the contribution from ?
I am very much looking forward to hear Jérôme Chassagnard's contribution, i loved the ambient pieces on Inner Dialogue on Hymen. Same for Ochre, that should be interesting. Most certainly offthesky, I really listened to a the alias Zen Savauge on Thinnerism and Autoplate and really loved it. Was very happy to see he is still active. Ynoji also has some very interesting takes on ambient so have my hopes up for this one as well.
An album you often listen to when you need all your Garmonbozia ?
That would have to be Meshuggah, Destroy Erase Improve. That album puts my a dystopian mood like nothing else.
Since the start of 2017, you already released two albums, Conveyor and When the Clouds Roll By, as well as an EP with Subheim on Denovali, called Conviction. A few words about those ? Any other project on the way ?
I have been very happy to shotgun out these 3 releases, each with their own temper and soul. When the Clouds Roll By on Subtrakt, was thought as my direct energy channel for the relentless pieces, wanted to make a release with a meta title "punch stuff". Conveyor was more a journey and and reinvention of the Monolog sound, rediscovering my guitar with a focus on narrative and not just energy. This is the home for the more leaned in quiet aspects of loss, death and re-assembly and reviving at the end of the process.
Last vinyl out, with Subheim - we are basically 2 variations of the same emotional range. I would be the blatant fire and barrage, Subheim is the frost suffocation and beautiful melodic crystallization on this corpse. We are (practically) neighbours and toured together on the ad noiseam label so we decided (after many beers) to sit down and make these universes unite. To me, it is one of the most clear collabs where both beings co-exist in a confined space only with support and not interference.
I am currently finsihing a project with 2 dancers from France where i made a very sinister soundscape to their movements which will be a first time for me doing this. And I am of course also already working on the next album. Evil never sleeps you know. (smile)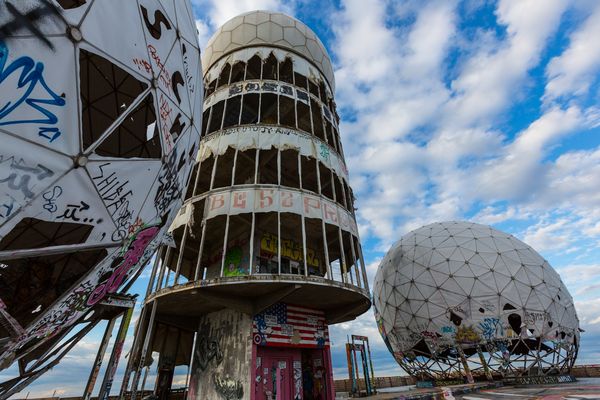 ---
Un grand merci à Mads Lindgren. Son morceau intitulé Teufelsberg paraîtra sur notre compilation Twin Peaks au printemps.
---
Interviews - 16.03.2017 par
---