Retrouvez chaque semaine dans nos pages les interviews de quelques-uns des contributeurs à la future compil' Twin Peaks d'IRM. Cette semaine, c'est George D. Stanciulescu aka LeVant qui partage avec nous le processus qui lui a permis d'accoucher d'un titre original pour notre compilation en hommage à Twin Peaks.
Depuis décembre 2010 et la sortie de Beyond The Masque Of Eden, le Roumain s'est plutôt fait discret puisqu'il n'a partagé qu'un long format - Knock, Knock, Ginger en 2014 - et quelques paires d'EPs parmi lesquels Ufinitude qu'il dévoilait en exclusivité sur IndieRockMag.
L'artiste a parfaitement digéré l'héritage du modèle Aphex Twin, si bien que ses déstructurations électroniques à mi-chemin entre techno et IDM - en passant par l'ambient sur Tone Skin - sont à chaque fois plus stimulantes. Diplômé en philosophie et défenseur du concept de digimodernisme, George D. Stanciulescu ne se cantonne pas à un seul centre d'intérêt et, du cinéma à l'attrait pour les maladies mentales, il ne pouvait que trouver son compte dans l'univers de Twin Peaks.

---
L'interview
IRM : Comment résumerais-tu ton rapport à Twin Peaks ? A l'univers de Lynch en général ?
LeVant : Eh bien, David Lynch est une source d'inspiration énorme, profondément et inconsciemment ancrée en moi depuis que je suis gamin. J'avais environ 8 ou 9 ans quand la diffusion de la série télévisée Twin Peaks a commencé en Roumanie post-communiste, imaginez un peu l'impact que ça a pu avoir sur la psyché d'un enfant, héhé.
Ton personnage préféré dans la série ?
J'ai trouvé Audrey particulièrement séduisante, le Petit Homme Venu d'Ailleurs particulièrement troublant, l'apparition de David Bowie en Philip Jeffries particulièrement bien vue et l'Agent Cooper particulièrement emblématique avec sa personnalité charismatique.
Une scène qui t'a particulièrement touché... ou fait flipper ?
Il y a beaucoup de scènes qui vous hantent tout au long de la série, mais celles qui m'ont le plus marqué sont celles qui représentent la démence bipolaire et la glauquitude tamisée de ces limbes surréaliste connues sous le nom de Loge Noire.
Tu as enregistré un morceau pour notre future compilation Twin Peaks, quel aspect de la série t'a inspiré ?
J'ai juste essayé de mettre l'accent sur le côté absurde et légèrement grotesque de la série, tout en gardant à l'esprit sa touche "néo-noir" énigmatique. Pour moi Lynch est un pair cinématographique des plus grands dramaturges absurdes tels que Beckett ou Ionesco, j'ai donc essentiellement tenté une alchimie de cette impression en mes propres termes d'interprétation artistique.
Tu as eu vent de quelques-uns des musiciens impliqués dans ce projet. Duquel es-tu le plus curieux d'entendre la contribution ?
Philippe Petit, que j'ai vu en concert à Bucarest et qui m'a fait forte impression, et Lawrence English.
Un album vers lequel tu reviens quand il te faut ta dose de Garmonbozia ?
Difficile de choisir, mais je suis définitivement fasciné en ce moment par les musiciens électroniques obscurs et visionnaires du passé, comme par exemple Yuri Morozov.
En 2017, tu as sorti l'EP UnFinetude. Quelques mots à ce propos ? D'autres projets sur les rails ?
Oui, j'ai récemment étrenné cette œuvre en concert à Hubrica, un centre de création situé dans une zone industrielle de la ville de Iasi, en Roumanie. En voici un bref extrait en vidéo :
J'ai encore beaucoup de musique en réserve, aussi quelques concerts à venir en Roumanie voire pourquoi pas à l'étranger, donc restez à l'écoute et soutenez l'électronica contemporaine ! Et puis merci à vous pour l'interview et pour m'avoir invité à prendre part à ce merveilleux et nécessaire hommage sonore à une légende du cinéma !

---
---
Original english version
IRM : How would you describe your relationship with Twin Peaks ? With the work/world of David Lynch in general ?
LeVant : Well, David Lynch was a huge inspiration, deeply and subconsciously rooted since I was a kid. I was like 8 or 9 years old when the original TV series of Twin Peaks started to be broadcasted in the post-communist Romania, imagine the whole bending and blowing impact of that on the psyche of a kid, hehe.
Your favorite character in the series ?
I found Audrey to be particularly alluring, The Man From Another Place particularly unsettling, David Bowie's cameo as Philip Jeffries particularly well cast and Agent Cooper particularly iconic in his charismatic persona.
A scene that particularly moved - or scared - you ?
Plenty of haunting scenes throughout the series, but those that stayed with me are the ones depicting the bipolar dementia and subdued creepiness of the surreal limbo set that is known as the Black Lodge.
You recorded a track for our forthcoming Twin Peaks compilation, what aspect of the series inspired you ?
I just tried to emphasize on the slightly grotesque absurd side, keeping in mind the inherent "neo-noir"enigmatic touch. I find Lynch to be a cinematic peer of the greatest absurd playwrights such as Beckett, Ionesco etc, so I basically attempted to alchemize some of that impression in my own terms of artistic comprehension.
You heard about some of the musicians involved in this project. Which one are you the most curious to hear the contribution from ?
Philippe Petit which I saw live in Bucharest and made a strong impression on me, and Lawrence English.
An album you often listen to when you need all your Garmonbozia ?
Hard to choose, but I am certainly fascinated these days by obscure electronic musicians and visionaires from the past, such as Yuri Morozov, for instance.
In 2017 you released UnFinetude. A few words about it ? Some other projects on the way ?
Yes, I recently had the live premiere of this work at Hubrica, a creative hub set in an industrial area in the city of Iasi, Romania. Here is a brief video extract from that.
There is plenty more music I have in stock, also some live shows in Romania and why not abroad, so stay tuned and support contemporary electronica ! Also, at the end, thanks to you for the interview and for inviting me to this wonderful and necessary sonic tribute to a legendary piece of cinema !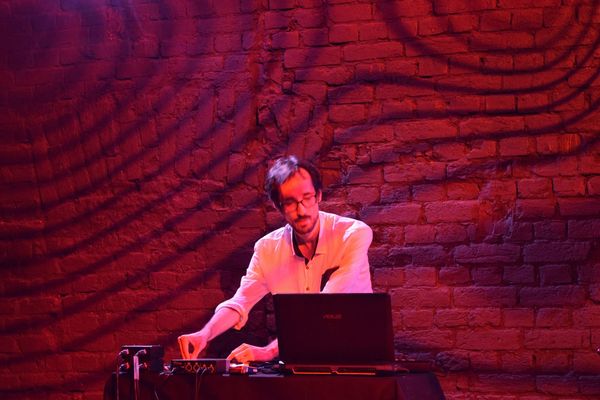 ---
Un grand merci à LeVant. Son morceau intitulé My Dwarf Stole Your Silence paraîtra sur notre compilation Twin Peaks au printemps.

---
Photo logo : Maximilian Lupu.
---
Interviews - 13.03.2017 par
... et plus si affinités ...
LeVant
sur IRM
---