Retrouvez chaque semaine dans nos pages les interviews de quelques-uns des contributeurs à la future compil' Twin Peaks d'IRM. Aujourd'hui, c'est au tour d'Aver, le beatmaker mancunien a traversé 2016 avec beaucoup de talent et d'originalité et nous a fait cadeau d'une piste, l'occasion pour nous d'en toucher deux mots avec lui, de vous parler de ses excellentes sorties de l'année dernière, mais aussi de ses futurs projets avec ou sans The Natural Curriculum !
Aver et son crew mancunien The Natural Curriculum nous ont balancé deux bombinettes l'année dernière, d'abord And Now For Something Exactly The Same… puis The Best Fertiliser Is The Gardener's Shadow, deux trucs où la classe folle des rappeurs sautaient aux oreilles, mais où surtout le travail d'Aver à l'unisson nous pétait à la gueule !
Le premier était un EP de seulement 4 titres mais 4 pistes largement suffisantes pour dire « wahou » : le truc commençait avec deux bombes style Madlib version Shades Of Blue, rien que que ça (!!!) et finissait par deux autres engins que les Company Flow n'auraient pas désavoués, rien que ça encore ! De quoi avoir rapidement catalogué Aver et sa bande du côté des bons Outre-Manche. Leur second effort enfoncera définitivement le clou en plus long format avec un style toujours aussi Definitive Jux mais en version accélérée et anglaise et une façon de faire expérimentale, étrange et heurtée mais simple, dynamique et limpide à l'écoute.
Aver était forcément pour beaucoup dans la qualité de ces projets puisqu'il assurait la majeure partie du beatmaking. La confirmation a eu lieu en janvier de cette année avec Instrumentals.3 où l'Anglais était seul maître à bord. Une beat-tape solo qui comptera cette année avec la bonne dose de beats poussiéreux et d'échantillonnages obscurs et bidouillés ou lumineux et jazzy ! Mais assez de blabla et place à l'interview d'Aver qui vous parle de Twin Peaks et de son travail qui a lui aussi été grandement influencé par David Lynch.
---
L'interview
IRM : Comment résumerais-tu ton rapport à Twin Peaks ? A l'univers de Lynch en général ?
Aver : C'est une relation très sombre, étrange et néanmoins honnête. Mr. Lynch est venu manger dans un restaurant où je travaillais fut un temps, il m'a dit qu'il pensait que ma musique était très bien et que je devrais continuer, qu'importe le peu d'argent gagné. Je précise qu'il n'a jamais entendu aucun de mes morceaux.
Ton personnage préféré dans la série ?
Le petit homme venu d'ailleurs.
Une scène qui t'a particulièrement touché... ou fait flipper ?
Ne cherchez pas à obtenir toutes les réponses à la fois, un chemin se construit pierre par pierre. [citation du Géant dans le premier épisode de la saison 2, ndlr]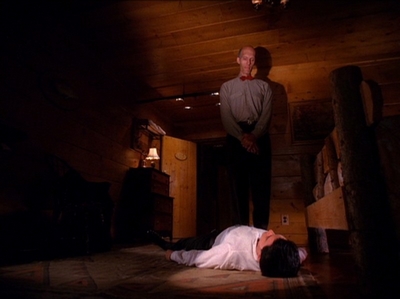 Tu as enregistré un morceau pour notre future compilation Twin Peaks, quel aspect de la série t'a inspiré ?
Le rêve comme qualité de vie qui est reflété dans la série et sa capacité à nous faire nous sentir mal à l'aise avec les moindres changements surréalistes dans la façon dont nous percevons les choses.
Tu as eu vent de quelques-uns des musiciens impliqués dans ce projet. Duquel es-tu le plus curieux d'entendre la contribution ?
Je pense que Crookram a fait des contributions intéressantes ces derniers temps et je vais apprécier d'entendre à nouveau son travail. [But Sometimes My Arms Bend Back peut déjà s'écouter sur notre EP Welcome to Twin Peaks, ndlr]
Un album vers lequel tu reviens quand il te faut ta dose de Garmonbozia ?
Third de Portishead.
En 2016, tu as sorti deux projets incroyables : And Now For Something Exactly The Same… et The Best Fertiliser Is The Gardener's Shadow avec ton crew The Natural Curriculum. Et plus récemment en janvier un excellent Instrumentals.3. Quelques mots à ce propos ? D'autres projets sur les rails ?
En ce qui concerne And Now For Something Exactly The Same… j'avais fait quelques morceaux après avoir terminé The Best Fertiliser Is The Gardener's Shadow et je voulais les sortir avant pour que les gens se souviennent brièvement de qui étaient The Natural Curriculum avant que nous disparaissions à nouveau. Ça a eu l'air de bien se passer, j'ai reçu beaucoup de réactions positives de certains vieux fans de rap très amers, ce qui a calmé mon univers.
Si les gens n'ont pas entendu The Best Fertilizer Is The Gardener's Shadow, c'est leur faute et rien que leur faute. Ils devraient avoir honte.
L'ingénieusement intitulé Instrumentals.3 est une collection de beats qui ne collaient pas avec le nouvel album instrumental que j'enregistre actuellement. Bill Sykes et moi-même avons une chanson de merde avec une vidéo de merde qui sortent la semaine prochaine [c'était le 9 février... retard de traduction, ndlr], elle s'appelle Frozen Lederhosen.
---
---
Original english version
IRM : How would you describe your relationship with Twin Peaks ? With the work/world of David Lynch in general ?
Aver : It is a very dark, strange, yet honest relationship. Mr. Lynch came to eat in a restaurant I used to work in once, he told me that he thought my work was very good and that I should carry on no matter how little money I made. He has never heard any of my work.
Your favorite character in the series ?
The Man from Another Place.
A scene that particularly moved - or scared - you ?
Don't search for all the answers at once, a path is formed by laying one stone at a time. [editor's note : a quote from the Giant in episode 2x01]
You recorded a track for our forthcoming Twin Peaks compilation, what aspect of the series inspired you ? Any anecdote about that ?
The dream like quality of life that is mirrored in the show and its ability to make us feel ill at ease with the slightest surreal changes in the way we perceive things.
You heard about some of the musicians involved in this project. Which one are you the most curious to hear the contribution from ?
I think Crookram has made some interesting contributions lately and I am going to enjoy hearing his work again. [editor's note : But Sometimes My Arms Bend Back can already be listened to on our Welcome to Twin Peaks EP]
An album you often listen to when you need all your Garmonbozia ?
Third by Portishead.
In 2016 you released two unbelievable projects : And Now For Something Exactly The Same… and The Best Fertiliser Is The Gardener's Shadow with The Natural Curriculum crew and more recently in january an excellent Instrumentals.3. A few words about them ? Some other projects on the way ?
With regards to And Now For Something Exactly The Same… I had made some songs after finishing The Best Fertiliser Is The Gardener's Shadow and I wanted to put them out before it so people would briefly remember who The Natural Curriculum were before we disappeared again. It seemed to go down well, I got a lot of positive feedback from some very bitter old rap fans which made the world very calm.
If people haven't heard The Best Fertiliser is The Gardener's Shadow that is their fault and their fault alone. They should be ashamed of themselves.
The ingeniously named Instrumentals.3 is a collection of beats that don't fit on the new instrumental album I am writing currently. Myself and Bill Sykes have a shit song with a shit video coming out next week [editor's note : February 9th... we've been late], it's called Frozen Lederhosen.
---
Un grand merci à Aver. Son morceau intitulé Madder Than a Box of Frogs paraîtra sur notre compilation Twin Peaks au printemps.
---
---
Interviews - 10.03.2017 par
---