Retrouvez chaque semaine dans nos pages les interviews de quelques-uns des contributeurs à la future compil' Twin Peaks d'IRM. Nos 14èmes contributeurs sont bisontins et ont fait une apparition remarquée cette année sur la scène post-rock française en y apportant une approche nouvelle issue du cinéma. Quoi de plus normal alors que de les retrouver sur une compil dédiée à Lynch ? Souhaitons la bienvenue à Féroces ! Avec, pour la première fois, le morceau qui figurera sur la compilation, accompagné à l'occasion de sa vidéo, en avant-première.
Après une apparition fracassante avec un premier EP, Juliette, reprenant les codes du post-rock en les combinant avec la Nouvelle Vague, et une confirmation par le biais de concerts aussi tendus que précis culminant avec une performance audio/vidéo dans le cadre du Festival International du film de Belfort, Féroces ne pouvaient que comprendre le lien entre musique et cinéma que notre compilation Twin Peaks proposait.
---
L'interview
IRM : Comment résumerais-tu ton rapport à Twin Peaks ? A l'univers de Lynch en général ?
Joss : J'ai très jeune découvert le cinéma de Lynch, on trainait dans le vidéoclub (à l'époque où ce genre de lieux existaient encore) du quartier avec des potes, on était ado, on louait des tonnes de films, essentiellement des films d'horreur / fantastiques, il y avait marqué "Grand Prix d'Avoriaz" sur la jaquette de Blue Velvet, on l'avait loué pour ça. Je me souviens à l'époque des sentiments que j'ai pu ressentir notamment à la vue du personnage incarné par Dennis Hooper, complètement malsain, dérangeant, quand tu es adolescent c'est quand même quelque chose. Je pense que ça été similaire avec le personnage de Willem Dafoe dans Sailor et Lula, bordel ce type ! tellement barge. J'ai plus tard maté Lost Higway ou Mulholland Drive, et bien sûr Twin Peaks.
François : Lorsque Twin Peaks a été diffusé en France, j'avais une dizaine d'années et j'étais bien plus intéressé par MacGyver, c'est donc des années plus tard que j'ai découvert cette série et j'ai tout de suite adoré l'ambiance et tout ce mystère qui pouvait régner à Twin Peaks.
Ton personnage préféré dans la série ?
Joss : Sans aucun doute, Audrey Horne. Elle a un charme insaisissable et une répartie implacable.
François : L'agent Cooper, j'aime bien son tempérament et ses théories.
Une scène qui t'a particulièrement touché... ou fait flipper ?
Joss : La scène où la mère de Laura se souvient avoir vu le visage de Bob, caché dans la chambre de sa fille.
François : Les scènes dans la Black Lodge, avec les voix trafiquées sont vraiment particulières voire vraiment flippantes, comme quand Laura est possédée et fait fuir Cooper.
Tu as enregistré un morceau pour notre future compilation Twin Peaks, quel aspect de la série t'a inspiré ? Toute anecdote est bienvenue !
Sébastien : À côté de mon activité dans les musiques rock (au studio, ou avec Féroces), j'écoute beaucoup de musiques électroniques au sens large, et la musique de Twin Peaks est absolument fabuleuse pour moi : guitare trémolo et piano électrique dans le thème principal, synthés et piano dans le thème de Laura, avec cette progression harmonique si typique des années 80. Je suis vraiment très fan de cette période musicale, c'est ce qui doit donner à Féroces ce petit côté new-wave. La démocratisation des machines a permis des expérimentations incroyables (pas forcément toutes réussies, mais c'est le risque), et, pour moi, ça fait de cette période la période la plus inventive en terme de recherche sonore. Lorsque nous avons composé Donna, nous ne savions encore pas que ce morceau allait figurer sur cette compilation, j'avais envie d'un morceau atmosphérique à la Cure, et François et Joss ont immédiatement accroché. Donc quand vous nous avez proposé cet hommage à Twin Peaks, ça nous a semblé tomber sous le sens, et nous avons choisi une scène en français (puisque c'est un peu notre marque de fabrique) qui collait bien à l'ambiance. Heureusement, les voix françaises ne sont pas si mal.
Tu as eu vent de quelques-uns des musiciens impliqués dans ce projet. Duquel es-tu le plus curieux d'entendre la contribution ?
Joss : Je dirais Jessica 93, son univers noisy et tortueux me parait bien correspondre à l'univers de la série.
François : J'ai parcouru les premiers noms et j'ai beaucoup aimé ce que faisait Crookram, j'attends donc sa contribution au projet.
Un album vers lequel tu reviens quand il te faut ta dose de Garmonbozia ?
Joss : Je dirais Godspeed You Black Emperor, Slow riot for new zero kanada.
Sébastien : Felt, de Nils Frahm.
François : Turn On The Bright Lights d'Interpol.
Votre actu 2016, c'est un premier EP et des live. Quelques mots à ce propos ? D'autres projets sur les rails ?
Joss : En plus de la sortie de Donna et de ses remixes, on doit sortir très bientôt une reprise de Sometimes de My Bloody Valentine pour le label brésilien The Blog That Celebrate Itself, que nous avons enregistrée lors de la même session que Donna. Nous allons aussi enregistrer notre prochain EP Victor en janvier prochain, toujours au Cube Studio (le studio de Seb, c'est assez pratique il faut bien l'avouer :) ). Les morceaux sont prêts, nous les jouons déjà en concert depuis quelques temps, il nous faut juste trouver le temps de les enregistrer. Il y aura cinq nouveaux titres, et un interlude. Ajoute à ça pas mal de dates de prévues, on est toujours ultra occupé, ce groupe c'est juste une grosse partie de nos vies.
Comme promis, voici le morceau que Féroces nous ont concocté, dans un chouette clip en VHS :
---
---
English version
IRM : How would you describe your relationship with Twin Peaks ? With the work/world of David Lynch in general ?
Joss : I was very young when I discovered Lynch's works, me and my teenage pals were hanging at the neighborhood's video rental place (these places still existed at that time) and we rented loads of movies here, essentially horror and fantasy movies. "Grand Prix d'Avoriaz" was labelled on Blue Velvet, so this is why we rented it. I can still remember the way I felt when I first laid my eyes on Dennis Hopper's unsane, unsettling character in Blue Velvet. I think it was similar with Willem Dafoe in Sailor and Lula, goddamn, this guy ! So batshit crazy ! Later I watched Lost Highway and Mulholland Drive, and of course Twin Peaks.
François : When Twin Peaks was broadcasted in France, I was about 10 and was much more interested in McGyver, so I discovered this series years later and the setting and the mystery surrounding Twin Peaks instantly clicked with me.
Your favorite character in the series ?
Joss : Without the shadow of a doubt, Audrey Horne. There's an elusive appeal about her, and a relentless comeback.
François : Agent Cooper, I like his mood and his theories.
A scene that particularly moved - or scared - you ?
Joss : The moment when Laura's mother remembers having seen Bob's face, hidden in her daughter's room.
François : The scenes in the Black Lodge, with the treated voices, are really special and scary, e.g. the one when Laura's possessed and makes Cooper flee.
You recorded a track for our forthcoming Twin Peaks compilation, what aspect of the series inspired you ? Any anecdote about that ?
Sébastien : Besides my rock music activity (in the studio, or with Féroces), I listen to a lot of electronic music, and Twin Peaks music is absolutely fabulous for me : tremolo guitars and electric piano in the main theme, synth and piano in Laura's Theme, with this harmonic progression that is so typical of the '80s. I am a big fan of this musical period, and that gives a little new wave touch to Féroces. The democratization of machines enabled incredible experimentations (not all of them were great, but that's the risk) and, to me, this is what makes this period the most inventive time for sonic research. When we composed Donna, we didn't know that it would end up on this compilation yet, and I wanted an atmospheric Cure-like track. François and Joss immediately hooked up. So when you proposed this hommage to Twin Peaks to us, it felt natural, and we chose a scene dubbed in French (because this is what we always do) that stuck to the mood of the track. Fortunately, the French dubbing was not so bad for the series.
You heard about some of the musicians involved in this project. Which one are you the most curious to hear the contribution from ?
Joss : I would say Jessica93, his noisy and twisted universe would fit the series well.
François : I read the first names and I really like what Crookram does, so I would say I'm waiting for his contribution.
An album you often listen to when you need all your Garmonbozia ?
Joss : I would say Godspeed You Black Emperor's Slow riot for new zero kanada.
Sébastien : Nils Frahm's Felt.
François : Interpol's Turn on the Bright Lights.
In 2016 you released your first EP and played your first gigs. A few words about it ? Some other projects on the way ?
Joss : We will release Donna with remixes, and also a cover for My Bloody Valentine's Sometimes for the brasilian label The Blog That Celebrate Itself, that we recorded during the same session as Donna. We will also record our next EP Victor in january, still at the Cube Studio (Seb's studio, which is very conveniant, we have to say :) ). The tracks are ready, we're used to playing them live for a moment now, we just have to find time to record them. There will be five new tracks, and an interlude. If you add up a good amount of live dates to that, we are always ultre-busy, this band is just a huge part of our lives.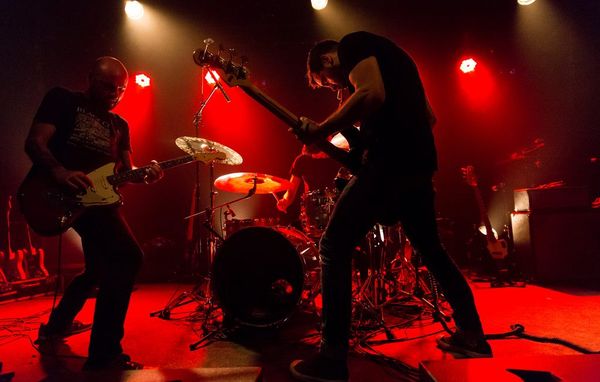 ---
Interviews - 31.12.2016 par
---