Retrouvez chaque semaine dans nos pages les interviews de quelques-uns des contributeurs à la future compil' Twin Peaks d'IRM. Aujourd'hui place au Bruxellois Jérôme Deuson dont le projet aMute n'en finit pas de... muter depuis ses premières aventures discographiques en 2014 (sur A Hundred Dry Trees) au point de bientôt, peut-être, changer de nom !
De l'électro-acoustique scintillante et onirique de The Sea Horse Limbo qui lorgnait déjà doucement sur le post-rock, au drone-ambient lyrique et vacillant du merveilleux Savage Bliss en passant par le plus dramaturgique et fiévreux Infernal Heights For A Drama et un Black Diamond Blues qui tirait le meilleur des collisions entres marées de textures, nappes électro somatiques et tension slowcore à combustion lente, le Belge a en effet toujours sur se réinventer - et le petit dernier Bending Time in Waves commenté ici ne fait pas exception, en plus dynamique et accessible que les deux précédents - tout en restant fidèle à ses atmosphères singulières et ses circonvolutions à tiroirs, ce qui lui faisait déjà un point commun avec Twin Peaks !
---
L'interview
IRM : Comment résumerais-tu ton rapport à Twin Peaks ? A l'univers de Lynch en général ?
Jérôme Deuson : Lynch pour moi c'est Lost Highway avant tout. A un moment de ma vie, je trouvais que c'était le cinéma ultime. J'ai adoré Mulholland Drive aussi. Et puis bon Twin Peaks… Je n'ai pas de rapport particulier avec la série. Elle est très décalée et toujours actuelle, je ne l'ai pas regardée à nouveau pour la compilation. Je sais que le climat me parle toujours, Badalamenti avait bien réussi son coup au niveau musical.
Ton personnage préféré dans la série ?
Je n'ai pas spécialement de personnage préféré.
Une scène qui t'a particulièrement touché... ou fait flipper ?
Je t'avoue que c'est le calme du générique qui me marque toujours.
Tu as enregistré un morceau pour notre future compilation Twin Peaks, quel aspect de la série t'a inspiré ?
Je voulais quelque chose d'aérien, qui décolle aussi à un moment vers une sorte de liberté. Comme si un climat était toujours au dessus de la musique, à la Laura Palmer. Et puis j'avais envie de quelque chose qui soit légèrement décalé par rapport à l'idée que l'on puisse se faire de ma musique c'est pourquoi j'ai utilisé quelque chose de plus percussif.
Tu as eu vent de quelques-uns des musiciens impliqués dans ce projet. Duquel es-tu le plus curieux d'entendre la contribution ?
Frank Vigroux, Benoit Pioulard, mon ami Jason de Offthesky, je suis bien fan de Lawrence English aussi.
Un album vers lequel tu reviens quand il te faut ta dose de Garmonbozia ?
Je vais retourner la question parce que mes souvenirs me font défaut. Mais je dirais que Horses in The Sky de A Silver Mount Zion revient chaque année tout le temps dans ma tête. Il y a une énergie pessimiste qui me tue sur ce disque.
La dernière sortie d'aMute, c'était en novembre 2015 avec l'excellent Bending Time in Waves, qui sonnait comme un parfait condensé des mutations successives du projet. Un nouvel album sur les rails ?
Oui je suis en train de terminer le nouvel album d'aMute. Mais je ne sais pas si cela s'appellera encore aMute en fait. J'ai envie de changer de nom ou de reprendre mon nom à moi… En même temps Thècle Joussaud qui joue avec moi en live est venue enregistrer sur cet album et je me demande si ce ne serait pas la bonne occasion de nous refaire un autre nom… Inventer que nous sommes siamois séparés à la naissance en Finlande et élevés par les loups dans des plaines de Sibérie pour se faire une notoriété. Porter des masques et jouer en playback dans le noir en live. Mais plus sérieusement la musique qui sort de ce nouvel album sera très noire et beaucoup moins « pop » que Bending Time in Waves. Et je ne sais pas pourquoi.
---
---
English version
IRM : How would you describe your relationship with Twin Peaks ? With the work/world of David Lynch in general ?
Jérôme Deuson : Lynch for me is Lost Highway first and foremost. At some point in my life, I thought it was the ultimate cinema. Loved Mulholland Drive too. And then, well, Twin Peaks... I don't have a particular relationship with the series. It is very offbeat and still relevant, I didn't watch it again for the compilation. I know I still can relate to its atmosphere, musically speaking Badalamenti had done well.
Your favorite character in the series ?
I don't especially have a favorite character.
A scene that particularly moved - or scared - you ?
It's the quietness of the opening credits that still has an impact on me, I must admit.
You recorded a track for our forthcoming Twin Peaks compilation, what aspect of the series inspired you ?
I wanted something aerial, which could also take off at some point to reach some kind of freedom. As if an atmosphere was always floating above the music, like Laura Palmer. Also I wanted something that was slightly quirky compared to the idea that one can get of my music, that is why I used something more percussion-based.
You heard about some of the musicians involved in this project. Which one are you the most curious to hear the contribution from ?
Frank Vigroux, Benoit Pioulard, my friend Jason aka Offthesky, I'm a fan of Lawrence English too.
An album you often listen to when you need all your Garmonbozia ?
I will turn the question around because my memories fail me. But I would say that Horses in The Sky from A Silver Mount Zion comes back all the time every year in my head. There is on this record a pessimistic energy that kills me.
Your last record to date, Bending Time in Waves released more than a year ago, summarized to perfection the successive mutations of aMute. Is there a new album on the way ?
Yes I am completing the new aMute album. But I don't know yet if it will still be called aMute. I want to change the name or use my own... Actually Thècle Joussaud who plays with me on stage appears on this album and it may be the right opportunity to come up with another name for us... Invent that we are siamese separated at birth in Finland and raised by wolves in the plains of Siberia to gain fame. Wear masks and use playback on stage, in the dark. But more seriously the music from this new album will be really dark and much less "pop" than Bending Time in Waves. And I have no idea why.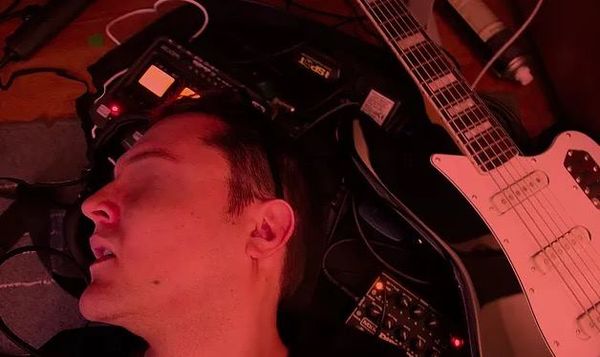 ---
Un grand merci à Jérôme Deuson. Son morceau intitulé Siamese paraîtra sur notre compilation Twin Peaks au printemps prochain.
---
Interviews - 02.01.2017 par
---