Retrouvez chaque semaine dans nos pages les interviews de quelques-uns des contributeurs à la future compil' Twin Peaks d'IRM. Cette fois le Canadien Kyle Bobby Dunn, pensionnaire de l'excellent label anglais Low Point et grand fan de la série, nous a gratifiés de son plus beau look "agent du FBI" pour discuter des scènes qui l'ont marqué et de l'avenir de son projet Perils avec Benoît Pioulard.
Un entretien qui s'est avéré à la mesure de l'air de temps avec son lot d'angoisses et d'interrogations. Heureusement, il y aura toujours Twin Peaks ou le spleen éthéré des majestueux albums drone ambient nourris au classique contemporain de notre invité d'aujourd'hui, héritier des Stars of The Lid et autre Brian Eno avec des chefs-d'œuvre tels que Fragments And Compositions Of Kyle Bobby Dunn ou le gargantuesque double Bring Me The Head Of Kyle Bobby Dunn (sur lequel planait déjà l'influence évidente de Badalamenti) pour nous aider à flotter quelque temps au-dessus des contingences de la réalité.
---
L'interview
IRM : Comment résumerais-tu ton rapport à Twin Peaks ? A l'univers de Lynch en général ?
Kyle Bobby Dunn : J'ai juste toujours adoré la série et le film Fire Walk With Me. Quand j'ai commencé à la regarder j'étais probablement trop jeune, mais elle n'a jamais cessé de m'intriguer. Le travail de Lynch vaut toujours la peine que l'on y revienne et je pense que Fire Walk With Me a toujours ma préférence parmi ses œuvres.
Ton personnage préféré dans la série ?
C'est vraiment dur. Je sens que chaque personnage me parle d'une manière personnelle et importante. Les plus comiques comme les plus ténébreux. La série avait un si parfait équilibre de personnalités et d'esprits. Je suppose que je devrais être typique et choisir Coop incarné par Kyle MacLachlan en raison de sa complexité à tous les niveaux. Il est à la fois décalé, très sérieux et même effrayant par moments, combinaison en quelque sorte de toutes les forces à l'œuvre dans la série, et son interprétation du personnage est puissante.
Une scène qui t'a particulièrement touché... ou fait flipper ?
Il y en aurait beaucoup, mais rien qui m'ait autant hanté que l'épisode final dans la loge. Ça m'a profondément ému et presque transformé ma pensée lorsque je l'ai vu pour la première fois. J'étais au collège, mais je me souviens n'avoir pas pu me sortir de l'esprit ce symbolisme d'une autre dimension pendant des semaines. Peut-être même des mois.
Tu as enregistré un morceau pour notre future compilation Twin Peaks, quel aspect de la série t'a inspiré ?
Le morceau tire son titre de la réponse du Major Briggs lorsque Windom Earle lui demande ce qu'il craint le plus au monde. J'ai pensé que c'était une déclaration puissante non seulement sur la série et son immensité mais aussi sur le monde d'aujourd'hui et le fait de devoir aller de l'avant dans une année 2017 que je suis franchement terrifié de voir se dérouler. Si ce n'est pour cette nouvelle saison de Twin Peaks, je suis tout sauf impatient de la traverser.
Ton dernier album à ce jour date d'octobre 2015, le superbe et onirique éponyme de Perils enregistré avec Thomas Meluch (qui apparaîtra également au line-up de notre compil' en tant que Benoît Pioulard avec un nouveau morceau). Quelques mots sur ce duo ? D'autres projets sur les rails ?
Nous pourrions bien revisiter le projet PERILS dans l'avenir voire même dans l'année, mais cet album a mis quelques années à s'assembler, donc si j'étais vous je ne m'attendrais à rien de particulier prochainement. Je planifie actuellement de nouveaux morceaux avec des ingénieurs du son et musiciens, mais terriblement lentement et cela pourrait bien ne pas pouvoir se faire non plus avant que le monde implose.
---
---
Original english version
IRM : How would you describe your relationship with Twin Peaks ? With the work/world of David Lynch in general ?
Kyle Bobby Dunn : Always just loved the series and film Fire Walk With Me. Began watching it when I was probably too young but it's always remained intriguing to me. Lynch's work is always worth revisiting and I still think Fire Walk With Me is my favorite of his works.
Your favorite character in the series ?
That's really tough. I feel each character speaks to me in a personal and important way. The more comical ones as well as the really dark ones. The show had such a great balance of characters and minds. I guess I'd had to be typical and choose Kyle MacLachlan's character rendering of Coop because of it's complexity of all sides. He's quirky, very serious and even spooky at times, kind of a combination of all the forces in the show and he plays it powerfully.
A scene that particularly moved - or scared - you ?
I guess a lot of it but nothing quite as haunting as the final episode in the lodge. Deeply moved me and almost transformed my thinking upon seeing it for the first time. I was in 8th grade but I remember not being able to shake the symbolism or otherworldliness from my mind for weeks. Maybe months.
You recorded a track for our forthcoming Twin Peaks compilation, what aspect of the series inspired you ?
The track takes its title from a line answered by Major Briggs when asked by Windom Earle what he fears the most in the world. I thought it was both a powerful statement on not just the series and its vastness but the world today and going forward into a year that I am frankly terrified to see unfold. If not for a new Twin Peaks season I'm not looking forward to it.
Your last record to date is from october 2015, a beautiful and dreamlike drone ambient album recorded under the name Perils with Thomas Meluch (who will also be featured on our compilation with a new Benoît Pioulard track). A few words about this duet ? Some other projects on the way ?
We may be revisiting the PERILS project in the future or during this year but that album did come together over a few years so I wouldn't expect anything too soon. I am terribly slowly planning new songs with new recording experts and musicians but that also might not come together before the world implodes.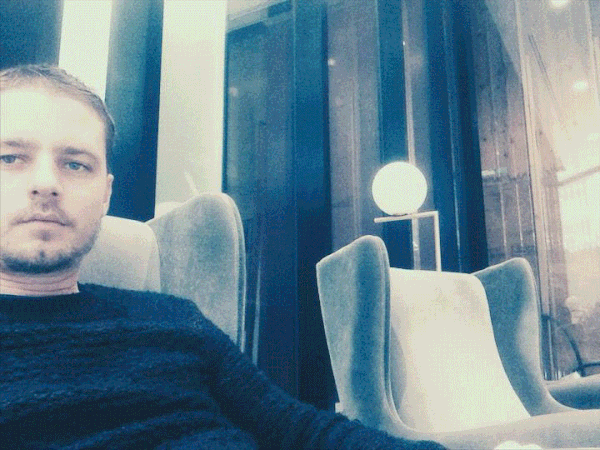 ---
Un grand merci à Kyle Bobby Dunn. Son morceau intitulé The Possibility That Love is Not Enough paraîtra sur notre compilation Twin Peaks au printemps prochain.
---
Interviews - 05.01.2017 par RabbitInYourHeadlights
---
---