Retrouvez chaque semaine dans nos pages les interviews de quelques-uns des contributeurs à la future compil' Twin Peaks d'IRM. Notre invité du jour : Robin Foster, qui revendique depuis longtemps l'influence de la BO de Twin Peaks sur ses compositions.
Le Finistérien d'adoption n'hésite pas à nous livrer quelques anecdotes à ce sujet, mais il nous délivrera surtout, pour les besoins de notre compilation, une version alternative de The Hardest Party. Ce titre, inspiré par l'univers Lynchien, est un hommage ouvert à Mulholland Drive et figure dans sa version originale sur Empyrean, un quatrième disque, tout juste sorti, de ce post-rock mâtiné de trip-hop dont lui seul a le secret.

---
L'interview
IRM : Comment résumerais-tu ton rapport à Twin Peaks ? A l'univers de Lynch en général ?
Robin Foster : Ça a toujours eu une grande influence sur moi. La série est sortie à l'époque où je devenais un jeune adulte donc elle a même probablement eu à cette période plus d'influence que je ne le réalise aujourd'hui. L'histoire, les personnages, la musique fabuleuse, les images, le vent dans les arbres... même les vêtements... tout à son propos me semblait parfait à l'époque, ce fut la première vraie série télé pour adultes à laquelle j'ai accroché, sans doute aussi l'un des premiers CD que j'ai achetés après avoir lâché les cassettes. Je pense que Lynch est un véritable artiste, à tous les niveaux, dans chaque médium. Il a réussi à créer son style unique et propre qu'il peut appliquer à n'importe quel moyen d'expression et il se moque bien que vous l'aimiez ou non, que vous le compreniez ou pas.
Ton personnage préféré dans la série ?
Eh bien je suis d'abord tombé amoureux de Donna, puis je pense que ce fut Shelly, et enfin il y a eu Audrey...
Une scène qui t'a particulièrement touché... ou fait flipper ?
J'ai vraiment adoré les scènes avec le petit homme venu d'ailleurs, j'avais l'habitude d'imiter sa voix en enregistrant le texte à l'envers sur mon vieux 4-pistes puis en retournant la bande et en la jouant à l'envers, c'était un bon truc pour amuser la galerie.
Tu as enregistré un morceau pour notre future compilation Twin Peaks, quel aspect de la série t'a inspiré ?
Je pense que c'est une œuvre globalement inspirante, je ne voudrais pas pointer quoi que ce soit de particulier autre que la musique dans le cas présent.
Un album vers lequel tu reviens quand il te faut ta dose de Garmonbozia ?
Quel bel album sombre choisir pour cela ? Peut-être que du Mark Lanegan ferait l'affaire, Bleeding Muddy Water sur Blues Funeral.
Ton actu 2017, c'est la sortie d'Empyrean. Quelques mots à ce propos ? D'autres projets sur les rails ?
Empyrean est une bizarrerie à sa manière, j'ai généralement un thème pour l'album entier (Where Do We Go..., PenIsular, We Are Bodies) alors qu'Empyrean est plutôt comme 10 histoires courtes, qui semblent toutes se produire en même temps, elles se connectent plutôt bien ceci dit. Musicalement, l'album est plus aventureux et prend la suite de We Are Bodies et Anthropoid.
Je travaille sur quelques projets différents en ce moment, un album avec une chanteuse que j'ai rencontrée ici à "Twin Peaks sur mer" [aka Camaret-sur-Mer, ndlr] du nom de Madelyn Ann, c'est uniquement en Breton, mais en aucun cas traditionnel donc c'est vraiment intéressant. Dave Pen et moi avons enregistré beaucoup de nouveaux morceaux aussi et je vais travailler sur des projets de films intéressants.
---
---
Original english version
IRM : How would you describe your relationship with Twin Peaks ? With the work/world of David Lynch in general ?
Robin Foster : It's always been a big influence on me. It came out at the time I was becoming a young adult so it was probably a bigger influence then than I realize. The story, the characters, the amazing music, the images, the wind in the trees... even the clothes... everything about it seemed perfect to me at the time, it was my first real adult TV show that I got hooked on, probably one of the first CDs I ever bought too after moving from cassettes. I think Lynch is a true artist, in every aspect, every medium. He's managed to create his own unique style that he can apply to any medium he wants and he doesn't give a fuck if you like it or not or if you understand it or not.
Your favorite character in the series ?
Well I was in love with Donna first, then I think I fell for Shelly and then there was Audrey...
A scene that particularly moved - or scared - you ?
I really loved the scenes with the man from another place, I used to practice doing the voice by recording the text backwards on my old 4-track then turning the tape over and playing the tape backwards, that was a great party trick.
You recorded a track for our forthcoming Twin Peaks compilation, what aspect of the series inspired you ?
I think it's a globally inspiring piece of work in general, I wouldn't want to pinpoint anything in particular other than the music in this case.
An album you often listen to when you need all your Garmonbozia ?
What's a really good dark album for that ? Maybe some Mark Lanegan would do the job, Bleeding Muddy Water from Blues Funeral.
In 2017 you released Empyrean. A few words about it ? Some other projects on the way ?
Empyrean is an oddity in a way, I usually have a theme for the whole album (Where Do We Go..., PenIsular, We Are Bodies) whereas Empyrean is more like 10 short stories, that all seemed to happen at the same time, they do connect well though. Sonically, it's more adventurous and kind of follows on from We Are Bodies and Anthropoid.
I'm working on a few different projects at the moment, an album with a singer I met here in "Twin Peaks sur mer" [editor's note : aka Camaret-sur-Mer] called Madelyn Ann, it's uniquely in Breton, but in no way traditional so it's really interesting. Dave Pen and I have recorded lots of new tracks too and I'll be working on some interesting film projects.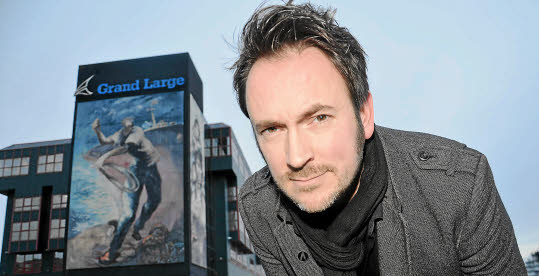 ---
Un grand merci à Robin Foster pour sa disponibilité et sa fidélité à notre site. Son morceau, une version instrumentale et étirée de The Hardest Party, paraîtra sur notre compilation Twin Peaks au printemps prochain.
---
Interviews - 08.02.2017 par
---