Retrouvez chaque semaine dans nos pages les interviews de quelques-uns des contributeurs à la future compil' Twin Peaks d'IRM. Déjà interviewé ici il y a plus de cinq ans dans le cadre d'une série sur nos "labels à suivre", notre invité d'aujourd'hui nous avait fait découvrir à l'époque nombre d'artistes passionnants via ce label SEM aujourd'hui disparu, dont l'un, offthesky, se retrouve aujourd'hui comme pour boucler la boucle au générique de ce projet.
Depuis, l'auteur du superbe Routes de l'an passé (titre qui nous rappelait à ce morceau composé pour la compil de nos amis du webzine Des Cendres à la Cave il y a quelques années) en a suivi de multiples, de routes, s'effaçant parfois comme en supprimant récemment sa page Bandcamp pour mieux se réinventer, tantôt aux manettes du label éphémère DISQ AN, ou désormais à la tête du prometteur collectif Hep dont on parle plus bas. Au programme de cette nouvelle aventure, une première mixtape très deep annoncée dans cet entretien de vrai Lynch-addict et qui entretemps a vu la lumière, elle s'écoute d'ailleurs ci-dessous avec pas mal de gens qu'on aime à IRM (et outre Alexandre, deux autres pensionnaires de notre compil Twin Peaks à venir, on vous laisse deviner lesquels) :
---
L'interview
IRM : Comment résumerais-tu ton rapport à Twin Peaks ? A l'univers de Lynch en général ?
Alexandre Navarro : Je n'étais pas un fan de Twin Peaks, non pas par goût mais parce que je suis passé à côté à l'époque (honte à moi !). Je l'ai découvert assez tardivement avec le film quand j'ai senti que j'avais une fibre pour le cinéma, c'était au collège... En fait j'avais découvert Lynch par le film qui lui ressemble peut-être le moins mais que j'aime toujours beaucoup : Dune ; puis j'ai découvert tout son univers quelques années plus tard grâce aux VHS et Canal +, et bien sûr au cinéma : Eraserhead, The Elephant Man, Blue Velvet, Wild at Heart, Lost Highway (peut-être son meilleur pour moi), The Straight Story, Mulholland Drive et enfin Inland Empire... L'univers de Twin Peaks excelle évidemment dans l'étrange, le malsain, la sexualité et le rêve et il me semble qu'aucun autre cinéaste ne peut reproduire ça. Je revoyais récemment Donnie Darko de Richard Kelly et sur certains aspects on pourrait comparer à du Lynch mais enfin Lynch reste Lynch et c'est d'ailleurs très bien car c'est excessivement personnel comme cinéma.
Ton personnage préféré dans la série ?
C'est plus l'univers de Lynch qui m'intéresse que les personnages en eux mêmes, chacun est nécessaire, c'est peut-être la force des grands cinéastes d'ailleurs, le rapport au monde et à la réalité créant une dynamique, une réflexion, des jeux de miroirs... Chez Lynch il y a souvent (toujours ?) cette tension exacerbée du rapport au(x) monde(s). Qu'est-ce qui est bien ou mal, l'opposition d'idéaux quasi catho à des visions satanistes, au mal incarné.
Une scène qui t'a particulièrement touché... ou fait flipper ?
J'aime beaucoup le démarrage du film, quand l'enquête commence et qu'il rencontre la fille à la rose bleue, c'est complétement barré, il y a même du burlesque, j'adore ça, c'est teinté de mystère et d'absurde et puis Lynch dans le rôle du capitaine qui n'entend rien à ce que l'on lui dit. (sourire)
Tu as enregistré un morceau pour notre future compilation Twin Peaks, quel aspect de la série t'a inspiré ? Toute anecdote est bienvenue !
Et bien c'est cette partie, j'ai du coup samplé en version française "une rose bleue, oui bizarre..." avec un vieux SU10 comme pour évoquer le rêve et le souvenir ainsi que l'aspect un peu artisan de ma démarche...
Tu as eu vent de quelques-uns des musiciens impliqués dans ce projet. Duquel es-tu le plus curieux d'entendre la contribution ?
Écoute je suis curieux de tous mais je te mentirais si je n'évoquais pas offthesky qui a contribué à SEM il y quelques années, un type que j'aime beaucoup... il y aussi Philippe Lamy, Witxes avec qui j'ai bien sympathisé après notre live aux Digitales de Lausanne en 2014, et Philippe Petit (avec qui j'avais joué au Mexique il y a 10 ans déjà... que de bons souvenirs - on était dans l'avion ensemble !). Je vois également qu'il y a Vinc2, il m'avait contacté à l'époque de SEM, je me rappelle, je suis très curieux d'écouter son titre. J'aime beaucoup Benoît Pioulard aussi.
Un album vers lequel tu reviens quand il te faut ta dose de Garmonbozia ?
J'évite la douleur a priori ! Je préfère certaines herbes aromatiques en écoutant un bon dub de chez Wackies...
En 2016 tu as sorti le superbe Routes, en autoproduction. D'autres projets sur les rails ? Y aura-t-il une suite à l'aventure DISQ AN, label éphémère qui avait pris la succession du défunt SEM Label que l'on adorait à IRM ?
Merci. (sourire) Eh bien je suis content d'annoncer que j'ai signé avec le label canadien Archipel pour 5 ans donc il va y avoir de la prod chez eux et un nouvel album qui sort en mai. J'arrête par ailleurs les labels car je n'ai plus l'énergie, en revanche j'ai monté un collectif HEP d'artistes français à découvrir très bientôt avec une mixtape d'ici quelques jours, on est 7 pour le moment (Witxes, Philippe Lamy, Mod303, Witnesses Without Hands, Mané, Paulie Jan). C'est prétexte pour jouer live, s'amuser, nouer des liens, fabriquer des rêves et des histoires, pour le plaisir donc (pas de lien direct avec Herbert Léonard).
---
---
English version
IRM : How would you describe your relationship with Twin Peaks ? With the work/world of David Lynch in general ?
Alexandre Navarro : I wasn't a Twin Peaks fan, not because I disliked it, but because I missed out on it at the time (shame on me !). I discovered the series rather late with the movie, when I found out that I quite fancied cinema, I was in middle school [editor's note : secondary school for our UK readers]... In fact I discovered Lynch's work with his less typical movie, however I still like it a lot : Dune ; then I expanded on his universe a few years later thanks to VHS tapes and Canal + [editor's note : a french TV channel], and of course by going to the movie theater : Eraserhead, The Elephant Man, Blue Velvet, Wild at Heart, Lost Highway (maybe his best, methinks), A Straight Story, Mulholland Drive, and last but not least Inland Empire... The Twin Peaks universe excels in the weird, the uncanny, sexuality and dreams and I think that no other filmmaker can reproduce that. Recently I watched Richard Kelly's Donnie Darko again, and thus you could compare it to Lynch on some points, Lynch will still be Lynch and it's actually good because his movies are extremely personal.
Your favorite character in the series ?
I prefer Lynch's universe than the characters themselves, each of them is essential, and maybe this is the strength of top filmmakers, this relation with the world and its reality creates some dynamics, a reflection, mirror games... With Lynch there's often (always ?) this increased tension in the relation to the world(s). What is right or wrong, the opposition of quasi-christian ideals versus satanist visions, the embodied evil.
A scene that particularly moved - or scared - you ?
I really like the beginning of the movie, when the investigation begins and he meets the girl with the blue rose, it's completley nuts, even burlesque, I love that, it's tainted with mystery and absurdity and then Lynch as a captain who doesn't hear anything he's said. (smile)
You recorded a track for our forthcoming Twin Peaks compilation, what aspect of the series inspired you ? Any anecdote about that ?
Well it's this part, so I sampled "a blue rose, yes it's strange..." in French with an old SU10 as if to conjure up dreams and remembrance as well as the rather home-made aspect of my process...
You heard about some of the musicians involved in this project. Which one are you the most curious to hear the contribution from ?
Listen I'm curious about all of them but I would lie to you if I didn't talk about offthesky who contributed to SEM a few years back, a guy I really like very much... also I'd say Philippe Lamy, Witxes who I became friend with after our live performance at the Digitales festival in Lausanne in 2014, and Philippe Petit (with whom I played in Mexico 10 years ago... time flies... only good memories - we were in the plane together !). I also see there's Vinc2, I remember that he contacted me when we did SEM, I'm very curious to listen to his track. I like Benoît Pioulard a lot too.
An album you often listen to when you need all your Garmonbozia ?
I tend to avoid pain ! I prefer some aromatic herbs whilst listening to a good Wackies dub...
In 2016 you self-released the magnificent album Routes. Some other projects on the way ? Will it be a sequel to DISQ AN, short-lived label that followed the late great SEM Label we loved at IRM ?
Thanks. (smile) Well I'm happy to announce that I signed with the canadian label Archipel for 5 years so I will produce music for them and a new record out in May. On another hand, I stopped managing labels because I don't have the energy anymore, but I put up a collective project with french artists called HEP that you will be able to discover very soon (a few days) with a mixtape, we are 7 as we speak (Witxes, Philippe Lamy, Mod303, Witnesses Without Hands, Mané, Paulie Jan). It's an excuse to play live, have fun, create links, produce dreams and stories, "pour le plaisir donc" - no direct link to Herbert Léonard [editor's note : this joke cannot be understood by anyone who didn't grow up in France during the eighties].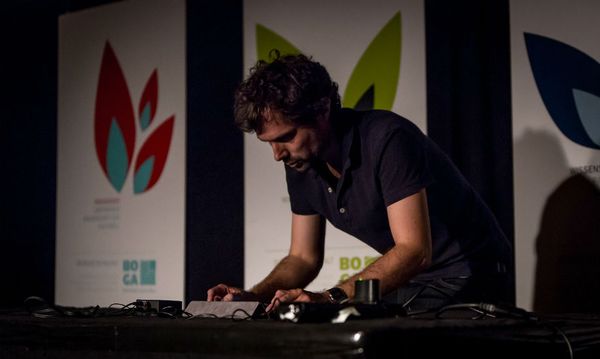 ---
Un grand merci à Alexandre Navarro. Son morceau intitulé Une Rose Bleue paraîtra sur notre compilation Twin Peaks au printemps prochain.
---
Interviews - 06.02.2017 par
,
---