Retrouvez chaque semaine dans nos pages les interviews de quelques-uns des contributeurs à la future compil' Twin Peaks d'IRM. Et cette fois, au tour d'un musicien qu'on pourrait presque retrouver chaque semaine dans nos pages tant il est productif, et on ne s'en plaindrait pas, la preuve en deux albums dans le top ten de ce bilan 2016.
Le Canadien Aidan Baker donc, qui aurait pu rafler la mise une troisième fois avec l'imposant The Stone Is Not Hit By The Sun, Nor Carved With A Knife de son duo Nadja, s'il n'y avait eu l'extraordinaire Sv pour le devancer. Déjà interviewé dans nos pages en 2011, entretien croisé avec Noveller à l'occasion de leur tournée commune qui passait alors par chez nous, présent également au line-up de notre compilation Ashes il y a quatre ans avec un inédit de Nadja, le stakhanoviste de Toronto désormais bien implanté à Berlin nous fait l'honneur d'une participation solo pour ce nouveau projet qui lui permettra de retrouver un certain nombre de collaborateurs plus ou moins réguliers, en témoignait encore l'année dernière Enomeni en compagnie de Dirk Serries qui fut notre 22e interviewé.
Quant à Twin Peaks, Lynch, Badalamenti... aucun n'a de secret pour l'auteur du superbe Delirious Things, collaboration dream-pop/shoegaze avec Claire Brentnall de Shield Patterns lâchée ces jours-ci histoire de commencer l'année du bon pied sur la bonne pédale d'effets :
---
L'interview
IRM : Comment résumerais-tu ton rapport à Twin Peaks ? A l'univers de Lynch en général ?
Aidan Baker : J'ai regardé la série étant ado au moment de sa première diffusion à la télévision et c'était vraiment choquant - et libérateur, d'une certaine manière - de voir quelque chose d'aussi sombre à la télé à cette époque. Et tout aussi fascinant de voir que quelque chose de tellement bizarre et surréaliste puisse passer à l'antenne, quelque chose qui était à la fois réellement effrayant et assez drôle, et définitivement pas mainstream. Twin Peaks m'a introduit à Lynch et m'a amené à explorer ses autres travaux - je pense que Sailor et Lula a été le premier film interdit aux moins de 17 ans que j'ai vu au cinéma. Tout ce que j'avais aimé dans Twin Peaks était également présent dans ses œuvres de cinéma - le surréalisme, la noirceur, l'humour - mais je ne pense pas qu'être bizarre soit une fin en soi dans ses films. Il semble toujours y avoir au cœur de l'œuvre de Lynch un questionnement inhérent - sur la nature de soi et sur l'identité, en particulier en opposition directe aux contraintes des normes sociétales - et bien que "plein d'espoir" ne semble pas être le terme habituel pour décrire Lynch, j'aurais tendance à penser que ce questionnement sur soi et sur l'identité ne peut être que positif...
Ton personnage préféré dans la série ?
Eh bien... l'Agent Cooper est une réponse évidente. Mais aussi Windom Earle - mais en grande partie parce que l'acteur qui l'a interprété, Kenneth Welsh, vit dans la ville où j'ai grandi.
Une scène qui t'a particulièrement touché... ou fait flipper ?
Il y a beaucoup de scènes effrayantes dans Twin Peaks, en particulier celles dans le wagon de train dans les bois, mais celle qui continue de me hanter se déroule dans "Coma" (saison 2, épisode 10). James, Maddy et Donna chantent leur chanson douce (une scène vraiment mielleuse), et soudain, du point de vue de Maddy, à genoux sur le sol devant le canapé, on voit Bob entrer dans la maison et marcher lentement dans la pièce, enjamber le dossier du canapé, et grimper tout droit vers la caméra... Il est impossible d'en décrire vraiment l'effet par des mots, mais j'ai été hanté par cette image pendant des jours après avoir vu cet épisode à la télé.
Tu as enregistré un morceau pour notre future compilation Twin Peaks, quel aspect de la série t'a inspiré ?
La bande originale d'Angelo Badalamenti fait partie intégrante de l'atmosphère, du style et même de la substance de ce qu'est Twin Peaks. Sa musique reflète et complète efficacement les ténèbres et l'aspect surréaliste/comique de la série et s'avère tout aussi unique en tant que bande originale que la série elle-même l'était. Avec mon morceau, je voulais essayer de capturer une sensation similaire, quelque chose d'à la fois sombre et prémonitoire mais aussi de joli et serein... une sorte de juxtaposition de la sensation et de l'atmosphère qui caractérise également mon travail.
Tu as eu vent de quelques-uns des musiciens impliqués dans ce projet. Duquel es-tu le plus curieux d'entendre la contribution ?
J'ai joué avec un certain nombre de musiciens contribuant également à ce projet... mais peut-être que celui dont je suis le plus curieux d'entendre le morceau est Terminal Sound System, sachant que ses sorties ne sont pas si fréquentes... et puis je suis curieux de savoir comment il a pu essayer de capturer une atmosphère à la Twin Peaks...
Un album vers lequel tu reviens quand il te faut ta dose de Garmonbozia ?
Annihilation of the Wicked, de Nile.
En 2016, tu as publié un peu moins d'albums qu'à l'accoutumée mais trois d'entre eux nous ont particulièrement impressionnés : The Stone Is Not Hit By The Sun, Nor Carved With A Knife et surtout Sv avec Nadja, et Werl avec Tomas Järmyr, batteur de Yodok et Zu, qui est depuis devenu le nom d'un projet à proprement parler, page facebook à l'appui. As-tu un favori cette année parmi tes sorties ?
Je ne pense pas que je puisse nommer une seule sortie préférée ... mais mes performances de l'année dernière avec Tomas Järmyr figurent certainement parmi mes favorites, car jouer avec lui est un challenge intense et stimulant.
---
---
Original english version
IRM : How would you describe your relationship with Twin Peaks ? With the work/world of David Lynch in general ?
Aidan Baker : I watched the series as a teenager when it first aired on television and it was really quite shocking - and liberating, in a way - to see something that dark on network TV at that time. And equally fascinating to see something so bizarre and surreal getting air-time, something that was both seriously creepy and quite funny, and decidedly non-mainstream. Twin Peaks was my introduction to Lynch and led me to explore his other work - I think Wild At Heart was the first R-rated movie I saw in the theatre. Everything I liked about Twin Peaks was present in his film work - the surreality, the darkness, the humour - but I don't think it's a case of 'weird for the sake of being weird' with his films. There always seems to be an inherent questioning at the core of Lynch's work - about the nature of self and identity, particularly in direct opposition to the constraints of societal norms - and while 'hopeful' might not seem an usual adjective to describe Lynch, I would argue that this questioning of self and identity can only be positive…
Your favorite character in the series ?
Well… Agent Cooper is the easy answer. But also Windom Earle - but largely because the actor who played him, Kenneth Welsh, lives in the town where I grew up.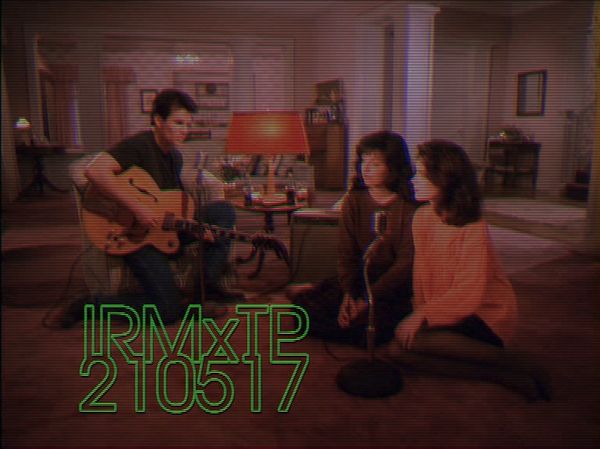 A scene that particularly moved - or scared - you ?
There are lots of frightening scenes in Twin Peaks, particularly those in the train car in the woods, but the one that still creeps me out to this day is in "Coma" (season 2, episode 10). James, Maddy, and Donna sing their sweet little song (a super cheesy scene), and then we see, from Maddy's perspective, kneeling on the floor in front of the couch, Bob enter the house and slowly walk into the room, clamber over the top of the couch, and climb right into the camera… It's impossible to properly describe in words, but I was haunted by that image for days after first seeing that episode on TV.
You recorded a track for our forthcoming Twin Peaks compilation, what aspect of the series inspired you ?
Angelo Badalamenti's soundtrack is really integral to the atmosphere, style, and even substance of what Twin Peaks is. His music quite effectively mirrors and compliments the darkness and surreality/comedy of the show and seems just as unique, as a soundtrack, as the show itself was. With my track, I wanted to try and capture a similar feel, something that is both dark and foreboding and pretty and serene… which sort of juxtaposition of feel and atmosphere is something that regularly informs my work.
You heard about some of the musicians involved in this project. Which one are you the most curious to hear the contribution from ?
I have played with a number of the other contributing musicians to this project… but perhaps one that I am most curious to hear is Terminal Sound System, considering his output is not so regular… and I am curious how he might try to capture a Twin Peaks-ish atmosphere...
An album you often listen to when you need all your Garmonbozia ?
Nile's Annihilation of the Wicked.
In 2016 you released a few less albums than usual, but three of them particularly impressed us : The Stone Is Not Hit By The Sun, Nor Carved With A Knife and especially Sv with Nadja, and Werl with Tomas Järmyr, drummer from Yodok and Zu, which became a proper project since then, with a brand new facebook page. Do you have a favourite among the records you released last year ?
I don't think I can name a single favourite release… but certainly my performances last year with Tomas Järmyr were among my favourites, because playing with him is challenging and intense, invigorating…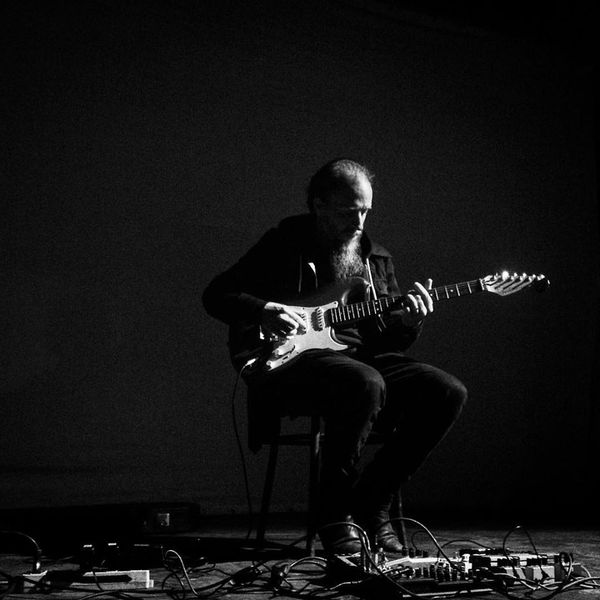 ---
Un grand merci à Aidan Baker. Son morceau intitulé The Dream Man's Shuffle paraîtra sur notre compilation Twin Peaks au printemps prochain.
---
Photos : Kristel Jax, Deen Llüks.
---
Interviews - 30.01.2017 par
---