Retrouvez chaque semaine dans nos pages les interviews de quelques-uns des contributeurs à la future compil' Twin Peaks d'IRM. Aujourd'hui, c'est au tour de pavleisdead : l'emcee et producteur croate nous a fait cadeau d'une piste, l'occasion d'en toucher deux mots avec lui et de vous parler de ses sorties de l'année dernière !
On avait découvert pavleisdead en 2013 avec l'excellent Predestination For The Labyrinth, son hip-hop lo-fi, déstructuré, noisy et engagé nous avait tapé à l'oreille. Mais le Croate n'en est pas resté là, car l'année dernière pavleisdead a enfanté d'un monstre ! Liebestod EP, c'est le nom du bébé (avec un 666 tatoué sur le front) ! Attention, si vous ne connaissez pas encore, ça va vous picoter, l'affaire est une énorme déflagration noise rap qui vous lavera les oreilles ou vous les détruira, c'est au choix ! Ici, c'est pavleisdead qui tient le micro, les productions ayant été distribuées à quatre beatmakers de talent et nous, on a embarqué avec un plaisir assez malsain dans les circonvolutions occultes du Croate, un truc entre spoken word malade et terrorisme acoustique fait de bidouillages à la frontière du glitch et de beats ultra-massifs à peine adoucis par une piste sur cinq ! Liebestod est un EP, donc un format court, parfait, car point trop n'en faut, mais putain, qu'est ce que ça fait du bien ! Mais assez de blabla et place à l'interview de pavleisdead qui vous parle de Twin Peaks et de son travail qui a lui aussi été grandement influencé par David Lynch.
---
L'interview
IRM : Comment résumerais-tu ton rapport à Twin Peaks ? A l'univers de Lynch en général ?
pavleisdead : Je n'ai pas l'habitude de regarder des séries, à l'exception de quelques dessins animés, donc c'était sympa de trouver une série qui me parlait.
J'ai d'abord été formellement introduit à David Lynch non pas par le biais de ses productions cinématographiques, mais à travers un livre qu'un ami m'a prêté, Catching the Big Fish : Meditation, Consciousness, and Creativity [Mon histoire vraie en français, ndlr], dès lors j'ai décidé que j'étais fan.
Ton personnage préféré dans la série ?
BOB est mon personnage préféré, non pas parce que je suis un pseudo nihiliste rêvant de devenir un démon psychopathe flippant et nonchalant, ce que je suis. Mais parce que son personnage a été créé par "accident", et ça me fait vibrer.
Une scène qui t'a particulièrement touché... ou fait flipper ?
Les scène du rêve de Cooper et de la Loge Noire sont celles qui m'ont le plus donné la chair de poule, j'en ai d'ailleurs volé quelques bouts pour ce clip :
Tu as enregistré un morceau pour notre future compilation Twin Peaks, quel aspect de la série t'a inspiré ? Toute anecdote est bienvenue !
Ce qui m'a inspiré, c'est que l'inspiration de David Lynch provient de toutes les "plongées profondes" qu'il a faites et je peux définitivement me reconnaître là-dedans. J'ai offensé les dieux et j'en ai payé le prix, car je suis allé trop loin.
Tu as eu vent de quelques-uns des musiciens impliqués dans ce projet. Duquel es-tu le plus curieux d'entendre la contribution ?
Je suis surtout curieux d'entendre les contributions de Thavius ​​Beck, Crookram, DaKoTa, Egadz, Frietboer & DJ Daan, Grosso Gadgetto, Holy-Mack, L. BOY Jr., Marjen, Damien Miller, Mr. Teddybear, Noblonski, OptimisGFN, Oso Blanco et les autres artistes hip-hop impliqués. Étant moi-même rappeur.
Un album vers lequel tu reviens quand il te faut ta dose de Garmonbozia ?
Si j'ai besoin d'un rab de Garmonbozia, je vais écouter le Resurrection de Tupac, c'est le premier album que j'ai jamais possédé, ma mère me l'avait acheté quand j'avais 6 ans. Mais honnêtement, j'ai entrepris des pratiques qui le produisent de l'intérieur, donc je ne suis plus dépendant de sources extérieures pour mon Garmonbozia.
En 2016 tu as sorti l'EP Liebestod chez Attenuation Circuit. Quelques mots à ce propos ? D'autres projets sur les rails ?
Liebestod a été une expérience géniale. J'apprécie d'avoir pu faire le récit de mes blessures sur les compositions d'autres producteurs avec lesquels j'ai eu la chance d'entrer en contact par médias sociaux interposés ces dernières années. Et je dois remercier Attenuation Circuit pour m'avoir amené en tournée en Slovénie et en Bulgarie.
Quant aux autres projets, mon attention dans la vie est extrêmement divisée en ce moment, et je manque actuellement de dévotion à ma musique. En ce qui concerne ma vie et ma musique, j'ai fait mon choix. Le temps me dira si je parviens à rester en paix avec mes illusions...
---
---
Original english version
IRM : How would you describe your relationship with Twin Peaks ? With the work/world of David Lynch in general ?
pavleisdead : I don't usually ever watch any series, with the exception of a couple cartoons, so it was nice to find a series that appealed to my sensibilities.
I got my first formal introduction to David Lynch not through his motion picture productions but through a book when a friend lent me Catching the Big Fish : Meditation, Consciousness, and Creativity, from then on I decided I was a fan.
Your favorite character in the series ?
BOB is my favorite character, not because I am a creepy poser psycho demon wanna-be edge-lord, which I am. But, because his character was created by "accident", and I vibe with that.
A scene that particularly moved - or scared - you ?
Cooper's dream and The Black Lodge scenes gave me the most goosebumps, I actually kind of stole some of the scenes for this music video.
You recorded a track for our forthcoming Twin Peaks compilation, what aspect of the series inspired you ? Any anecdote about that ?
The part that inspired me is that David Lynch's inspiration comes from all the "deep diving" he has done and I can definitely relate to that. I have trespassed the gods and have paid the cost, for most I have gone too deep.
You heard about some of the musicians involved in this project. Which one are you the most curious to hear the contribution from ?
I am most curious to see the contributions from Thavius ​​Beck, Crookram, DaKoTa, Egadz, Frietboer & DJ Daan, Grosso Gadgetto, Holy-Mack, L. BOY Jr., Marjen, Damien Miller, Mr. Teddybear, Noblonski, OptimisGFN, Oso Blanco and the other hip hop artists involved. Because I rap.
An album you often listen to when you need all your Garmonbozia ?
If I need some extra Garmonbozia then I will listen to Resurrection by Tupac, it is the first album I ever owned, my mother bought it for me when I was 6 years old. But honestly I have taken up practices that generate it from within, so I am no longer dependent on external sources for my Garmonbozia.
In 2016 you released the EP Liebestod with Attenuation Circuit. A few words about it ? Some other projects on the way ?
Liebestod EP was a great experience. I like that I performed my narrative of damaged goods over the work of other producers who I have been lucky enough to connect with over social media during the last few years. And I have to say thanks to Attenuation Circuit for bringing me to perform in Slovenia and Bulgaria.
As for other projects, my attention in life is extremely divided right now, and I currently lack devotion to my music. As far as my life and my music is concerned, I have made my bed. Time will tell if I manage to keep pace with my delusions...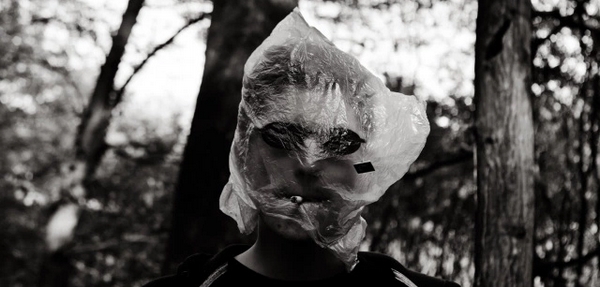 ---
Un grand merci à pavleisdead. Son morceau intitulé Bous paraîtra sur notre compilation Twin Peaks au printemps prochain.
---
Interviews - 02.02.2017 par
---