Retrouvez chaque semaine dans nos pages les interviews des contributeurs à la future compil' Twin Peaks d'IRM. On démarre avec Philippe Petit, figure du turnablism ambient et de l'avant-garde électro-acoustique qui fut l'un des premiers artistes à répondre présent et nous envoyer un morceau inédit pour ce projet.
Patron de labels (BiP_HOp, Pandemonium Records), animateur radio, ancien chroniqueur musical et bien sûr leader des collectifs expérimentaux à géométrie variable Strings Of Consciousness et Philippe Petit & Friends, le Marseillais s'était déjà prêté au jeu de l'interview dans nos pages. C'était il y a trois ans pour un bilan 2013 éclectique autant qu'érudit où il faisait notamment l'éloge de l'Italien Netherworld et de son label Glacial Movements, sur lequel il vient justement de sortir au printemps dernier le majestueux You Only Live Ice, incursion magnétique et volontiers claustro dans sa seconde partie sur les terres "glacial ambient" isolationnistes et radiantes de la structure transalpine.
---
L'interview
IRM : Comment résumerais-tu ton rapport à Twin Peaks ? A l'univers de Lynch en général ?
Philippe Petit : David Lynch est mon cinéaste préféré depuis des décennies et Eraserhead mon film favori.
Tu sais peut-être que du temps de mon label Pandemonium Rdz. en 1995 j'avais créé le "Erase-yer-Head" single club, en hommage. Étaient parus des 45 tours avec Zeni Geva, Cows, Headcleaner, Bästärd, Hint, Unsane, Melt Banana, Ruins, Burning Heads, Samiam, Kepone et bien d'autres... Plus tard mon premier album solo Henry : The Iron Man est parti d'un rêve que j'avais fait où l'on me demandait de composer une BO pour un film qui serait la rencontre d'Eraserhead et Tetsuo de Shinya Tsukamoto... Encore un peu après j'ai publié un autre album baptisé A Scent Of Garmambrosia, jeu de mots entre le Garmonbozia de Twin Peaks et l'Ambroise...
Ton personnage préféré dans la série ?
Bob... Une chose toutefois, je me permets d'attirer l'attention sur la série parallèle On The Air avec les mêmes acteurs, tournée en même temps et totalement barrée. Malheureusement un peu trop et du coup oubliée...
Une scène qui t'a particulièrement touché... ou fait flipper ?
Justement j'aime beaucoup l'atmosphère de cette scène ou le nain titubant grommelle "Garmonbozia" sans qu'on ne puisse rien comprendre de ce qu'il dit. Tellement étrange, surréel.
Tu as enregistré un morceau pour notre future compilation Twin Peaks. Une anecdote ?
C'était pile au moment ou tout le monde ne parlait que d'une hypothétique suite. Perso je n'aime pas trop les suites, trop souvent mercantiles, simple excuse pour se faire du fric sans trop se creuser la tête. David Lynch m'a habitué à mieux même si c'est moins le cas depuis quelque temps...
Tu as eu vent de quelques-uns des musiciens impliqués dans ce projet. Duquel es-tu le plus curieux d'entendre la contribution ?
Bon nombre d'entre eux sont des connaissances plus ou moins proches dont j'aime le travail, toutefois plutôt qu'un tel ou un tel je suis bien plus curieux d'entendre le résultat global.
Un album vers lequel tu reviens quand il te faut ta dose de Garmonbozia ?
Ô pauvre il y en aurait tellement, j'ai des dizaines de milliers de disques...
Ton actu 2016, c'est l'album You Only Live Ice chez Glacial Movements et une split cassette avec Machinefabriek, Angry Ambient Artists Vol​. ​1. D'autres projets sur les rails ?
Oui je viens de boucler une collab avec l'Italienne Sara Ardizonni sur laquelle Arnaud de Hint joue du sax. D'ici quelques mois sortira chez Aagoo un nouveau volet de ma série Philippe Petit & Friends qui pourrait bien être mon plus ambitieux travail en collaboration.
Beaucoup d'illustres invités tels qu'Eugene d'Oxbow, Lydia Lunch, Jad Fair, Charlie de Penthouse, Andy Diagram (Pere Ubu/Spaceheads), Dufus... et pas mal d'instrumentistes. D'autres sont en attente de parution, notamment un 25cm chez Africantape, un album sur Home Normal, mais j'essaie de sortir moins de disques qu'à une époque car j'ai constaté que le public se perdait dans la masse.
---
---
English version
How would you describe your relationship with Twin Peaks ? With the work/world of David Lynch in general ?
David Lynch has been my favorite filmmaker for decades and Eraserhead my favorite movie.
You may know that back in the days of my label Pandemonium Rdz. in 1995 I had created the "Erase-yer-Head" single club, as a tribute. 12" vinyls had been published with Zeni Geva, Cows, Headcleaner, Bästärd, Hint, Unsane, Melt Banana, Ruins, Burning Heads, Samiam, Kepone and many others... Later, my first solo album Henry : The Iron Man came from a dream I made where i was asked to compose a soundtrack for a movie that would be a crossover between Eraserhead and Shinya Tsukamoto's Tetsuo... A little later, I published another album called A Scent Of Garmambrosia, a play on words between Twin Peaks' Garmonbozia and the Ambroise...
Your favorite character in the series ?
Bob... One thing however, I would like to draw attention to the parallel series On The Air with the same actors, shot at the same time and totally weird. Unfortunately a little too much maybe and therefore forgotten since...
A scene that particularly moved - or scared - you ?
Actually I like the atmosphere of this scene where the staggering dwarf grumbles "Garmonbozia" and we can't understand what he says. So strange, surreal.
You recorded a track for our forthcoming Twin Peaks compilation. Any anecdote about that ?
It was right when everyone was talking about a hypothetical sequel. I personally don't like sequels, too often mercantile, just an excuse to make money without racking one's brain too much. I've been used to expect better from David Lynch, even though, a little less for a while now...
You heard about some of the musicians involved in this project. Which one are you the most curious to hear the contribution from ?
Many of them are more or less close acquaintances whose work I love, however rather than one or another, I am much more curious to hear the overall result.
An album you often listen to when you need all your Garmonbozia ?
Oh my poor man there would be so many, I have tens of thousands of records...
In 2016 you released a new album, You Only Live Ice, on Glacial Movements and a split cassette with Machinefabriek, Angry Ambient Artists Vol. 1. Some other projects on the way ?
Yes I just finished a collaborative work with the Italian musician Sara Ardizonni with Arnaud de Hint on the saxophone. Within a few months, Aagoo will release a new installment of my Philippe Petit & Friends series that could be my most ambitious collaborative work to date.
Many famous guests such as Eugene from Oxbow, Lydia Lunch, Jad Fair, Charlie of Penthouse, Andy Diagram (Pere Ubu/Spaceheads), Dufus... and a lot of instrumentalists. Some others are awaiting publication, notably a 10" on Africantape, an album on Home Normal, but I try to release fewer records since i realized that the audience was overwhelmed.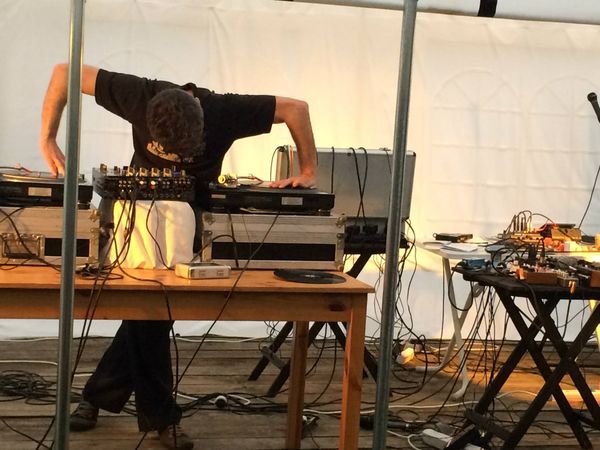 ---
Un grand merci à Philippe Petit. Son morceau intitulé We Are In Your Mind (avec la participation de Bryan Lewis Saunders au micro) paraîtra sur notre compilation Twin Peaks au printemps prochain.
---
Interviews - 02.12.2016 par
---