Retrouvez chaque semaine dans nos pages les interviews de quelques-uns des contributeurs à la future compil' Twin Peaks d'IRM. Le second musicien à se prêter au jeu nous vient de Belgique où il a fait les belles heures du label IDM Xtraplex, qu'il continue d'alimenter en sorties chamaniques entre deux infidélités du côté de Subtrakt ou d'Abstrakt Reflections.
C'est d'ailleurs sur ce dernier que Lucian Ditulescu vient de publier sa 9e et ultime sortie en tant qu'Ynoji, Kojito, dont les chœurs élégiaques viennent contrebalancer la noirceur radiante et l'urgence malaisante des pulsations tribales, entre deux morceaux plus atmosphériques et insidieux. Peut-être le meilleur album à ce jour de l'auteur du déjà impressionnant Kollider, qui nous en dit plus en fin d'interview sur la disparition annoncée du projet.
---
L'interview
IRM : Comment résumerais-tu ton rapport à Twin Peaks ? A l'univers de Lynch en général ?
Ynoji : Je suis assez mal informé en terme de culture pop, mais je résonne toujours avec des états surréalistes, oniriques... des états que nous ne pouvons pas décrire, seulement expérimenter...
Ton personnage préféré dans la série ?
Dale Cooper a priori, simplement parce qu'il vient de l'extérieur, et entre dans cette expérience surréaliste.
Tu as enregistré un morceau pour notre future compilation Twin Peaks, une anecdote à ce propos ?
Il s'agit en gros d'un sample vraiment court étiré sur une longue durée et empilé en couches... l'image que j'avais en tête était celle d'un enfant marchant dans une ville perdue, érodée par le temps, abandonnée, détruite... comme une favela...
Tu as eu vent de quelques-uns des musiciens impliqués dans ce projet. Duquel es-tu le plus curieux d'entendre la contribution ?
Je connais la musique d'aMute, Lawrence English, The Fucked Up Beat, Monolog et Nebulo, et je suis donc curieux d'entendre ce qu'ils ont enregistré.
Un album vers lequel tu reviens quand il te faut ta dose de Garmonbozia ?
Soit du drone massif comme Roly Porter, The Haxan Cloak ou n'importe quel album d'Amon Tobin.
En 2016, tu as publié deux EPs, Ronokironikon et Ekra. Tu as également indiqué que Kojito, ton nouvel album sorti il y a quelques jours chez Abstrakt Reflections, serait le dernier signé Ynoji. Peux-tu nous en dire plus à ce sujet ?
En 2008, Ynoji a été conçu dans un but très précis : la recherche d'une solution, d'une réponse à un problème personnel qui durait depuis un moment...
Au fil des ans, tous mes albums et EPs ont servi de journal ou de ligne directrice vers cette solution.
Récemment la réponse a été trouvée, il n'y a donc plus besoin désormais de l'entité Ynoji. D'autres alias et d'autres œuvres apparaîtront en temps venu (les choses avancent lentement), mais quoi, quand et où, je ne sais pas encore...
---
Original english version
How would you describe your relationship with Twin Peaks ? With the work/world of David Lynch in general ?
I'm fairly unknowledgeable on pop culture, but i guess i always resonate with surreal, dreamlike states.. states we cannot describe, only experience...
Your favorite character in the series ?
Dale Cooper i guess, simply because he comes from the " outside", entering this surreal experience...
You sent us a track for our forthcoming Twin Peaks compilation, any anecdote about it ?
It is basically a really short sample streched out over a long period of time and layered with itself... the visual image i had in my head was a kid walking around in this lost world/city, twisted by time, abandoned, destroyed... favela like...
You heard about some of the musicians involved in this project. Which one are you the most curious to hear the contribution from ?
I know the music from aMute, Lawrence English, The Fucked Up Beat, Monolog and Nebulo, so curious about what they did.
An album you often listen to when you need all your Garmonbozia ?
Either heavy droning stuff like Roly Porter, The Haxan Cloak or everything from Amon Tobin.
In 2016 you released two EPs, Ronokironikon and Ekra. You also said that Kojito, your new full length released a few days ago on Abstrakt Reflections, would be Ynoji's last. Can you tell us more about that ?
Back in 2008, Ynoji was designed for a very specific purpose : search for a solution/ answer to a long lasting personal problem…
Over the years all my past albums/EPs were logs or guidelines to that solution.
Recently the answer was found, thus there is now no more need for the Ynoji moniker.
Other names and works will appear at some point (things are slowly being made), but what, when and where is still unknown...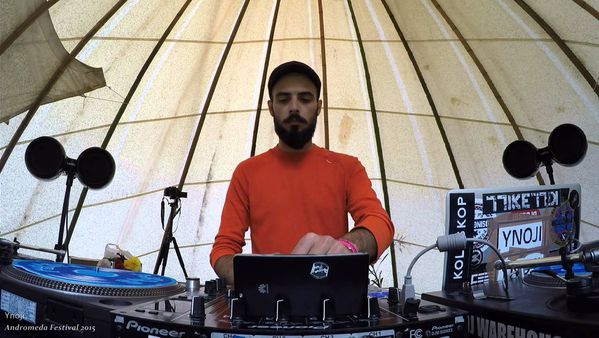 ---
Un grand merci à Lucian Ditulescu. Son morceau intitulé Face Planet paraîtra sur notre compilation Twin Peaks au printemps prochain.
---
Interviews - 04.12.2016 par
... et plus si affinités ...
Ynoji
sur IRM
---