Anticon, ou un rêve californien devenu réalité. En une petite dizaine d'années, le prolifique label de Jel, Doseone et Sole s'est imposé dans la discrétion comme un incontournable générateur de talents singulièrement hors-normes, en constante exploration d'univers musicaux toujours plus complexes et hybrides mais sans jamais se départir de la plus grande humilité. A l'heure où les derniers albums de ses plus illustres représentants (Sole/Mansbestfriend, Odd Nosdam, Alias, DJ Mayonnaise, Telephone Jim Jesus...) survolent plus fièrement que jamais l'actualité musicale, tandis que les nouvelles signatures (Thee More Shallows, Bracken, SJ Esau...) se multiplient au-delà même des frontières américaines, transformant peu à peu Anticon en label défricheur par excellence, une petite revue des troupes s'imposait pour guider un peu l'auditeur dans ce labyrinthique vivier d'aventuriers soniques.
Anticon (dont la véritable typographie est anticon.) est un label indé californien basé dans la baie de San Francisco. Caractérisé par son logo représentant une fourmi ("fourmi" = "ant" et "logo" = "icon" en anglais), il fut co-fondé en 1997 par Sole (Tim Holland), Jel (Jeffrey Logan), Doseone (Adam Drucker), Alias (Brendon Whitney) et Pedestrian (James Brandon Best) à Oakland. Sole et Pedestrian sont responsables du nom, reflet d'une idée de contrepied artistique créatif ("anti") et de dérangement par rapport à une certaine stagnation consensuelle du hip-hop en particulier et plus généralement de la musique et de l'art, de plus en plus touchés par le frein du mercantilisme. Quant à Doseone et Alias, toujours avec Sole et avec l'aide de Slug (Atmosphere), on leur doit l'inauguration du label l'année suivante avec le début de l'enregistrement du formidable et gargantuesque The Taste Of Rain... Why Kneel ? , unique album de Deep Puddle Dynamics : un véritable manifeste qui sortira une première fois en 1999 avant d'être réédité en 2002, et dont la sincérité et le caractère désabusé, mêlés à un rejet en masse des clichés du hip-hop et à un goût déjà affirmé pour l'expérimentation le font incarner à la perfection l'esprit d'Anticon. Rapidement rejoints par Odd Nosdam (David Madson), et le fondateur de Why ? Yoni Wolf, le noyau dur des propriétaires d'Anticon est dès lors au complet avec le manager Baillie Parker, précieux paratonnerre du label aux dangers du music business.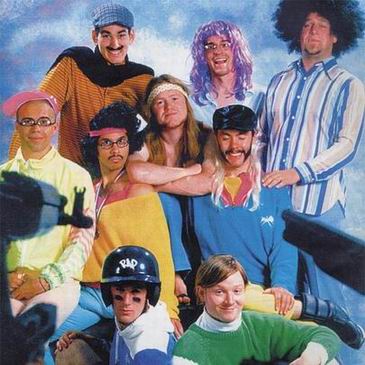 Ce label, ça fait déjà un bon moment qu'on vous en parle sur Indie Rock Mag, à travers l'actualité de ses principaux représentants. Mais cette fois on a décidé d'aller un peu plus loin, de remonter le temps et les albums pour en dresser un portrait d'ensemble tout en nous étendant davantage sur chacune des individualités, chacune des personnalités singulières qui le composent. Pour ce faire, nous avons entrepris de renseigner la biographie sur la fiche de chacun des artistes du label (un travail de longue haleine que nous continuerons de complèter dans les semaines à venir), et de chroniquer un certain nombre d'albums qui nous tenaient particulièrement à coeur ou que nous avons jugés représentatifs de l'identité musicale complexe d'Anticon.
Et pour vous mener à ces différentes fiches-artistes, qui elles-mêmes vous mèneront aux différentes chroniques et mini-chroniques d'ores et déjà en place (car le dossier promet d'être vaste et en perpétuelle expansion), nous commencerons par vous éclairer un peu sur les relations étroites qui existent entre tous ces talentueux musiciens et qui font d'Anticon, plus qu'un simple label, un véritable collectif animé d'une même intégrité et d'une même volonté d'ouvrir sans cesse à la musique de nouveaux horizons.
---
Le petit labyrinthe du label Anticon... cliquez sur les noms pour explorer à loisir notre dossier.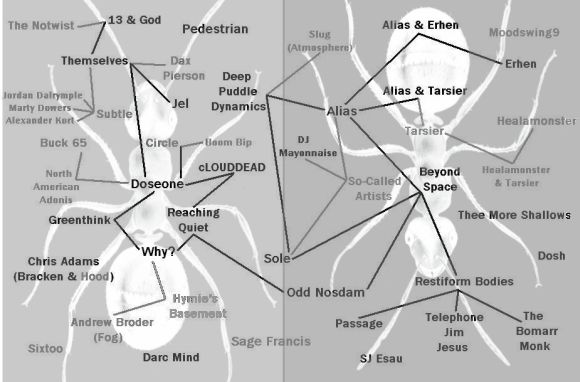 En noir : les artistes actuellement distribués par le label.
En gris : les principaux artistes extérieurs ayant collaboré avec le label.
Site Officiel : www.anticon.com
---
Articles - 08.10.2007 par
---