Les membres de Vampire Weekend ont tout de têtes à claques : trop gendre idéal, trop bien sapés, trop cultivés, trop middle-class américaine, trop blancs pour écouter de la musique africaine et cerise sur le gâteau : trop hype. Avant de sortir le goudron et les plumes et aussi parce que c'est bien connu, le lundi au soleil c'est une chose qu'on n'aura jamais, il serait dommage de ne pas jeter plus d'une oreille sur le premier album ébouriffant de ce quatuor new-yorkais, qui fait dans la pop Ralph Lauren classieuse.
1. Mansard Roof
2. Oxford Comma
3. A-Punk
4. Cape Cod Kwassa Kwassa
5. M79
6. Campus
7. Bryn
8. One (Blake's Got A New Face)
9. I Stand Corrected
10. Walcott
11. The Kids Don't Stand A Chance

date de sortie : 26-02-2008
Label : XL Recordings
Disons le tout de suite, le buzz qui entoure Vampire Weekend depuis quelques mois est probablement totalement disproportionné. L'album éponyme de ces quatre jeunes gens bien propres sur eux, est juste un premier essai frais, intelligent et surtout incroyablement prometteur, un peu comme a pu l'être le premier album de The Coral, avec la même volonté de foncer tête baissée tout en cultivant un terreau fertile d'influences multiples et variées, mais aussi sans éviter quelques erreurs de jeunesse.
Bien qu'originaire de New York, Vampire Weekend vient probablement de sortir le disque de pop anglaise le plus excitant depuis... Roots and Echoes, le tout avec un soupçon d'exotisme en plus, comme pour exprimer la volonté de fuir une certaine grisaille britannique qu'ils n'ont probablement jamais connu. Sur le merveilleux Oxford Comma, The Coral semble en effet avoir pris un billet simple pour Soweto, Vampire Weekend faisant parti de ces groupes qui semblent avoir redécouvert récemment les vertus du Graceland de Paul Simon et injectent ainsi une bonne dose d'afro-pop dans leur musique. Mais contrairement à leurs compatriotes new-yorkais de Yeasayer, chez qui les influences world se traduisent par une surenchère instrumentale, la petit touche exotique fonctionne ici plus par des gimmicks accrocheurs : un motif de guitare par ci, quelques percussions par là, comme sur leur premier single Cape Cod Kwassa Kwassa. Vampire Weekend a ainsi préservé cette approche minimaliste pour leur premier album pour un label, conservant la fraîcheur qui transparaissait de leur disque autoproduit, sorti l'année dernière et qui les a fait connaître sur la sphère internet, se permettant au passage d'écarter un titre comme Boston qui en moins de trois minutes et quelques guitares agitées osant fricoter avec des cordes frivoles, réussissait à raviver la flamme des mythiques Feelies.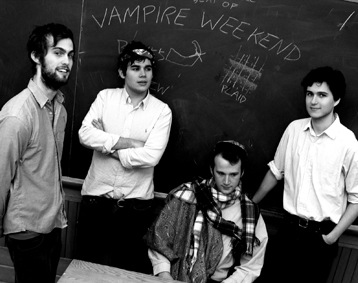 Mais peu importe, le groupe possède suffisamment d'autres cartes en main pour recueillir tous les suffrages, s'appropriant le meilleur de la scène britannique des années 80, des Specials (le tubesque A-punk) aux groupes du label Postcard Records, adeptes d'une pop funambuliste sans queue, ni tête. Ex-étudiants à la prestigieuse Université de Columbia, les quatre membres de Vampire Weekend possèdent surtout ce qui fait défaut aux trois-quarts des groupes anglais actuels : un sens mélodique inné hors du commun qui resplendit entre autre sur le fantastique Campus. L'ossature des 11 morceaux de ce premier opus est également assuré par un batteur exceptionnel, dont le jeu épuré mène à lui tout seul le rythme de ces chansons bancales et trébuchantes (cf la rythmique gigoteuse de Mansard Roof). Pour cerner les influences de Vampire Weekend il faudrait aussi citer pêle-mêle Peter Gabriel, Jonathan Richman ou des formules toutes faites du genre "du Talking Heads joué par Animal Collective", sur le foutraque One (Blake's Got A New Face). Quand au morceau Walcott il aurait fait bonne figure sur le premier album de Voxtrot si celui-ci n'avait pas été raté.
Le groupe texan est justement l'exemple parfait du groupe tué dans l'oeuf par le bouche à oreille, incapable de confirmer au moment du premier album. En refusant de s'essouffler sur le format court et en faisant preuve d'une concision salutaire (à peine 35 minutes pour ce premier essai), Vampire Weekend a lui réussi son coup. Reste à confirmer toutes ces belles promesses dans le futur et surtout éviter le retour de bâton de cette sempiternelle hype.
Vampire Weekend- A-Punk
---
Chroniques - 12.02.2008 par
---