Phil Elverum n'est pas un novice, il a même vécu plusieurs vies ! On le croise tout d'abord au milieu des années 90 où, sous le nom de The Microphones, il enregistre jusqu'en 2003 quelques beaux disques de folk lo-fi au sein de la nébuleuse K Records. Cette année-là, il s'exile en Norvège pour passer l'hiver sur la presqu'île de Kjerringøy, isolé dans une cabane désertée, sans eau courante ni électricité, où la nuit succède à de trop courtes journées. Profondément marqué par cette expérience, il sacrifie The Microphones pour se réincarner en Mount Eerie du nom de la montagne qui jouxte sa ville natale de l'État de Washington, Anacortes.
Qu'il s'agisse de The Microphones ou de Mount Eerie, deux adjectifs et un nom suffisent à résumer l'univers de Phil Elverum : solitaire, noir et catharsis. On ne sait pas quels sont les fantômes qui l'habitent et franchement, on n'est pas sûr non plus de vouloir faire leur connaissance. Pour preuve, l'impressionnant EP Black Wooden Ceiling Opening, sorti l'année dernière, tout en noirceur, saturations extrêmes et rythmes distordus. Un EP de presque-black metal, mais un black metal à la sauce Phil Elverum, sans cris gutturaux et empreint des partis pris esthétiques et artisanaux chers au bonhomme, l'âme irrémédiablement lo-fi.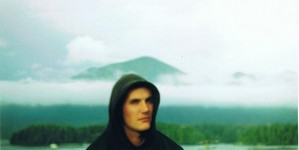 Et l'on apprend que Mount Eerie s'apprête à renouveler l'expérience mais cette fois-ci sur la longueur d'un LP. Wind's Poem, présenté comme « a colossal sounding new album », devrait voir le jour le 18 août prochain sur son propre label, P.W. Elverum & Sun, espace de création artistique pour lui et ses amis, dépassant le strict cadre musical puisque posters, peintures, livrets et autres productions personnelles accompagnent souvent les albums commandés via le site.
Comme à l'accoutumée, l'essentiel de l'enregistrement de Wind's Poem s'est effectué autour d'Anacortes et même si Nick Kgrovich de No Kids (trio canadien mélangeant soul, r'n'b et pop) est venu prêter main forte sur quelques harmonies, l'essentiel du matériel enregistré ici est l'œuvre d'Elverum.
Tracklisting Wind's Poem :


1. Wind's Dark Poem
2. Through the Trees
3. My Heart Is Not at Peace
4. The Hidden Stone
5. Wind Speaks
6. Summons
7. The Mouth of Sky
8. Between Two Mysteries
9. Ancient Questions
10. (something)
11. Lost Wisdom Pt. 2
12. Stone's Ode