Il fut un temps où l'on comparait aisément Grizzly Bear et Animal Collective. Certes moins pour le psychédélisme volontiers extatique des deux quatuors que pour leurs parcours respectifs de New-Yorkais branchés, d'abord encensés pour leur capacité à faire sortir la folk de ses gonds, puis signés à peu près en même temps sur des labels de renom synonymes de succès public (Warp pour les premiers, Domino pour les seconds) et finalement portés aux nues par les hipsters du monde entier en 2009 alors même que nos deux formations sortaient leurs galettes les plus dispensables.
Top albums - septembre 2012
1. Sleeping Ute
2. Speak In Rounds
3. Adelma
4. Yet Again


5. The Hunt
6. A Simple Answer
7. What's Wrong
8. Gun-Shy


9. Half Gate
10. Sun In Your Eyes


date de sortie : 17-09-2012
Label : Warp Records
Mais si l'on avouera avec le recul avoir été un peu sévère sur le moment avec Veckatimest, album du virage pop pour la bande à Ed Droste que sa tendance à la préciosité avait pu rendre un brin exaspérant à l'époque, il n'y a désormais plus l'ombre d'une équivoque sur la déchéance d'Animal Collective depuis Merriweather Post Pavilion, kaléidoscope synth-pop pour le moins boursoufflé que l'on se surprendrait presque à taxer d'élégant en comparaison du gloubi-boulga ethno-prog de l'inécoutable Centipede Hz dont le plébiscite critique instantané vaut bien un long discours sur la capacité de jugement des indie kids de la génération digitale (une preuve supplémentaire, mais était-ce vraiment nécessaire ?).
Autant dire qu'il y avait un boulevard pour réhabiliter les gentils ours, que l'on ait apprécié ou pas les dernières sorties solo de Chris Taylor et Daniel Rossen (personnellement c'est "non" et "oui"), et ça tombe plutôt bien puisque de l'odyssée versatile du single Sleeping Ute à l'épopée en crescendo d'Half Gate en passant par l'urgence light d'un Speak In Rounds qui n'aurait pas dépareillé chez Here We Go Magic, Shields semble vouloir renouer avec le foisonnement baroque de l'impeccable Yellow House de 2006 et son compromis idéal entre mélodies sans âge et jams opiacés, à l'instar du fabuleux Yet Again qui nous désarme d'emblée avec ses couplets au spleen romantique et ses refrains rétro-futuristes surplombés de cuivres glorieux pour mieux nous cueillir au gré des expérimentations déstructurées d'un final en fusion :
De fait, ce qui pouvait parfois sonner kitsch ou pompier sur l'opus précédent redevient ici majestueux, à l'image de ces chœurs hippie retrouvant le chemin de la grâce dopée aux drogues douces qui caractérisait déjà le bricolo Horn Of Plenty (cf. les plaintes élégiaques à la fin d'A Simple Answer ou les harmonies plus chaudes en deuxième partie de l'ambitieux Sun In Your Eyes), et même quand le combo renoue avec son goût pour les rêveries plus downtempo avec le dépouillé The Hunt ou le plus chiadé What's Wong qui télescope synthés nébuleux et caresses jazzy, on est loin des baisses de régime soporifiques d'un Veckatimest qui faisait trop souvent rimer poésie et pose arty mais dont on retrouve néanmoins par moments la candeur sous Lexomil, magnifiée notamment le temps de l'enjôleur Gun-Shy.
En écoute intégrale du côté de NPR, une belle leçon de remise en question dont certains gourous anthropomorphes adeptes du fluo baveux feraient bien de prendre de la graine.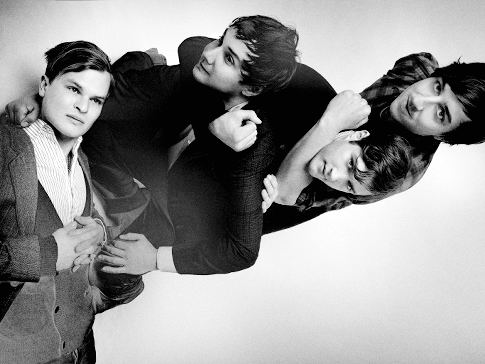 ---
Chroniques - 11.09.2012 par
---