Deux mixtapes pour le prix d'une cette semaine ! Le retour de The Procussions et le futur de Deniro Farrar & Shady Blaze ! IRM, c'est toujours un œil dans le rétroviseur et l'autre droit devant à regarder la route !
---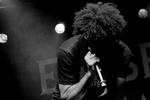 D'abord le rétroviseur ! Après 7 ans de silence, la fin de l'année 2012 pourrait peut-être bien signer le retour de The Procussions ! Mr J. Medeiros et Stro Elliot (ils ne restent plus que ces deux là, Qq et Rez ayant quitté l'aventure) ont toujours en projet la sortie d'un 4ème album qu'on peut aider à financer ici, mais embourbés dans l'anonymat 2.0 l'affaire ne s'annonce pas simple.
Pour remettre les choses à plat, le crew de Colorado Springs qu'on peut facilement qualifier de chaînon manquant entre The Roots, The Pharcyde et A Tribe Called Quest nous propose Up 'Till Now , une mixtape en forme de rétrospective du groupe. 20 titres remixés et réalisés entre 1999 et 2012 et quelques bombes bien smooth comme on en fait plus qu'on prend plaisir à (re)découvrir ! Du coté nouveauté, deux morceaux, I Hate My Job et The Rockies dans un style proto-Blakroc avec un coté rap conscient toujours mis en avant. La suite, c'est une collection de titres déjà connus, mais quel pied de réécouter Miss January (feat. Talib Kweli) et tous les morceaux plus anciens, ceux d'avant 2006, ceux de 5 Sparrows For 2 Cents et de As Iron Sharpens Iron ! Et là, on se dit : "Mais bordel de merde, pourquoi ce groupe n'a pas eu plus de succès ?", jazzy, original, un flow coulant, sautez sur Little People ou Life Of Brain et aidez The Procussions à nous pondre une 4ème merveille !
---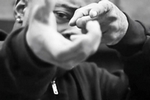 Ensuite Kill Or Be Killed de Deniro Farrar & Shady Blaze ! La tuerie du moment et qui pourrait peut-être bien faire date ! Alors que toute la blogosphère attendait la nouvelle mixtape de Rick Ross, Black Bar Mitzvah ne s'avère pas tout à fait complètement naze mais pas loin... Monotone, mono-tonne, lourde, on oublie vite et on passe avec bonheur à Kill Or Be Killed !
Deniro Farrar & Shady Blaze, pour faire simple, c'est d'un coté une conscience hardcore, Deniro Farrar, capable d'irradier le désespoir et la menace à travers chaque mot sans perdre son flow ravageur. Deniro Farrar c'est Tyler The Creator avec la classe de Sage Francis. De l'autre, Shady Blaze, adepte, apôtre ou messie du flow supersoniquement mélodieux, sorte de diable en boîte sortant juste au bon moment pour nous mettre une belle claque ! Et la chimie fonctionne, le duo est parfait, un peu comme Big Boi et André 3000 ont pu l'être (toutes considérations stylistiques mises à part). Le rendu est crépusculaire, teinté, malsain, tempo lent, beats de dingues. Dès Kill On Sight, on se dit rapidement qu'on a une pépite entre les mains ! Punchlines et lyrics superbement construites, instrus lugubres qui déboîtent (Stayin' Alive, Therapture ou All The Way me foutent systématiquement la chair de poule). Écoutez Cold Blood, ÉNORME morceau, sample du Suspiria de Dario Argento (raccord), beats secs, refrain sépulcral et lent à la Odd Future, miam !
Pour conclure en beauté, je peux déjà annoncer que Kill Or Be Killed entre directement dans mon top 5 des mixtapes de l'année ! Y'a rien là ?
---
Streaming du jour - 13.10.2012 par
---