Mine de rien, Thesis43 vient de nous sortir un album à faire baver Noah23 ; Never Lost Touch EP c'est son nom et c'est très bon ! A retenir !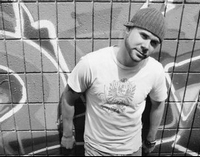 Vous avez été déçu par les dernières sorties de Noah23 dont sa divagation électro-bizarro-grosses basses WINGFOOT qui n'a rien de transcendant, vous considérez When Life Gives You Lemons, You Paint That Shit Gold d'Atmosphere comme un immense album, vous êtes passionné par les dernières sorties de Mike Mictlan et son surprenant SNAXXX dont on avait parlé ici-même, et bien Thesis43 est pour vous !
Le jeune MC de Grand Rapids, Michigan, vivant actuellement à Maui (Hawaï, pourquoi s'embêter dans le Michigan effectivement) sort de l'anonymat et nous balance pas moins de deux EPs, The JG43 EP et surtout le superbe Never Lost Touch EP. Vous l'avez compris au vu des références précédemment citées, Thesis43 est un rappeur très haut débit. Un flow rapide et technique qui sert des ambiances variées, mais gavées de boucles bien rondes.
Tantôt décontractées et rétro comme sur Corrosive Gunther, la pièce majeure de l'album avec un production hypnotique de Bronze Nazareth assez exceptionnelle, RZA n'est pas loin. Ici le beat boom-bap soutient le flow complexe de Thesis comme un métronome face à une folie freestyle et les featurings de Aglyty et Sir Manley ne gâchent pas notre bonheur ! Haven't You Heard ou More assurent aussi dans la catégorie soul cool.
Tantôt joyeusement martiales comme avec la tuerie Pharaohs Run avec Bronze Nazareth toujours aux manettes, ou avec le très bon More.
Amateurs de blancs-becs aux flows supersoniques, sautez sur ce Never Lost Touch EP et retenez ce nom, Thesis43 !
---
---

---
Streaming du jour - 22.01.2013 par
... et plus si affinités ...
Thesis43
sur IRM
---