Retrouvez chaque semaine dans nos pages les interviews de quelques-uns des contributeurs à la future compil' Twin Peaks d'IRM. Vient cette fois le tour d'un artiste dont nous avons défendu avec ferveur les différentes sorties - toutes aussi passionnantes les unes que les autres - de l'année 2016, en l'occurrence le Français Dolàn Xakò aussi à l'aise quand il s'agit de décliner des compositions aux accents trip-hop que lorsqu'il fait évoluer ses sonorités vers un univers plus cinématographique.
Si l'artiste n'a pas encore regardé Twin Peaks - il promet néanmoins de le faire prochainement - ce projet lui a donné l'envie de s'y mettre. Il faut dire qu'il n'est pas totalement hors-sujet puisqu'il mentionne un rapport singulier à l'univers de David Lynch. En attendant de découvrir le sublime morceau à la rupture enthousiasmante qu'il a composé pour les besoins d'IRMxTP, Dolàn Xakò nous en dit davantage sur le mode de composition atypique pour lequel il a opté. A l'aveugle donc, puisqu'il est vierge des images de Twin Peaks.

---
L'interview
IRM : Comment résumerais-tu ton rapport à Twin Peaks ? A l'univers de Lynch en général ?
Dolàn Xakò : J'ai découvert très jeune Lynch avec le prodigieux The Elephant Man, un film totalement bouleversant accompagné d'une BO somptueuse. D'aussi loin que remontent mes souvenirs, je crois bien que c'est le long métrage où j'ai versé mes premières larmes cinématographiques. Ensuite l'ovni Dune, qui gamin m'a foutu un putain de grand frisson ! Alors je sais que ce film pose beaucoup de débats entre cinéphiles mais remis dans son contexte temporel, wouh !!! La méga beigne !
Oubliant un temps le cinéma, j'ai perdu en grandissant le fil Lynch. Je me retrouve donc aujourd'hui, face à toi, complètement dénudé concernant son oeuvre Twin Peaks.
Ton personnage préféré dans la série ?
Je te dirai ça plus tard.
Une scène qui t'a particulièrement touché... ou fait flipper ?
Idem, je visionne la trilogie et je t'en reparle.
Tu as enregistré un morceau pour notre future compilation Twin Peaks, quel aspect de la série t'a inspiré ? Toute anecdote est bienvenue !
Pour composer mon morceau, j'ai choisi délibérément de ne pas visionner la série. J'ai cependant écouté en parcimonie la BO pour m'indiquer les couleurs choisies par l'auteur. Ensuite j'ai mis des extraits vidéo de la série sur Youtube en mode "mute" et j'ai composé en les visionnant. Ce fut pour moi un exercice totalement passionnant !
Tu as eu vent de quelques-uns des musiciens impliqués dans ce projet. Duquel es-tu le plus curieux d'entendre la contribution ?
Évidemment, j'ai trop hâte d'écouter ce qu'a produit ma "p'tite soeur" 18H15. Cette artiste, c'est du très lourd ! J'ai eu l'énorme privilège de composer un EP avec elle (Didascalies, dont nous parlions ici, ndlr) et je peux t'assurer que ce fut un pur régal. J'invite d'ailleurs tout le monde à écouter son dernier album, le génialissime Okänd.
Ensuite, je suis très curieux de découvrir l'orientation prise par le groupe The Fucked Up Beat. Je suis passionné par leur créativité. Après, très franchement, il me tarde réellement de découvrir tous les autres. C'est vraiment un excellent projet, IRM vous déchirez tout !
Un album vers lequel tu reviens quand il te faut ta dose de Garmonbozia ?
The Kings of Limbs de Radiohead.
Ton année 2016 a été chargée avec l'EP Origines qui te voyait lorgner vers l'ambient, l'excellent Parallela mêlant culture occitane et abstract hip-hop mais également l'EP Vertiges qui te permettait de revenir vers le trip-hop originel. Quelques mots à propos de ces différents projets ? D'autres projets sur les rails ?
Écoute, je me suis régalé durant toute cette année 2016 ! Que ce soit dans ma tanière pour écrire ou en live pour me produire, la magie fut intensément belle. Que 2017 me charme avec la même force ! Pour finir, je souhaite te remercier très chaleureusement ainsi que toute l'équipe d'IRM pour tout le soutien que vous m'accordez. Longue vie à IRM !
---
---
English version
IRM : How would you describe your relationship with Twin Peaks ? With the work/world of David Lynch in general ?
Dolàn Xakò : I discovered Lynch at a very young age with the astonishing The Elephant Man, a truly overwhelming movie with a gorgeous soundtrack. As far as my memories go, I think that it is the movie during which I shed my first cinematographic tears. Then Dune, an unidentified movie object, that gave the kid I was the fucking shivers ! Yes, I know this movie is prone to controversy amongst movie enthusiasts but if you replace it in its time, wow !! The big kick !
Then I forgot cinema for a while and I lost the Lynch connection growing up. So here I am now, facing you, completely void of anything concerning Twin Peaks.
Your favorite character in the series ?
I'll tell you later.
A scene that particularly moved - or scared - you ?
Same. I watch the trilogy and we'll talk about it.
You recorded a track for our forthcoming Twin Peaks compilation, what aspect of the series inspired you ? Any anecdote about that ?
To compose the track, I deliberately chose not to watch the series. However, I listened to the soundtrack a little bit to get the colours chosen by the author. Then I put on extracts of the series on Youtube, muted, and I composed watching them. This was a fascinating exercise for me !
You heard about some of the musicians involved in this project. Which one are you the most curious to hear the contribution from ?
Obviously, I'm really eager to listen to what my "little sister" 18H15 did. This artist is huge ! I had the immense privilege to compose an EP with her (Didascalies) and I can tell you it was pure joy. I invite everyone to listen to her last album, the extraordinary Okänd. Then, I'm very curious to discover the orientation taken by The Fucked Up Beat. Their creativity enthrals me. After that, frankly, I'm really eager to discover all the others. This is really an excellent project, IRM, you kick ass !
An album you often listen to when you need all your Garmonbozia ?
Radiohead's The King of Limbs.
In 2016 you released Origins, an EP on which you veered towards ambient, Parallela mixing occitany culture and hip-hop but also the Vertiges EP on which you got back to the original trip-hop sound. A few words about it ? Some other projects on the way ?
Listen, I had a blast during the whole year (2016) ! Be it in my lair to write or live to perform, the magic was intensely beautiful. May 2017 bless me with the same strength ! I will end with thanking you very kindly, you and all the IRM team for the support you give me. Long live IRM !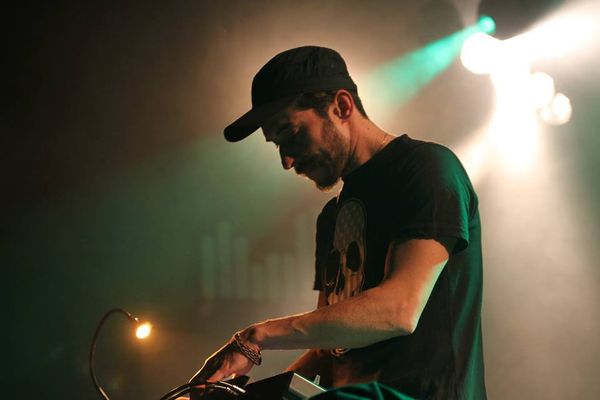 ---
Un grand merci à Dolàn Xakò. Son morceau sobrement intitulé Twin Peaks paraîtra sur notre compilation du même nom au printemps prochain.
---
Interviews - 19.02.2017 par
,
---