Retrouvez chaque semaine dans nos pages les interviews de quelques-uns des contributeurs à la future compil' Twin Peaks d'IRM. Sur un nuage il y a quatre ans avec le superbe I See Myself in the Water offert à notre précédente compilation avant de reparaître en version orchestrée sur l'excellent Fake ! en 2015, dernier album en date avec sa troupe jazz pop The Gowns qui planche en ce moment même sur son attendu successeur, l'Autrichien Richard Kapp nous en avait déjà beaucoup dit dans cette précédente interview, mais nous avait caché deux passions qu'il a eu l'occasion rêvée (hum) de combiner ici.
Twin Peaks et la vidéo amateur, il n'en fallait pas plus pour que l'on propose à Richard de rejoindre ce nouveau projet, dont il livre en avant-première et en clip sa contribution jazzy et onirique, A Damn Fine Cup of Coffee :
On reconnaîtra la référence à cette fameuse scène du final de la saison 2, via le procédé que Lynch avait utilisé pour faire parler ses personnages d'une façon étrange et malaisante dans la Black Lodge, une phrase lue à l'envers puis remise à l'endroit en inversant le son. Normal, l'auteur d'A Tie For Free qu'on avait découvert sur Myspace il y a plus d'une décennie en connaît un rayon sur la série, avec un amour tout particulier pour ses personnages et - bien évidemment - sa musique, dont il reprenait il y a quelques années (rien à voir avec Badalamenti mais tout de même) le truculent Mairzy Doats entonné par Leland Palmer :
---
L'interview
IRM : Comment résumerais-tu ton rapport à Twin Peaks ? A l'univers de Lynch en général ?
Richard Kapp : J'ai regardé Twin Peaks pour la première fois quand j'étais adolescent et c'était tellement différent de tout ce que j'avais pu voir à la télé à cette époque. C'était excentrique, mystérieux, sinistre, prenant et aussi drôle. La série avait tout pour elle. Cela m'a beaucoup, beaucoup inspiré. En fait, je pense que ça a aussi eu une grande influence sur ma musique. Je suis complètement tombé amoureux de la bande originale d'Angelo Badalamenti. Ce que j'ai appris en regardant Twin Peaks, c'est que des couches complètement différentes peuvent coexister dans la vie et former un tout homogène et vrai. Je suis devenu un immense fan de David Lynch et de ses travaux oniriques. C'est un cinéaste unique, capable de créer un monde qui n'existait pas sur écran avant lui. Je pense que j'ai vu chacune de ses œuvres. Il est l'un des réalisateurs les plus visionnaires qui soient. Mais il faut aussi reconnaître l'apport de Mark Frost. Twin Peaks ne serait pas la même série sans lui. Je suis très impatient de découvrir la nouvelle saison. Twin Peaks est une série culte et je suppose que tous les fans de la planète doivent avoir de grandes attentes. J'imagine que maintenir la qualité, le ton et l'atmosphère des deux saisons précédentes a dû être un défi après toutes ces années. Mais j'ai totalement confiance en David Lynch, Mark Frost, leur équipe et leur brillant casting. J'ai hâte de remettre les pieds dans cette petite ville.
Ton personnage préféré dans la série ?
Chaque personnage est une pure perfection, mais si je dois choisir un, ce sera - sans surprise - Dale Cooper. J'adore sa façon calme, humaniste, douce, humoristique, ouverte et intelligente d'affronter le monde. Probablement le meilleur personnage de série télé jamais créé. Kyle MacLachlan a fait un boulot fabuleux. Mais il y a aussi Leland. Ray Wise est un acteur tellement incroyable et sa performance est absolument psychotique, effrayante mais aussi très émouvante. Et puis il y a Albert. Quel type sarcastique ! Et Andy ! Lucy ! Le shérif Truman ! Audrey Horne ! Ben Horne ! Le sourire ridiculement arrogant de Dick Tremayne ! Sans oublier Laura bien sûr. BOB !!! Donna, Maddy évidemment ou... OK, tous étaient géniaux et je ne peux pas me rappeler d'un personnage que je n'aime pas. Tous sont simplement fascinants.
Une scène qui t'a particulièrement touché... ou fait flipper ?
La scène où Leland est en train de mourir et Coop caresse sa tête m'a vraiment ému jusqu'au fond de mon âme. Les moments les plus effrayants pour moi furent Bob rampant sur le canapé et Leland dansant avec Maddy. Il y a aussi une scène où la porte du bureau du shérif n'arrête pas de se balancer. Très glauque, et c'est un petit détail que j'avais laissé échapper la première fois.
Tu as enregistré un morceau pour notre future compilation Twin Peaks et même tourné une vidéo très DIY, quel aspect de la série t'a inspiré ? Toute anecdote est bienvenue !
Il y a tellement de choses qui m'ont inspiré. Le symbolisme, la lumière et les ombres, le son... A côté de mes ambitions musicales, je suis aussi photographe amateur et fou de vidéo et j'aime créer des courts métrages et des clips musicaux. La vidéo pour la compilation d'IRM a été tournée en totale autonomie, en utilisant seulement mon iPhone (et une lentille grand angle) et a été terminée en deux jours. J'ai vraiment essayé de capter cette humeur particulière et le style de la série à travers le symbolisme de la tasse de café et des bois flippants. J'espère que les fans d'IRM et de Twin Peaks y trouveront leur compte.
Tu as eu vent de quelques-uns des musiciens impliqués dans ce projet. Duquel es-tu le plus curieux d'entendre la contribution ?
J'attends avec impatience tous les morceaux, mais le groupe français Dale Cooper Quartet & the Dictaphones m'intrigue tout particulièrement, et je suis impatient d'entendre le Canadien Man meets Bear et les Scandinaves de Yodok.
Un album vers lequel tu reviens quand il te faut ta dose de Garmonbozia ?
The Academy in Peril de John Cale et Angstlied d'André Heller.
En 2016, Point of No Return a un peu fait le pont entre la pop jazzy facétieuse et désarmante de tes précédents opus avec les Gowns au romantisme suranné, et l'autodérision audacieuse et ludique de l'album que tu avais sorti il y a quelques années sous l'alias Ricardo Fantastico. Quelques mots à ce propos ? D'autres projets sur les rails ?
C'est mon troisième album solo. J'aime en faire un de temps en temps. Point of No Return est un album très personnel. Je ne me suis pas du tout soucié de son succès. C'est une collection de chansons que j'ai écrites au cours des deux dernières années. Un jour, je me suis rendu compte qu'elles formeraient un chouette album solo. J'ai décidé de me moquer de Spotify et autres services de streaming en ne le distribuant pas en ligne ce coup-ci. En fait, c'est tellement personnel que la seule façon de vous le procurer est de me le demander en personne par email ou l'acheter à l'un de mes concerts, aha ! Mon prochain album sera de nouveau enregistré avec mon merveilleux ensemble de musique de chambre The Gowns. Presque toutes les chansons ont déjà été écrites et arrangées et nous le sortirons plus tard dans l'année. Ouais ! (sourire)
---
---
Original english version
IRM : How would you describe your relationship with Twin Peaks ? With the work/world of David Lynch in general ?
Richard Kapp : I watched Twin Peaks for the first time when I was a teenager and it was so different from everything I had seen on TV that time. It was quirky, mysterious, sinister, thrilling and also funny. It had everything. It inspired me very, very much. Actually, I think it also had quite an influence on my music. I completely fell in love with the soundtrack by Angelo Badalamenti. What I have learned from watching Twin Peaks is that completely different layers can co-exist in life and form a true and homogenous picture. I became a huge fan of David Lynch and his dreamlike work. He is a director like no other, capable of creating a world that didn't exist on film before. I think I've watched every piece of film he made. He is one of the most visionary directors out there. But credits must go to Mark Frost as well. Twin Peaks wouldn't be the same without him. I am very much looking forward to the new season. Twin Peaks is such a cult TV show and I guess that all the fans around the globe probably have very high expectations. I can imagine that keeping up the quality, the mood and atmosphere of the last two seasons must be quite a challenge after all these years. But then I have complete confidence in David Lynch, Mark Frost, their team and the brilliant cast. Can't wait to return to that small town.
Your favorite character in the series ?
Every character is pure perfection, but if I have to choose one, it's - no surprise here - Dale Cooper. I just love his calm, humanistic, gentle, humurous, open minded and intelligent way of coping with the world. Probably the best TV character ever created. Kyle MacLachlan did such an amazing job. But then there is Leland. Ray Wise is such an incredible actor and his performance is absolutely maniac, scary but also very moving. But then there's Albert. What a sarcastic guy ! And Andy ! Lucy ! Sheriff Truman ! Audrey Horne ! Ben Horne ! That ridiculously arrogant smile of Dick Tremayne ! Don't forget Laura of course. BOB !!! Donna, Maddy of course or... Ok, all of them were great and I cannot think of any character I didn't like. All of them are simply fascinating.
A scene that particularly moved - or scared - you ?
The scene in which Leland is dying and Coop is stroking his head really moved me to the very core. One of the scariest moments for me was Bob crawling over the couch and Leland dancing with Maddy. There's also a scene where the door at the sheriff's department wouldn't stop swinging. Very creepy and a small detail I have missed the first time around.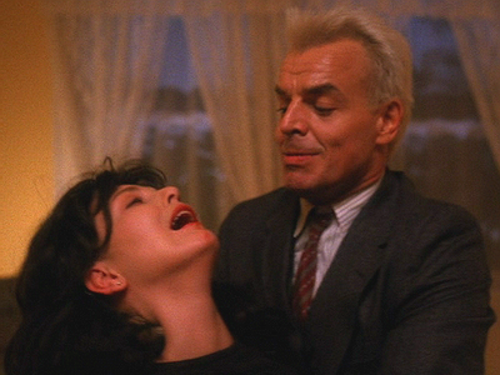 You recorded a track for our forthcoming Twin Peaks compilation and shot a video for it (see the introduction above), what aspect of the series inspired you ? Any anecdote about that ?
There's so much that inspired me. Symbolism, light and shadows, sound... Next to my musical ambitions I am also an amateur photographer and video freak and I love to create short films and music videos. The video for the IRM compilation was done completely on my own, using only my iPhone (and a wide angle lens) and was completed within two days. I really tried to catch that special mood and look of the series through the symbolism of the coffee cup and the scary woods. Hope all the IRM and Twin Peaks fans will enjoy it a bit.
You heard about some of the musicians involved in this project. Which one are you the most curious to hear the contribution from ?
I am looking forward to all the entries, but Dale Cooper Quartet & the Dictaphones from France sounds intriguing, also looking forward to hear Man meets Bear from Canada and Yodok from Scandinavia.
An album you often listen to when you need all your Garmonbozia ?
John Cale's The Academy in Peril and André Heller's Angstlied.
In 2016, Point of No Return filled the gap, in a way, between the disarmingly old-fashioned and facetious jazz pop romantism of your previous records with the Gowns and the audacious and humorous playfulness of Ricardo Fantastico's album from a few years ago. A few words about that ? Some other projects on the way ?
This is my third solo album. I love to make them from time to time. Point of No Return is a very personal album. I didn't care about its success at all. It's a collection of several songs I have written over the last couple of years. One day I realized that they would form a nice solo album. I decided to mock Spotify and other streaming services by not distributing it online this time around. In fact, it's so personal, the only way you can get it is by asking me in person by E-Mail or by purchasing it at one of my gigs, haha ! My next album is going to be another one with my wonderful chamber pop ensemble The Gowns. Nearly all songs have been written and arranged by now and we are going to release our latest work sometime this year. Yeah ! (smile)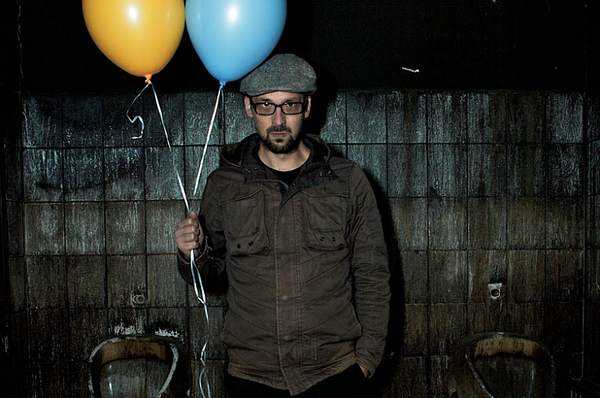 ---
Un grand merci à Richard Kapp. Son morceau A Damn Fine Cup Of Coffee paraîtra sur notre compilation Twin Peaks au printemps prochain.

---
Photos : Christian Messner.
---
Interviews - 16.02.2017 par
---