Les plus fidèles de nos lecteurs auront certainement remarqué des messages subliminaux distillés ces dernières semaines sans ostentation dans nos pages, concernant un ambitieux projet prévu pour les fêtes de fin d'année. Coupons court au mystère, si ce n'est au suspense : il s'agit d'une compilation, entièrement composée de morceaux inédits que nous ont gracieusement offerts un certain nombre d'habitués des colonnes d'IRM. Et... c'est tout pour le moment ! Vous en saurez plus très bientôt en suivant les petits cailloux que la rédaction sèmera à raison de deux interviews par semaine, agrémentées d'énigmes et de surprises, jusqu'à la mise à disposition de l'objet. Une invitation à vous familiariser avec l'univers de nos contributeurs de tous horizons géographiques et musicaux, en espérant qu'ils vous surprennent et vous enthousiasment autant que nous.
---
Notre rencontre avec Richard Kapp remonte à l'époque bénie des prémices de Myspace, alors que les rapports entre musiciens et auditeurs se transformaient peu à peu au gré des possibilités ouvertes par les réseaux sociaux naissants, chaque chroniqueur en herbe arpentant inlassablement les profils à la recherche de cette perle rare qu'il serait le premier à découvrir et à chérir. Et immédiatement, ce fut le cas d'IRM en tombant sur la pop romantique et pétrie d'ironie de l'Autrichien, mêlant orchestrations rétro, songwriting inventif et circonvolutions jazzy avec pour ne rien gâcher une voix de velours à faire pâlir d'envie Neil Hannon lui-même... bon OK, là peut-être qu'on exagère un peu. The Divine Comedy, il en sera en tout cas question parmi bien d'autres choses dans cet entretien, étrangement le premier d'une longue relation qui nous aura vu chroniquer année après année l'ensemble des sorties du Viennois depuis A Tie For Free en 2006.
---
L'interview
IRM : Y a-t-il deux ou trois choses que nos lecteurs devraient savoir de toi avant d'écouter la compil' ?
Richard Kapp : Bien sûr ! Je suis un chanteur/compositeur de Vienne, en Autriche. J'ai sorti mon premier album il y a 6 ans (qui contenait des chansons composées entre 2004 et 2006). J'ai commencé tout seul, en collaborant avec des musiciens du monde entier via internet, ce qui fut une expérience formidable. Il y a 5 ans j'ai formé mon petit ensemble de pop de chambre appelé The Gowns. Depuis lors, nous avons tourné en Autriche, en Allemagne et au Royaume-Uni. Des chansons de nos deux derniers albums Lunchbox et AMOK ont été diffusées sur BBC 6 Music et ma musique gagne doucement en reconnaissance depuis lors. Beaucoup de gens comparent ma musique à celle de The Divine Comedy et ils sont certainement une influence, mais il y en a d'autres, très fortes, venant du jazz, de la funk, de la soul et d'artistes comme Billy Joel, Burt Bacharach, 10cc, Electric Light Orchestra, Scott Walker et bien d'autres encore. Je ne me soucie pas de théorie musicale et je ne sais pas lire les notes, j'ai donc créé mon propre système de notation pour mon groupe qui fonctionne plutôt bien. J'aime les arrangements grandioses et les surprises en musique. C'est pourquoi je ne porte pas d'intérêt non plus à certains styles de musique. J'utilise tout ce que j'aime pour soutenir le sens et les paroles d'une chanson bien que la musique vienne toujours en premier lorsque je travaille sur un nouveau morceau. J'aime les musiques singulières, originales et honnêtes qui ne sont pas prévisibles et vous font vous sentir chez vous, et je cherche à me rapprocher de cette vision à chaque album. Vous pouvez en apprendre plus sur moi, The Gowns et écouter quelques-unes de nos chansons sur notre site.
Le clip de Conditioned Man, premier single extrait d' AMOK.
Qu'est-ce qui t'a décidé à prendre part à ce projet de compilation ?
C'est simple : j'aime IRM et leur soutien aux musiciens indépendants, et j'aime aussi composer de nouvelles chansons. C'est un plaisir et un honneur pour moi de participer à cette compilation.
Si tu devais décrire ta contribution en une phrase ?
Parfois vous ne pouvez pas faire confiance à votre propre reflet.
Pour la première fois avec AMOK, tu t'es entouré d'un groupe dès le processus de composition et d'enregistrement. Concrètement, outre ce regain de dynamisme et d'ampleur dans les arrangements, qu'ont apporté les Gowns à ton univers ?
Ce n'est pas tout à fait juste car j'ai également travaillé avec mon groupe sur l'album précédent Lunchbox, mais tu as raison en ce qui concerne le travail en studio qui était limité sur Lunchbox par rapport à notre dernière sortie. L'arrangement est un aspect très important de la chanson à mon avis, c'est pourquoi j'écris aussi les arrangements, mais chaque note n'est pas gravée dans la pierre. Chaque membre des Gowns a sa propre approche et sa propre interprétation de ce que j'ai écrit pour eux et il y a aussi de la place pour l'improvisation (à l'image de certaines parties solo sur AMOK ). J'ai de la chance que les Gowns comprennent vraiment ce que j'essaie de dire avec chaque chanson et que nous ayons tous une approche musicale similaire, mais c'est également le cas en terme d'humour ou dans la façon dont nous voyons la vie et la société.
Waking Up At Dawn, démo jazzy et mélancolique lâchée cet été via Soundcloud.
Dans la foulée du drôle d'EP sorti en 2010 sous le pseudo Ricardo Fantastico, tu te "lâches" davantage sur AMOK pour laisser libre cours à ton goût pour la dérision, y compris musicalement, des boîtes à rythmes désuètes de You Fell Out Of My Bed au tropicalisme rétro de Bobobonko en passant par le rap en intro de Master Of Tiramisu. Dirais-tu que tu es plus sûr de toi qu'à tes débuts ?
Je suis définitivement plus à l'aise que 6 ans en arrière et je n'ai cessé d'essayer de m'améliorer depuis. Mon but est d'écrire des chansons qui contiennent tous les aspects de la musique que j'apprécie. Et ça aide beaucoup d'écrire des chansons sans arrêt, comme un fou. Je dois avoir composé plus de 400 chansons (incluant aussi quelques jingles que j'ai écrits, de la musique pour des jeux flash, des morceaux électroniques, etc.) et tu grandis avec chaque nouvelle chanson. Je me vois comme un explorateur de la musique qui n'aurait pas de carte et irait tout simplement là où ça semble juste. Avec chaque chanson que j'écris, j'explore davantage autour de la musique, de moi-même, de ma voix. J'adore la musique parce qu'elle parle à tellement de couches que nous avons en nous.
La musique "gratuite" ça t'inspire quoi ?
La musique en tant qu'art est gratuite, mais pour qu'une musique originale et unique continue d'exister, le musicien doit être rémunéré pour écrire encore plus de grandes chansons. C'est aussi une façon de montrer ton soutien. Si je vois que quelqu'un a acheté mon album, c'est très motivant pour moi. C'est une déclaration, un feedback qui montre qu'ils ont vraiment l'air d'aimer ma musique, et même tellement qu'ils ont effectivement donné un peu de leur argent durement gagné pour elle. Et comme il est très difficile de gagner sa vie (j'ai un emploi de 30 heures par semaine), ça contribue également à m'aider financièrement. Si je pouvais gagner ma vie, je donnerais plus de concerts par exemple. C'est un cercle vicieux dans lequel de nombreux musiciens indépendants sont piégés.
Camera Love, un hommage inédit à la photographie, violon d'Ingres de Richard Kapp, interprété ici à Vienne lors de la release party d' AMOK en septembre dernier.
On te compare souvent à Neil Hannon (The Divine Comedy) pour le mélange de romantisme et d'ironie qui caractérise tes chansons. Quels sont tes "modèles" en terme de songwriting ?
Comme mentionné précédemment, Mr. Hannon était certainement une grande influence à mes débuts. Je pense que tout musicien a un modèle. Comme M. Hannon a lui même été influencé par le grand Scott Walker par exemple. Mais tu choisis toujours un modèle qui te convient. Je ne serais pas capable d'écrire une chanson dans le style de Lou Reed ou des Barenaked Ladies même si j'aime beaucoup leur musique. M. Hannon et moi semblons avoir une approche et un humour parfois similaires et nous nous sentons tous deux plus à l'aise à chanter dans un style de crooner. En dehors de ça, je pense que j'ai développé mon propre style et s'il y a encore des similitudes entre ma musique et celle de Mr. Hannon c'est une agréable coïncidence mais rien de plus, je suppose.
On connaît très mal la scène indépendante autrichienne, y a-t-il des artistes dont tu te sens proche sur le plan créatif ou dont tu nous conseillerais d'aller découvrir la musique ?
La scène des songwriters autrichiens gagne en vitalité et il y a des gens très talentueux là dehors. Les artistes que j'apprécie tout particulièrement sont Martin Klein, Ben Martin, Violetta Parisini, Mika Vember et Bernhard Eder. Il y a beaucoup d'autres que j'aime bien, cependant.
Un disque à écouter sur un nuage ?
The High Llamas - Gideon Gaye.
---
La surprise
Pas vraiment un inédit cette fois puisqu'il est librement téléchargeable sur le Soundcloud du musicien, mais tout simplement le morceau qui a bien failli figurer sur notre compilation, avant que le désarmant I See Myself In The Water (enregistré en solo cette fois) que vous découvrirez bientôt ne vienne mettre tout le monde d'accord. C'eut été un peu court jeune homme, mais néanmoins charmant dans une veine synthétique surprenante qui semble aller à ravir au romantisme atemporel du songwriter viennois :
---
Quelques liens utiles
Richard Kapp sur IRM - Site Officiel - Facebook - Myspace - Souncloud
---
English version
IRM : Are there a few things that our readers should know about you before listening to the compilation ?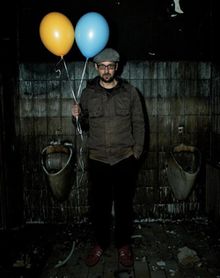 Richard Kapp : Of course ! I am a singer/songwriter from Vienna, Austria. I released my first album 6 years ago (which contained songs that I composed 2004-2006). I started on my own, collaborating with musicians around the world via the internet, which was a great experience. 5 years ago I formed my small chamber pop ensemble called The Gowns. Since then we toured in Austria, Germany and UK. Songs of our last two albums Lunchbox and AMOK received airplay on BBC 6 Music and my music slowly gains some more recognition since then. Lots of people compare my music to The Divine Comedy and they are definitely one influence, but there are other very strong influences coming from jazz, funk and soul and artists like Billy Joel, Bacharach, 10cc, ELO, Scott Walker and many others. I don't care about music theory and I cannot read notes, so I created my own notation system for my band which works quite well. I love big arrangements and surprises in music. That's why I also don't care about certain music styles. I use whatever I like to support the meaning/lyrics of the song although music always comes first when working on a new song. I love unique, original and honest music that isn't predictable and makes you feel at home and I try to come closer to this vision with every album. You can find out more about me, The Gowns and listen to some songs at our website.
What made you decide to take part in this compilation project ?
That's simple : I love IRM and their support for indie musicians and I also love composing new songs. It's a pleasure and honor for me to take part in this compilation.
If you had to describe your contribution in one sentence ?
The reflection of yourself cannot be trusted sometimes.
For the first time with AMOK, you worked with a band from the very beginning of the writing and recording process. Concretely, beyong the increased dynamism and lushness in the arrangements, what did ​​the Gowns bring to your musical universe ?
That's not quite correct as I also worked with my band on my previous album Lunchbox, but you are right when it comes to studio work which was limited on Lunchbox in comparison to our latest release. The arrangement is a very important aspect of the song in my opinion, that's why I also write the arrangements, but not every single note is set in stone. Each member of The Gowns has his/her unique approach and interpretation of what I wrote down for them and there is also room for improvisation (like some solo parts on AMOK ). I am lucky that The Gowns really get what I try to tell with each song and we all have a similar musical approach, but it also shows when it comes to humor or how we see life and society.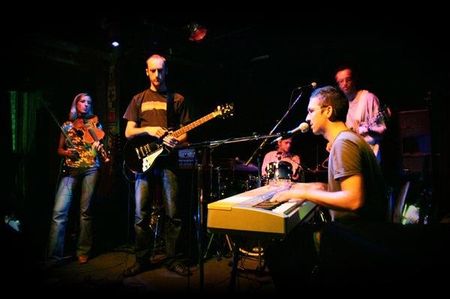 In continuation of the funny EP you released in 2010 as Ricardo Fantastico, you "loosen up" more than usual on AMOK, unleashing your taste for derision, including musically, from the outdated drum machines of You Fell Out Of My Bed to the retro tropicalia of Bobobonko throught the rap intro of Master Of Tiramisu. Would you say that you're more self-confident now than 6 years ago we you began recording music ?
I am definitely more confident than 6 years ago and I always tried to improve since then. My goal is to write songs that contain every aspect of music that I like. It helps a lot to write songs like crazy. I must have composed more than 400 songs (that also includes some jingles I have written, music for flash games, electronic pieces, etc.) and you grow with each new song. I see myself as an explorer of music who has no map and simply goes where he thinks it feels right. With each song I write I explore more about music, about me, my voice. I love music because it speaks to so many layers that we have in us.
What are your thoughts about "free" music ?
Music as an art is free, but for original and unique music to exist, musicians must be payed to write even more great songs. It also is a way to show your support. If I see that someone bought my album it's very motivating for me. It's a statement, a feedback that they really seem to like my music so much that they actually paid their hard-earned money for it. As it is very hard to make a living (I have a 30 hours a week job), it also helps the financial situation. If I could make a living, I could play more gigs for example. It's a vicious circle that many indie musicians are trapped in.
You're often compared to Neil Hannon (The Divine Comedy) for the mixture of romanticism and irony that characterizes your songs. Do you have "role models" in terms of songwriting ?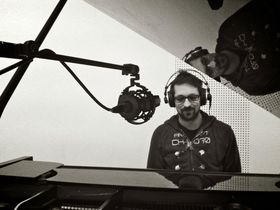 As mentioned before, Mr. Hannon was definitely a strong influence in the beginning. I think that every musician has someone he/she looks up to. Like Mr. Hannon got influenced by the great Scott Walker for example. But you will always pick a role model that suits you. I wouldn't be able to write a song in the style of Lou Reed or The Barenaked Ladies although I like their music a lot. Mr. Hannon and I seem to have a similar approach and humor sometimes and we both feel more comfortable singing crooner-style. Other than that I think that I have developed my very own style and if there is similarity between my music and Mr. Hannon's it's pure but nice coincidence, I guess.
Here in France we don't know much about the independent Austrian scene, are there some artists you feel close to, creatively speaking, or whom you would advise us to go discover the music ?
The austrian singer/songwriter scene is becoming more and more lively and there are very talented people around. Artists that I like in particular are Martin Klein, Ben Martin, Violetta Parisini, Mika Vember and Bernhard Eder. There are many more that I like, though.
A record to listen to, while floating on a cloud ?
The High Llamas - Gideon Gaye.
---
Une dernière face-B pour la route, mais ce n'est qu'un au revoir en attendant la prochaine interview !
---
A écouter et télécharger librement :
Clouds et Clashes, les deux premières parties de notre compilation - qui en comptera trois.
---
A lire également dans notre série :
Interview sous les cendres - 1/ Tapage

Interview sur un nuage - 1/ Arno Mori

Interview sous les cendres - 2/ lufdbf

Interview sur un nuage - 2/ Fuji Kureta

Interview sous les cendres - 3/ Cyrod Iceberg

Interview sous les cendres - 4/ William Ryan Fritch (aka Vieo Abiungo)

Interview sur un nuage - 4/ Y. K L Ei N

Interview sous les cendres - 5/ Nicolas Godin (aka Shape2)

Interview sur un nuage - 5/ 7even Sun

Interview sous les cendres - 6/ Christ.

Interview sur un nuage - 6/ Aodhán O'Reilly

Interview sur un nuage - 7/ Dog Bless You

Interview sous les cendres - 7/ Stormloop

Interview sur un nuage - 8/ Trivo
---
Interviews - 16.11.2012 par
---