Les plus fidèles de nos lecteurs auront certainement remarqué des messages subliminaux distillés ces dernières semaines sans ostentation dans nos pages, concernant un ambitieux projet prévu pour les fêtes de fin d'année. Coupons court au mystère, si ce n'est au suspense : il s'agit d'une compilation, entièrement composée de morceaux inédits que nous ont gracieusement offerts un certain nombre d'habitués des colonnes d'IRM. Et... c'est tout pour le moment ! Vous en saurez plus très bientôt en suivant les petits cailloux que la rédaction sèmera à raison de deux interviews par semaine, agrémentées d'énigmes et de surprises, jusqu'à la mise à disposition de l'objet. Une invitation à vous familiariser avec l'univers de nos contributeurs de tous horizons géographiques et musicaux, en espérant qu'ils vous surprennent et vous enthousiasment autant que nous.
---
En première ligne, on retrouve donc le Hollandais Tijs Ham, bien connu des amateurs d'IDM troublante et virtuose sous le pseudonyme de Tapage. En pleine actualité avec son label Tapeface lancé en début d'année, ce fer de lance de l'écurie Tympanik Audio au même titre que Dirk Geiger, Lucidstatic ou Access To Arasaka inaugure le jeu des questions, et nous offre même au passage une surprise de poids pour démarrer cette série sous les meilleurs auspices.
---
L'interview
IRM : Y a-t-il deux ou trois choses que nos lecteurs devraient savoir de toi avant d'écouter la compil' ?
Tijs Ham : Tout au long des années que j'ai passées à enregistrer en tant que Tapage, mes influences musicales ont toujours fait des va-et-vient. Parfois, des bruits brutalement distordus ont pris le dessus, d'autres fois l'ambiance s'est avérée plus moelleuse ou introspective. Il y a de la beauté à trouver dans ces deux extrêmes. Pour la piste que j'ai composée pour cette compilation, le côté mélancolique a surgi. Peut-être que les cieux pâles et gris m'ont influencé d'une certaine manière. J'ai enregistré la partie de piano, avec quelques manipulations électroniques, en une seule prise pendant que j'étais en France pour une semaine avec mon groupe The Void Pointers. Plus tard, j'ai ajouté les couches plus abstraites d'électronique pour accentuer encore la sensation obsédante du morceau.
Qu'est-ce qui t'a décidé à prendre part à ce projet de compilation ?
Indie Rock Mag a beaucoup soutenu mon travail ces dernières années. Toujours agréable de lire les chroniques et de voir mes albums classés dans les bilans en fin de l'année. J'ai également remarqué que mon label Tapeface était régulièrement mis en avant dans des articles. Ça fait plaisir d'être en mesure de retourner la faveur en soumettant un morceau pour ce projet. Les compilations de ce genre sont toujours une grande source de découvertes de nouveaux artistes et de nouvelles sonorités. C'est un honneur de pouvoir y prendre part.
Si tu devais décrire ta contribution en une phrase ?
Un mariage sonique entre résonances acoustiques et circuits électroniques.
Tu es coutumier des compilations, notamment du côté des labels Tympanik Audio, Raumklang Music ou CRL Studios. Y a-t-il une idée d'émulation là-dedans, un besoin de te frotter aux singularités des autres beatmakers pour continuer de faire évoluer ton univers ?
Lorsque je travaille sur mes albums, je passe toujours par plusieurs phases. D'abord j'écris et je produis un grand nombre de matières brutes, d'ébauches et d'idées. Puis à une étape ultérieure je deviens mon propre pire critique et je commence à enlever tout ce qui n'est pas conforme à l'esthétique ou un concept que je vise. Tous mes albums ont une sorte de récit en eux qui apporte davantage de profondeur à leur impact global. Cela signifie aussi que j'ai beaucoup de morceaux vraiment incroyables qui attendent mon disque dur, prenant la poussière. Les compilations sont un excellent moyen de partager ces morceaux qui n'ont pas résisté au final cut. Je n'ai jamais vraiment comparé ma musique à ce que font les autres artistes. Mon énergie pour créer de la musique est liée à la traduction de l'émotion au travers d'expériences sonores... "Quelles sont les fréquences qui font aux gens..."
[ndlr : clin d'œil à ce morceau d'Ophidian et Tieum ?]
Sugar Slave, un inédit de la compilation Issue 01 - Metathesiophobia du label Meta4 de son compère Ophidian, parent de Meta0 dont on parle plus bas. Tapage en était alors à ses tout débuts.
Le label de Chicago, qui publiait il y a un an encore ton dernier album Overgrown, est en passe d'abandonner le format CD pour certaines de ses sorties. Que penses-tu de cette décision ?
Il y a beaucoup d'aspects à cette question. Quand j'ai grandi, il n'y avait que des formats physiques pour la musique, au-delà de la radio. Je me souviens encore du temps où je pédalais tout le chemin jusqu'à la bibliothèque pour chercher des CDs que j'enregistrais ensuite sur des cassettes. C'était comme ça que je pouvais découvrir de nouvelles musiques. Ces jours-là sont clairement derrière nous désormais. L'ère du numérique et le mp3 ont fait en sorte que la musique soit disponible partout. Bien que cette évolution ait augmenté l'auditoire de presque n'importe quel genre de musique, il a aussi inondé le monde avec tout un tas de productions médiocres et sans inspiration qui ont dévalué la musique en elle-même. Ayant une formation en design, j'ai toujours apprécié l'artwork imprimé qui venait avec les sorties que j'achetais. Et dans le même temps, c'est toujours une honte de penser à toutes les matières plastiques et les déchets que le processus de distribution physique englobe. Il n'y a pas de bon ou de mauvais là-dedans je suppose, simplement un grand nombre de facteurs qui ont chacun leur poids. Ma gratitude envers la famille Tympanik Audio et tout ce qu'elle a signifié pour moi ne sera pas affectée par cette décision. En fin de compte il n'y a que les sons qui importent, quelle que soit la manière dont ils sont transmis.
Et la musique "gratuite" ça t'inspire quoi ?
Encore une fois un sujet compliqué. Je suis un partisan de la communauté open source, et en cela je soutiens les possibilités créatives que la libre utilisation de la musique peut apporter. C'est incroyable de voir sa musique remixée, utilisée dans les podcasts, ou de regarder des clips vidéo faits maison. Après, là encore, produire de la musique exige beaucoup d'investissement en temps, en effort et en argent. Heureusement, il existe de nombreuses façons par lesquelles les artistes peuvent diffuser leur musique gratuitement et voir tout de même leurs efforts récompensés par le bais des concerts, d'organisation d'ateliers, etc.
One Of Seven, morceau d'ouverture du superbe album publié l'an dernier par le Hollandais chez Raumklang Music.
Depuis le début de l'année, tu nous gratifies d'un EP par mois à prix libre sur ton propre label Tapeface, lequel vient d'accueillir son premier invité en la personne de Gleb Foulga dont les collages sonores ont plus à voir avec l'ambient et l'acousmatique qu'avec l'électro à proprement parler. Cela reflète-t-il tes ambitions pour cette structure ?
L'une de mes ambitions pour Tapeface est de brouiller certaines des lignes et des frontières entre les genres au sein même de la musique électronique. Donc, une partie de la production pourrait être de nature expérimentale à l'image des merveilleuses ambiances de Crystalline Passage, et d'autres sorties pourraient employer des structures rythmiques complexes, ou reposer sur des progressions mélodiques pour arriver à leurs fins. La musique de Tapeface s'apprécie mieux avec l'esprit ouvert et la volonté d'être surpris.
Sur un plan plus personnel tu prévois deux autres sorties dans le courant du mois de novembre dont l'EP Cluster sur Tapeface, peux-tu nous en dire plus à leur propos ?
L'année écoulée a été incroyable mais aussi extrêmement chargée pour moi. J'ai d'abord terminé mon travail en tant que stagiaire au STEIM (Studio for Electro-Instrumental Music). Juste après ça, je me suis impliqué dans le travail sonore pour une installation artistique interactive intitulée _In:still Life en collaboration avec Pinar Temiz, et j'ai rejoint le collectif sonore international Soundings. Parallèlement j'ai aussi fondé Tapeface pour assurer un flux régulier de sorties à mon projet Tapage. Au bout d'un moment, j'ai réalisé que les mini-EPs de deux titres n'avaient pas l'impact que j'avais espéré, j'ai donc commencé à travailler sur une approche différente. Très bientôt, deux nouveaux EPs vont voir le jour. D'abord Circles qui sera publié sur Meta0 avec quatre pistes brutes et noisy accompagnées par un clip sombre et anxieux pour le morceau-titre, réalisé par Veerle Cima. Puis peu de temps après Cluster sortira sur Tapeface, comprenant également quatre titres qui jouent avec des rythmiques accrocheuses et des mélodies méditatives...
Un disque à écouter sous les cendres ?
Je vais opter ici pour une merveille non électronique... Do Make Say Think avec leur album Winter Hymn Country Hymn Secret Hymn. Je pourrais écouter ça éternellement. Un chef-d'œuvre stupéfiant.
---
La surprise
En attendant Peak, l'inédit enregistré par Tapage pour notre compilation, voici en exclusivité le morceau-titre de l'EP Cluster, à paraître sur Tapeface le 13 novembre prochain :
---
Quelques liens utiles
Tapage sur IRM - Site Officiel - Facebook - Souncloud | Tapeface sur Bandcamp - Facebook
---
English version
IRM : Are there a few things that our readers should know about you before listening to the compilation ?
Tijs Ham : Throughout the years that I've spend working on Tapage material my musical influences have always been shifting back and forth. Sometimes the brutally distorted noises take the upper hand, sometimes the vibe turned out more mellow or introspective. There is beauty to be found in both. For the track I wrote for this compilation the melancholic side cropped up. Perhaps the pale grey skies influenced me somewhat. I recorded the piano part, with some electronic manipulations, in one take while I was in France for a week with my band The Void Pointers. Later on I added the more abstract layers of electronics to further enhance the haunting feeling of the piece.
What made you decide to take part in this compilation project ?
Indie Rock Magazine has been a great supporter of my work the past couple of years. Always nice to read the reviews and see my albums in the charts at the end of the year. I've also noticed that my label Tapeface was regularly featured in the articles. It feels good to be able to return the favor by submitting a piece to this compilation. These kinds of compilations are always a great source to discover new artists and sounds. It just feels like an honor to be able to take part in it.
If you had to describe your contribution in one sentence ?
A sonic marriage between acoustic resonances and electronic circuit boards.
You contributed to many compilations before, on independent electronic labels like Tympanik Audio, Raumklang Music or CRL Studios. Is there an idea of emulation, a need to confront yourself to the singularities of other beatmakers to expand your own universe ?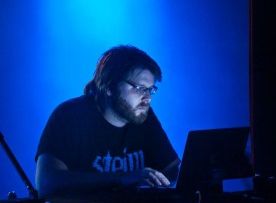 As I'm working on my albums I always go through several phases. First I write and produce a lot of source material, sketches and ideas. Then in a later stage I become my own worst critic and start to take out everything that doesn't comply with the aesthetic or concept that I'm aiming for. All of my albums have some kind of narrative to them which brings more depth to the overall impact. It also means that I have a lot of really amazing tracks just sitting on my hard drive, collecting dust. Compilations are a great way of sharing those tracks that didn't make the that final cut. I'm never really comparing any of my music to what other artists are doing. My drive to create music is linked to the translation of emotion through sonic experiences... "What frequencies do to people..."
The Chicago label, who published a year ago your latest album Overgrown, is about to drop the CD format for some of their releases. What do you think of that decision ?
There are a lot of sides to this issue. When I grew up there were only physical formats for music, besides radio. I still remember the days when I would cycle all the way up to the library to look for cd's which I then recorded onto cassette tapes. That was the way I could discover new music. These days are clearly over now. The digital age and mp3 made sure that music is available everywhere. Although this development did increase the audience for almost any kind of music, it also flooded the world with a lot of mediocre and uninspired productions which has devalued music in itself. Having a background in design, I've always enjoyed the printed artwork that came with the releases I buy. At the same time it's always a shame to think of all the plastics and waste that the process of distributing physical releases encompasses. There is no right or wrong here I guess, just many many factors that each has its weight. My gratitude towards the Tympanik Audio family and all it has meant to me will not be affected by this decision. In the end it's all about the sounds regardless of how they are transmitted.
And what are your thoughts about "free" music ?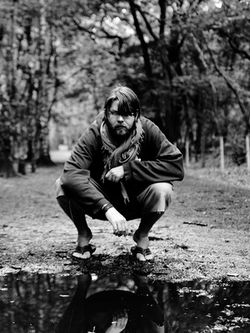 Again a complicated topic. I'm a supporter of the open source community, and in that sense I do support the creative possibilities that the free use of music can bring. It's amazing to see music being remixed, used in podcasts, or to watch homemade videoclips. Then again, the production of music does require a lot of investments in time, effort and money. Fortunately there are many ways in which artists can give away their music for free and still see some kind of reward for their efforts through either playing live or organizing workshops etc.
Since the beginning of the year, you're offering a brand new EP each month in "pay what you want" on your own label Tapeface, which recently welcomed the Dutch musician Gleb Foulga as its first guest. It appears to us that his sound collages have more to do with experimental ambient and acousmatic music than with electronics in a strict sense. Does it reflect your ambitions for the label ?
One of my ambitions for Tapeface is to blur some of the lines and borders between genres in electronic music. So some of the output might be experimental in nature like the wonderful ambiences of Crystalline Passage, other releases might employ complex rhythmical structures, or rely on melodic progressions to get their point across. The music of 'Tapeface' is best enjoyed with an open mind and a willingness to be surprised.
On a personal level, you're planning two new releases in november, including the Cluster EP on Tapeface. Can you tell us more about them ?
The past year has been an amazing but also an extremely busy ride for me. I first finished up my work as an intern at STEIM (Studio for Electro-Instrumental Music). Right after that I got involved in working on the sound for an interactive art installation _In:still Life in collaboration with Pinar Temiz and joined the international sound collective Soundings. At the same time I also founded Tapeface to ensure a steady stream of Tapage material being released. After a while I started to realize that the two track mini EP's didn't have the impact I was hoping for, so I started to work on a different approach. Very soon, two EP's are going to be released. First Circles is going to be released on Meta0 featuring four raw and noisy tracks accompanied by a dark and brooding videoclip for the title track made by Veerle Cima. Shortly after that Cluster will be released on Tapeface featuring four tracks that play around with engaging rhythms and thoughtful melodies...
A record to listen to, laid under the ashes ?
I'm going to pick a non electronic beauty here... Do Make Say Think with their album Winter Hymn Country Hymn Secret Hymn. I could listen to this one forever. A stunning masterpiece.
---
Crédits photos :
2. Sandra Leijtens
3. Brendon Heinst
---
A écouter et télécharger librement :
Clouds et Clashes, les deux premières parties de notre compilation - qui en comptera trois.
---
A lire également dans notre série :
Interview sur un nuage - 1/ Arno Mori

Interview sous les cendres - 2/ lufdbf

Interview sur un nuage - 2/ Fuji Kureta

Interview sous les cendres - 3/ Cyrod Iceberg

Interview sur un nuage - 3/ Richard Kapp

Interview sous les cendres - 4/ William Ryan Fritch (aka Vieo Abiungo)

Interview sur un nuage - 4/ Y. K L Ei N

Interview sous les cendres - 5/ Nicolas Godin (aka Shape2)

Interview sur un nuage - 5/ 7even Sun

Interview sous les cendres - 6/ Christ.

Interview sur un nuage - 6/ Aodhán O'Reilly

Interview sur un nuage - 7/ Dog Bless You

Interview sous les cendres - 7/ Stormloop

Interview sur un nuage - 8/ Trivo
---
Interviews - 30.10.2012 par
---