Les plus fidèles de nos lecteurs auront certainement remarqué des messages subliminaux distillés ces dernières semaines sans ostentation dans nos pages, concernant un ambitieux projet prévu pour les fêtes de fin d'année. Coupons court au mystère, si ce n'est au suspense : il s'agit d'une compilation, entièrement composée de morceaux inédits que nous ont gracieusement offerts un certain nombre d'habitués des colonnes d'IRM. Et... c'est tout pour le moment ! Vous en saurez plus très bientôt en suivant les petits cailloux que la rédaction sèmera à raison de deux interviews par semaine, agrémentées d'énigmes et de surprises, jusqu'à la mise à disposition de l'objet. Une invitation à vous familiariser avec l'univers de nos contributeurs de tous horizons géographiques et musicaux, en espérant qu'ils vous surprennent et vous enthousiasment autant que nous.
---
De l'aveu même de son fondateur Alessandro Tedeschi, Cold Winds est l'un des plus beaux morceaux jamais sortis sur le label italien Glacial Movements. C'est à se demander comment son auteur a pu demeurer aussi longtemps sous le radar, avec une douzaine de sorties autoproduites via Bandcamp avant la parution du remarqué Snowbound*, assurément l'un des tout meilleurs albums d'ambient de l'année 2011. Depuis, on a suivi de près le parcours de l'Anglais Kev Spence, en témoigne notamment ce double streaming du jour, et on continuera avec d'autant plus de ferveur que sa prochaine réalisation prévue pour février et annoncée dans la lignée du beau Signals sera étroitement lié au morceau composé pour notre compilation, un remix de ce Rest Now... donnant d'ores et déjà son titre à l'album Back To Dust. Comme quoi des cendres à la poussière il n'y a qu'un souffle, glacé forcément, mais pas dénué d'émotion pour autant.
Edit - le morceau en écoute :
---
L'interview
IRM : Y a-t-il deux ou trois choses que nos lecteurs devraient savoir de toi avant d'écouter la compil' ?
Kev Spence : Je suis juste un type qui bricole avec du son, comme beaucoup d'autres avant moi, je ne me considère pas comme un musicien, je n'ai jamais eu de formation en quoi que ce soit... ça ne s'entend pas ?! J'ai quand même joué de la basse à l'adolescence dans un groupe de metal, mais je me suis vite lassé de l'instrument et de l'univers metal en lui-même.
On associe naturellement à ta musique le qualificatif "glacial ambient". Le froid, l'hiver, les étendues glacées des pôles, en quoi tout cela t'inspire-t-il ?
Je ne suis pas si enthousiaste que ça à propos de cette obsession pour le glacial ambient, je trouve ça un peu triste de se limiter à ce mode de pensée. J'ai fait ou fait encore de la musique "hivernale" car j'ai été inspiré par le monde autour de moi à un certain moment : à l'hiver 2009 il a neigé à l'extrême ici à Leeds en Angleterre, comme je ne l'avais jamais vu depuis que je suis gamin, mais si je vais dans les montagnes en automne, ça m'inspire de voir les couleurs changer d'un jour à l'autre, les teintes jaunes virer au rouge, la brume et le brouillard, ça leur donne une atmosphère étrange sans être pour autant "mystique" ou "surnaturelle", c'est la nature en marche et je rentre chez moi pour tenter comme avec un journal de faire le récit de ce à quoi j'ai assisté.
Tu sors plusieurs albums par an via Bandcamp, qui brillent toujours par leur qualité d'immersion. Conçois-tu déjà tes morceaux comme faisant partie d'un ensemble imaginé à l'avance, ou les regroupes-tu peu à peu par affinités jusqu'à faire émerger un "tout" cohérent ?
Comme je le disais, je traite ma musique comme quelqu'un écrirait un journal, si ces événements ne sont pas réels alors c'est peut-être de la fantaisie ou un rêve que je veux exprimer. Prenez par exemple Nano Structure sur Nocturnal Winter, ce n'est pas quelque chose que j'ai vu, plutôt une façon d'imaginer des choses qui pourraient bientôt arriver. J'avais lu quelques-uns des livres de Ray Kurzweil, notamment Humanité 2.0 l'hiver dernier et c'est juste une sensation de cette idée si minime soit-elle, créer quelque chose qui semblerait n'être rien ou au contraire magique pour nous les humains, qu'il s'agisse de répliquer les cellules pour le corps humain ou en partie pour des machines. Si la nanotechnologie pouvait prendre son envol et fonctionner, toute notre vie en serait changée de la façon qui nous conviendrait le mieux, peut-être que c'est juste un rêve qui ne se réalisera jamais, et beaucoup d'entre nous ne le verrons sans doute pas arriver de notre vivant.
Qu'est-ce qui t'a décidé à prendre part à ce projet de compilation ?
Vous vouliez un peu de musique... et j'avais le temps, alors pourquoi pas !
Si tu devais décrire ta contribution en une phrase ?
C'est de la musique pour mon chat qui est mort cette année... RIP Yelly !
De notre point de vue, Snowbound* est l'un des plus beaux albums parus à ce jour sur Glacial Movements, et pourrait même en symboliser l'esthétique mieux qu'aucun autre. As-tu d'autres projets communs avec le label italien dans un futur proche ?
Pas à ce jour, en ce qui concerne Glacial Movements Alessandro est très occupé et pour 2013 au moins le bonhomme a des projets pour encore plus de sorties d'autres grands artistes, il a fait un excellent travail en fédérant tous ces gens autour de sa vision du "glacial ambient". Je suis un fan autant que n'importe qui, l'album d'Oophoi An Aerial View m'a conduit à Glacial Movements et je suis un grand admirateur de ses œuvres...
Mais je suis juste ce petit gars qui fait de l'ambient de chambre pour lui-même et quelques amis alors être là-haut avec Oophoi, Loscil, Lull, Netherworld, Aquadorsa, Skare, Rapoon, Francisco López, Bvdub, Pjusk, Retina.IT, Celer, etc. c'est un rêve devenu réalité, même s'il advenait que je n'aie jamais d'autre album sur le label. A l'époque où j'ai envoyé la démo de Snowbound* à Alex je pensais au mieux en voir l'un des morceaux atterrir sur une compilation du genre de Cryosphere, donc oui je suis très honoré d'être simplement là-haut avec ces gars-là !
Récemment, Signals révélait une facette plus onirique voire cosmique de ton univers, comme une tentative de communication à travers l'espace et le temps. S'il était possible d'atteindre de cette façon d'autres civilisations, quel message voudrais-tu leur transmettre ?
Sur l'album Signals, les morceaux se sont développés avec une marge d'espace ou une sensation onirique pour certains d'entre eux, j'en ai eu l'idée quand j'étais assis dans un parc à regarder dans une flaque la lumière du soleil dont les réflexions ressemblaient à des étoiles scintillant comme un autre univers juste là, dans la flaque d'eau, qui pourrait vous happer si vous le regardiez suffisamment longtemps ! Peut-être que vous n'avez passé que quelques minutes ici, mais ça aurait pu être une vie entière... une fois de plus c'est un pur fantasme... un rêve éveillé... et c'est là tout le concept de Signals, l'espace, le temps et le rêve, se perdre dans tout cela comme une méditation.
Je "teste" la plupart de mes morceaux en écoute somnolente, en d'autres termes je vais les écouter de nouveau dans mon lit sur mon iPod, si je sens qu'ils deviennent trop noisy je les atténue ou j'enlève des parties le lendemain et c'est comme ça que mes morceaux voient le jour... Je suppose que ça remonte au temps où j'écoutais des trucs un peu New Age... des cassettes de sommeil, et j'ai toujours voulu que la musique de Stormloop soit une sorte de musique de nuit moderne.
S'il y avait un moyen de communiquer avec des extra-terrestres je ne pense pas que j'aurais grand chose à dire : "salut ! euh, comment ça va ?" et peut-être que j'aurais droit à un download de mémoire bien nécessaire.
La musique "gratuite" ça t'inspire quoi ?
Mes réflexions sur la musique gratuite ? A vrai dire je ne me fais pas beaucoup d'argent avec la musique de Stormloop, j'ai toujours dit "c'est juste un passe-temps", je ne suis pas un professionnel, et depuis le premier jour, ça a toujours été "tiens mon ami, j'ai fait un mix de mes bricolages avec un synthé foireux et quelques effets, tu veux l'écouter ?", je faisais passer ça aux copains qui jouaient dans des groupes de rock, à mes potes étudiants et ils faisaient genre "eh c'est cool !... j'achèterais ça volontiers Kev !" donc si vous pouvez consacrer 10-20 minutes ou une heure de votre vie à écouter mes trucs, je serai plus qu'heureux et vous les donnerai avec plaisir... si les gens sont tellement intéressés pour les entendre... gratuitement. Mais je ne suis pas près de devenir riche avec cette façon de penser, je suppose !
Un disque à écouter sous les cendres ?
Juste un seul morceau à écouter quand je serai mort ? C'est pourtant long d'être mort !... Euh mais un que j'aimerais serait le thème de Platoon, tout le monde le sait !
Georges Delerue... Adagio For Strings [ndlr : morceau de clôture du film en fait composé par Samuel Barber] ? Ou Leonard Bernstein et l'orchestre philarmonique de New York ou même Love Remembered de Wojciech Kilar sur la bande originale de Bram Stoker's Dracula.
Et voilà... vous savez quoi jouer à mon enterrement !
---
La surprise
On en parlait plus haut, Minus 2 sera au générique de Back To Dust et Kev Spence nous offre à quelques mois de la sortie du disque la primeur de ses harmonies à la fois étranges et familières, dépaysantes et singulières, du zen troublant en somme :
---
Quelques liens utiles
Stormloop sur IRM - Bandcamp - Facebook
---
English version
IRM : Are there a few things that our readers should know about you before listening to the compilation ?
Kev Spence : I'm just a guy that mucks about with sound, like many others that have come before me, I do not regard myself as a musician, I've never had any training with anything... can't you tell ?! But I did used to play bass in my teen's in a metal band but I soon got bored of just bass and the whole metal thing.
The "glacial ambient" label fits naturally with your music. Cold, winter, frozen poles, what does inspire you in all that ?
I'm not so enthusiastic about the whole 'must be' glacial ambient thing, I find it a a bit sad that it's limited to this 'one way' thinking. I made or still make winter sounding music because I was inspired by the outside world around me at a certain time, the winter say of 2009 snowed like crazy here in Leeds, England that I've never seen since I was a kid, yet if I go into the mountains in autumn it inspires me to see the colours change from day to day, the hues in yellows to reds, the mists and the fogs, it gives it that eerie atmospheric sense about the world without it being 'mystic' or 'supernatural' it's nature doing its thing and I just go home and like a diary try to tell some tale of what I witnessed.
You're used to release several albums each year via Bandcamp, always impressive for their immersive dimension. Are your tracks conceived as parts of a "whole" from the very beginning, or do you order them gradually by affinities until the emergence of a consistent collection ?
Like I say I treat my music in a way someone would write a diary, if these events are not real then maybe it's some fantasy or dream I want to express. Take for instance Nano Structure on Nocturnal Winter, it's not something I have seen, it's more an imagination of things that may soon be, I had been reading some books by Ray Kurzweil, The Singularity Is Near last winter and it's just a feeling of this 'thing' however small, creating something from what would seem nothing or magic to us humans whether it would be a cell replicating for the human body or some part for machinery, if nanotechnology can take off and work, all our lives will be changed to however we see fit, maybe it's just a dream that will never come true, and many of us will never see it happen in our lifetimes.
What made you decide to take part in this compilation project ?
You wanted some music... I had the time so why not !
If you had to describe your contribution in one sentence ?
It's music for my cat that died this year... RIP Yelly !
From our perspective, Snowbound* is one of the most beautiful albums ever released by Glacial Movements, and may even symbolize the label's aesthetic better than any other. Do you have any ongoing project with the Italian label, another release planned in the near future ?
None of to this date, for Glacial Movements Alessandro is very busy and I can see into at least 2013 the man has plans for more releases by other great artists, he has done a great job collecting these people together in his own vision of 'glacial ambient'.
I am a fan as much as anyone else, Oophoi's album An Aerial View lead me to Glacial Movements and just been a big fan of his works...
I'm just this little guy making some bedroom ambient for me and a few friends so to be up there with Oophoi, Loscil, Lull, Netherworld, Aquadorsa, Skare, Rapoon, Francisco López, Bvdub, Pjusk, Retina.IT, Celer, etc. it's a dream come true even if I never have another album on the label, at the time I sent Snowbound* demo to Alex I thought at the best I may see one track on a compilation like the early Cryosphere album so yes I feel very honoured that I'm even up there with those guys !
Recently, Signals revealed a more dreamlike and stellar aspect of your music, almost similar to an attempt to communicate across space and time. If it were possible to reach other civilizations this way, what message would you send them ?
With the album Signals tracks developed they had a edge of space or a dreamlike feeling to some tracks, I had the idea when I was sitting in a park looking into a puddle, the sunlight reflections looked like stars shimmering like another universe right there in the puddle that you could get sucked into if you stared long enough ! Maybe you only spent a few minutes there but it could have been a lifetime... once again it's a pure fantasy... a day dream... and that's the whole concept of Signals, space, time and dreaming, getting lost in it all like a meditation.
I do 'test' most of my tracks for sleeptime listening, in other words I will listen back to them in bed on my iPod, if I feel they're getting too noisy I will tone them down or take parts out the next day and that's how my tracks get made... I guess it goes back to when I used to listen to new agey stuff... sleep tapes, and I always wanted Stormloop music to be a kinda modern late night listening.
If there's any way to communicate to any ET's I don't think I'd say a lot, just "hi ! errrr hows it going !" and then I'd maybe receive a much needed memory download.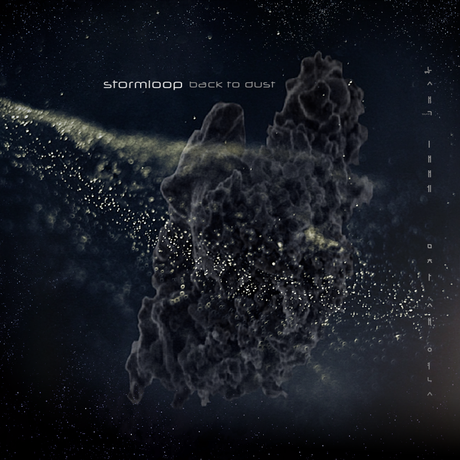 What are your thoughts about "free" music ?
My thoughts on free music ? Well I'm not making a big amount of money on Stormloop stuff, I always say 'it's just a hobby', I'm not a professional, and since the early days it always was 'here my friend, I made a mix of me mucking about with a crappy synth and some effects, wanna hear it ?', I was giving it to mates in indie rock bands, student pals and they were like 'that's cool !... I'd buy that Kev !' so if you can take 10-20 mins or 1 hour of your life to listen to my stuff, I'm more than happy and would gladly give it... if people are so interested in hearing it... for free. But I'm never going to get rich with that way of thinking I guess !
If you had to chose one record to listen to, laid under the ashes ?
Just one track to hear when I'm dead ? It's a long time being dead !... Erm but one I like would be the Platoon theme, everyone knows it !
Georges Delerue... Adagio For Strings ? Or Leonard Bernstein and New York Philarmonic or even Love Remembered by Wojciech Kilar from the soundtrack to Bram Stoker's Dracula.
There you go... you know what to play at my funeral !
---
A écouter et télécharger librement :
Clouds :
Clashes :
Ashes :
---
A lire également dans notre série :
Interview sous les cendres - 1/ Tapage

Interview sur un nuage - 1/ Arno Mori

Interview sous les cendres - 2/ lufdbf

Interview sur un nuage - 2/ Fuji Kureta

Interview sous les cendres - 3/ Cyrod Iceberg

Interview sur un nuage - 3/ Richard Kapp

Interview sous les cendres - 4/ William Ryan Fritch (aka Vieo Abiungo)

Interview sur un nuage - 4/ Y. K L Ei N

Interview sous les cendres - 5/ Nicolas Godin (aka Shape2)

Interview sur un nuage - 5/ 7even Sun

Interview sous les cendres - 6/ Christ.

Interview sur un nuage - 6/ Aodhán O'Reilly

Interview sur un nuage - 7/ Dog Bless You

Interview sur un nuage - 8/ Trivo
---
---